News > Spokane
Ferris House owners asking nearly $1 million
Wed., May 20, 2015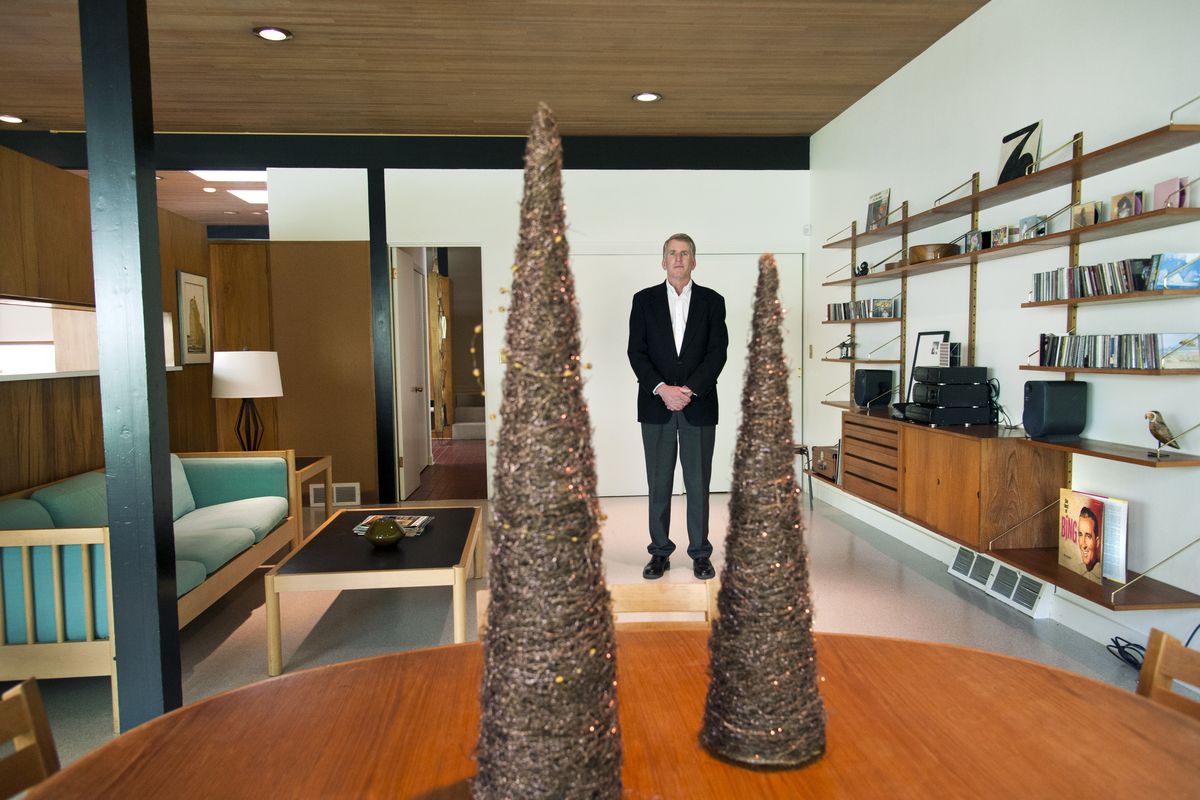 Joe Dinnison, of John L. Scott Real Estate, is trying to sell the midcentury moder n home formerly owned by Spokane's Ferris family. (Dan Pelle)
Eighteen months ago, real estate agent Joe Dinnison found the proverbial needle in a haystack – someone willing to pay $815,000 for a three-bedroom Spokane residence with no garage.
Now Dinnison hopes to do it again.
Same house, only the price is $1 million.
And the seller, a California businessman who bought the home in 2013, has never set foot in it.
If you're thinking, "That must be some home," you're right.
Nice yard, too – an acre of lawn and ancient trees shrouded behind a 10-foot concrete wall, two blocks from Manito Park.
The house was built in 1955 for Joel E. Ferris II and his wife, Mary Jean, a couple remembered for Joel Inc., a contemporary furniture store they opened in 1950.
They had intended to build a modern residence near Comstock Park, but a neighborhood association rejected their design.
When Ferris' uncle – banker and civic leader Joel E. Ferris, for whom the South Hill high school is named – learned of the situation, he offered his namesake a portion of his 4-acre South Hill estate at 431 E. 16th Ave.
The young couple hired architect Bruce Walker to design what would come to be known as Ferris House, a midcentury modern classic.
Walker had grown up in Spokane and studied architecture at the University of Washington. After serving in the Navy during World War II, he completed his undergraduate degree at UW and earned a master's degree in design at Harvard. Walker then toured Europe on a fellowship before returning to Spokane and opening his own practice in 1952.
The single-story, flat-roof home he designed for the Ferrises, with its exposed laminated beams, floor-to-ceiling windows and flexible spaces, reflected Walker's appreciation of Art & Architecture magazine's Case Study Houses and Frank Lloyd Wright's Usonian homes.
Walker would go on to design the Farm Credit Bank (1969), Spokane Opera House (1974) and Metropolitan Financial Center (1982). Also involved in the Ferris House project was Lawrence Halprin, one of the late-20th century's most influential landscape architects. Halprin's contribution to Ferris House included rock gardens, a brick terrace, custom garden lanterns and a colorful fence.
The home was featured in Sunset magazine's May 1961 edition and awarded a gold medal by the local American Institute of Architects chapter.
Several years ago it appeared in the New York Times and Dwell magazine and was listed on the Spokane Register of Historic Places.
Joel and Mary Jean raised their five children in Ferris House. After Joel died in 2002, Mary Jean resided at the home until her death in 2011.
During a recent interview, their son Sam, a Bay Area-based contemporary furnishings factory rep and executor of his mother's estate, fondly recalled growing up in the light-filled house with its parklike setting and medieval perimeter wall.
"We had a wonderful family experience there," he said, "but after our mother's death, it was time for some other family to enjoy it."
Ferris put together a website to celebrate the home and help market it.
He initially tried to sell the property himself, explaining, "I felt we knew the property better than someone coming from an outside perspective. It had an element of art and design that went beyond your basic bedrooms, bathrooms and square feet, and we wanted it to be handled respectfully."
Although the house and land were appraised by the county at $426,000 in 2012, the five children agreed to ask $1,235,000 based on their personal experiences, as well as the property's ties to a locally important architect and nationally significant landscape architect.
"Obviously, we were overly optimistic," Sam Ferris acknowledged during a recent interview.
After 10 months and no offers, he ran into Joe Dinnison during a Mother's Day home tour that included Ferris House. Dinnison grew up next door to Ferris, and he and Sam doubled-dated to their Lewis and Clark senior prom.
Dinnison had developed downtown Spokane's Hotel Lusso in the late '90s, and was just launching his real-estate career.
"Joe knew my parents and understood the house," Ferris said, "so I felt comfortable with him. And we had come to the conclusion that we needed the exposure of the MLS (Realtors' multiple listing service)."
Several Realtors recommended lowering the asking price below the psychological $1 million threshold.
Dinnison suggested $997,000 because he's a bit of a car nut, and the Porsche 997 is one of his favorite models. (Likewise, he named his boutique hotel after a 1960s Ferrari model called the Lusso – Italian for "luxury.")
Dropping the price was difficult for Ferris, said Dinnison, "because he lives in San Francisco and knows what $1 million buys there, which is nothing."
After getting the listing, Dinnison took fellow brokers from his John L. Scott office through Ferris House and offered a $200 prize to whoever most closely predicted the ultimate selling price.
"Everyone came up with prices in the $500,000 to $600,000 range," he recalled. The eventual winner guessed $760,000.
Dinnison only showed the house once in five months – "to a lookyloo who already owned a midcentury modern and wasn't interested in buying." Another agent took one client through.
A million dollars can buy a lot of house in Spokane, where the median price is around $170,000. Only two local homes without acreage have sold for $1 million in the past year, according to the Spokane Association of Realtors.
"To a midcentury modern purist, this house is a dream," Dinnison said. "But most people (able to pay top dollar) want updated kitchens with stainless appliances and granite countertops," neither of which Ferris House offers.
Santa Monica pizzeria owner Thomas Schiffer was that rare purist Dinnison envisioned, who happened upon Ferris' website while searching the Internet for midcentury moderns.
"I can remember the exact moment on a Sunday afternoon," Dinnison said, "when I got a call from a man who sounded extremely intellectual and nice, and expressed interest in the home, partly because of the landscape architect."
Dinnison, who represented both parties in the transaction, said Schiffer was concerned about overpaying in the Spokane market. "So I encouraged him to fly up and visit the house before making an offer. I also urged him to go on Google Earth and see what sort of houses were nearby – three mansions, but also some very modest homes.
"It's an eclectic neighborhood, but coming from Santa Monica, they're used to that," Dinnison said. "His goal was to move his family here and make improvements, including (the addition of) a Lawrence Halprin-style swimming pool in the backyard."
Schiffer never came to Spokane. But after three weeks of stressful long-distance negotiating, the Ferris heirs accepted $815,000 for their ancestral home, and the sale closed in October 2014.
Three months later, Schiffer's wife, Leah, and their 2-year-old flew to Spokane to see the house.
"I was frightened," Dinnison said, worried how Southern Californians would perceive Spokane in midwinter. "So I went down there, warmed up the house and built a fire in the fireplace. She arrived with an air mattress, sheets and towels, and spent two nights there.
"She also toured Spokane with the goal of finding an old building that could be converted into a mom-and-pop pizzeria."
Dinnison's impression was that Leah Schiffer loved the house and the city, "but Tom's business interests began demanding more of his time."
A year after buying the house, Tom Schiffer called Dinnison and asked him to put Ferris House back on the market at $999,000.
So far, no buyers have looked at it.
What Dinnison says he needs is "another unique Thomas Schiffer-type who can truly appreciate the history and originality of the home."
And while acknowledging the current asking price may be too optimistic, he said "a wealthy collector of homes" might pay $800,000.
Reached in Santa Monica, Schiffer expressed no regret about buying Ferris House.
"We may still end up in Spokane," he said. "We see tremendous potential to expand our pizza business there. And we won't sell Ferris House to anyone who might tarnish the original family's intent.
"It's like a Rembrandt, and except for meeting modern energy and safety standards, there's no need to change it."
As for the $800 grand he paid, Schiffer insisted the bank appraisal came in even higher.
"If that house on that lot were for sale where I live, it would cost $15 million at least," he said. "But I've never looked at this as an investment.
"We put it back on the market as kind of a coin toss to determine where we go in our lives. If the house sells for a reasonable price, then we'll take that as a sign from God or whatever higher power you want to call it. If the house doesn't sell, we will probably live in it."
Meanwhile, how does he justify asking almost $200,000 more for a house he has done nothing to improve since buying it 18 months ago?
"I may be ahead of the curve," Schiffer said, "but more and more people are starting to understand that there's artistic merit and value to these (midcentury modern) houses that insurance companies, banks and mortgage companies don't yet recognize."
Apparently, the Spokane County Assessor's department has begun to recognize their value. Last year, Ferris House was appraised by the county at $382,610. This year, its value is pegged at $759,810.
Joe Hollenback, county appraisal supervisor, surmised that the valuation doubled because of the sale price, as well as photos and other information available online.
"I would bet that what's going on (with Ferris House) is that they found that one buyer who happened to be from California, appreciated that midcentury look, and wasn't familiar with our market," Hollenback said.
What chance would someone have of successfully contesting the new county appraisal?
"Probably zilch," Hollenback said. "That property is so unique; I don't know where the fee appraiser found comps. But the people who sold it thought it was worth more than $759,000. The broker who listed it thought it was worth more. The buyer believed it was worth more. An appraiser said it was worth more, and apparently a bank agreed.
"Whether or not that's the home's true market value, I don't know," Hollenback said. "You'd have to test it in the market again."
When told the house is back on the market for $1 million, Hollenback replied, "Good luck with that."
Realtor Dinnison found a needle in a haystack before. Maybe he can again.
Meanwhile, Sam Ferris, whose only interest in the house now is sentimental, keeps his spokanemidcentury website up and running.
"I still feel the house has architectural and design value worth sharing," he said. "It continues to attract attention from all over the world."
Local journalism is essential.
Give directly to The Spokesman-Review's Northwest Passages community forums series -- which helps to offset the costs of several reporter and editor positions at the newspaper -- by using the easy options below. Gifts processed in this system are not tax deductible, but are predominately used to help meet the local financial requirements needed to receive national matching-grant funds.
Subscribe now to get breaking news alerts in your email inbox
Get breaking news delivered to your inbox as it happens.
---