News > Washington Voices
Gardening: When blooms gone, it's time to trim lilac bush
Thu., May 21, 2015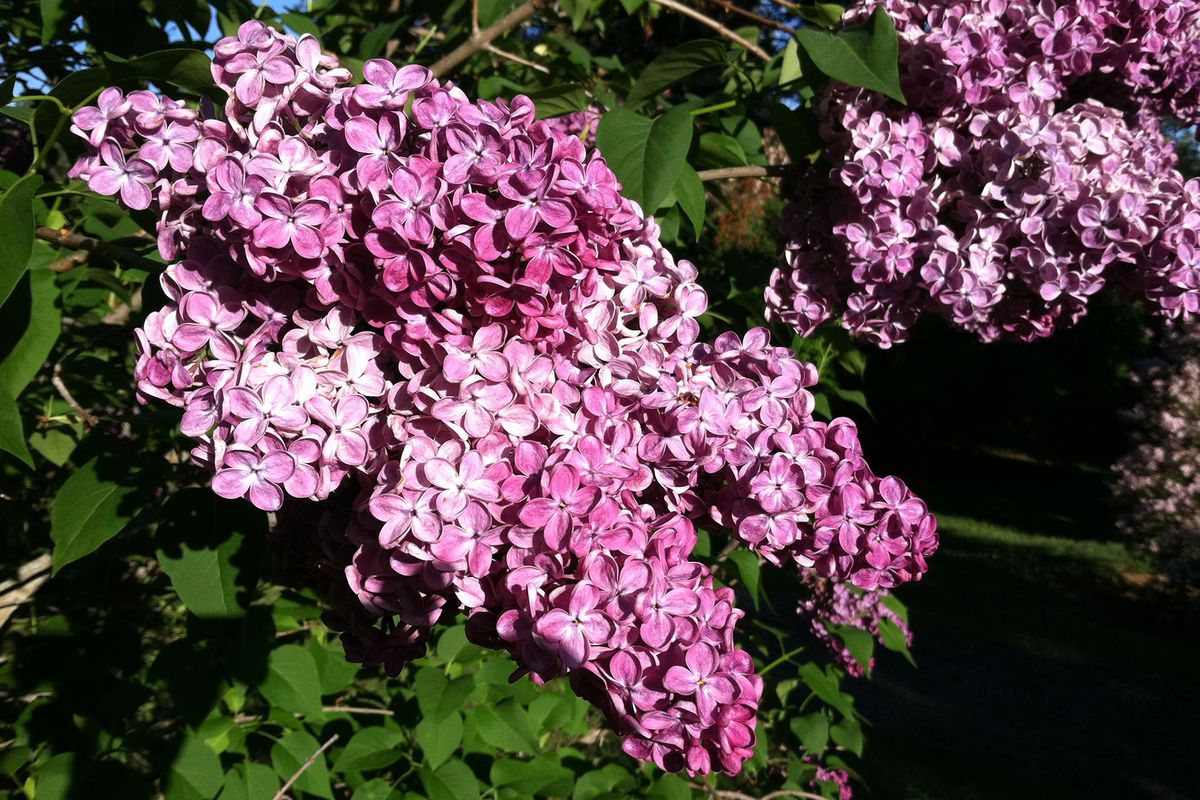 Lilac season peaked earlier this year than usual, but some plants are still blooming this week in Manito Park's Lilac Garden. (Kimberly Lusk)
The annual Lilac Festival Armed Forces Torchlight Parade was Saturday. However, the presence of blooming lilacs might have been a little thin. This spring has been impressive for the number of plants that are blooming early and lilacs are no exception. In some parts of town they were blooming three weeks ago.
This also puts the annual job of deadheading lilacs ahead of schedule. Lilacs normally don't need much pruning unless they get too tall or wide for their space. They do need to have the spent flowers removed to promote flower development for next spring. Lilacs set their buds for next year within a few weeks after flowering. As a result, the deadheading job needs to be done within a couple of weeks after they finish blooming.
To remove the old flower, locate the new emerging bud at the base of the dying flower and prune just above it, being careful not to damage it. By removing the old flower, the plant will send its energy into developing the bud instead of the seed heads.
If you have a lilac bush that needs to be scaled down, now is the best time to do it. You want to remove no more than a third of the plant at a time, so this may be a multiyear project. Locate the tallest three stems in the plant and cut them back to the height you want. A step ladder may be helpful to get into the plant. This reduces the plant's height but doesn't leave it looking like it had just been whacked on.
Next spring after the bush finishes blooming, you can take out another three branches. The plant will grow in new branches over time to fill any holes.
Beyond deadheading, lilacs don't need much additional care and are not bothered by insects or disease. They are quite drought tolerant but do benefit from deep soakings once or twice a month during the hottest part of the summer. The best way to accomplish this is to wind a soaker hose around the plant and leave it on for a few hours at a time. This will allow the water to soak deep into the soil.
Lilacs don't come in just a plain light purple flower. They come in dozens of shades of purple, light purple pink, white and even a yellow. Some of the blooms are variegated with white edges. The variety is almost endless. If you want to explore some of these variations, visit the Lilac Garden at Manito Park. Located just to the south of Mirror Pond, it is home to dozens of different plants maintained by the Spokane Lilac Society.
In 2007, the Spokane Lilac Society introduced Spokane's namesake lilac after many years of work. The Spokane lilac has large trusses of very fragrant double magenta colored blooms that turn a lighter pink silver white when fully opened. The shrub itself is vigorous with dark green foliage tipped a burgundy bronze when new.
Pat Munts is the co-author of "Northwest Gardener's Handbook" with Susan Mulvihill. Munts has gardened in Spokane Valley for more than 35 years. She can be reached at pat@ inlandnwgardening.com.
Local journalism is essential.
Give directly to The Spokesman-Review's Northwest Passages community forums series -- which helps to offset the costs of several reporter and editor positions at the newspaper -- by using the easy options below. Gifts processed in this system are not tax deductible, but are predominately used to help meet the local financial requirements needed to receive national matching-grant funds.
Subscribe now to get breaking news alerts in your email inbox
Get breaking news delivered to your inbox as it happens.
---