Cougars lag way behind in baseball facilities race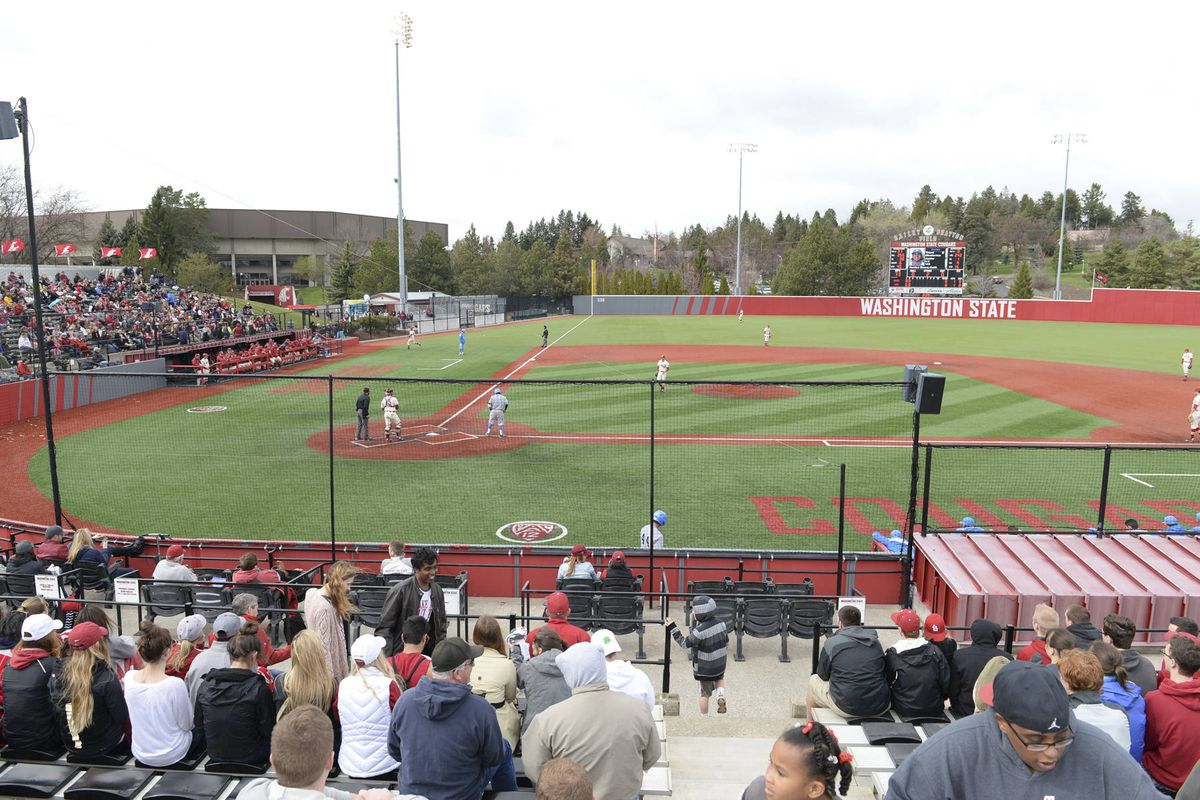 PULLMAN – The longest, loudest base-race in baseball occurs every day of spring on Cougar Way in Pullman. In small groups of three or four, with gloves hung on bats slung over shoulders and cleats that are audible from the nearby freshman dorms, the fully uniformed Cougars click their way to practice.
A couple hours later they click their way back.
It's about a 10-minute journey each way, slowly adding up to a couple extra transit hours per week to the players' already full schedules. Cougar baseball players have always taken the trek, which used to be just one more quirky, old-school thing the players did that may have been distinct to Washington State, but wasn't uniquely burdensome.
But in the age of television money, WSU's daily constitutional is less of a throwback and more of a nuisance, a reminder that where other programs have luxurious clubhouses near their ballparks, the Cougars have a long walk back to the locker room in Bohler Gym.
And so solving that problem falls to baseball coach Donnie Marbut, who says he is disappointed the WSU athletic department isn't doing more to support his efforts to build a $6.5 million clubhouse, and as a result is trying to raise the funds himself.
While a recent $4 million upgrade to WSU's soccer fields was financed largely by general gifts to a facilities enhancement fund, that source has been exhausted and so the baseball clubhouse will be funded entirely by pledges earmarked specifically for its construction.
Athletic director Bill Moos said that the general facilities enhancement fund was dedicated to soccer improvements because he considered the dilapidated state of the former field to be a safety hazard.
"And, to be quite frank, another part of it is the success that soccer has enjoyed and I felt needed to be rewarded," added Moos.
Former players are the primary donors willing to dedicate their contributions to baseball, rather than more prominent sports such as football and basketball. But the Cougars have reached out to most of the baseball boosters already and are still less than halfway to their goal.
"We've just fallen behind, not just in the country but in the Northwest," Marbut said. "With the Pac-12 merger, baseball has really been invested in in our conference. The only two schools that haven't made a huge investment yet in facilities are ourselves and Utah."
While the Cougars have never had the money to match the football and basketball digs of its rivals, WSU traditionally went toe-to-toe with the biggest West Coast schools when it came to baseball, and was often the first school to get the most modern upgrade.
"We far and away had the best stadium," recalls pitcher Dave Wainhouse, who pitched for WSU from 1986-88. "Talk about taking pride in it, that fence that we built is still out there."
This year's team (28-25, 10-17 Pac-12) will finish with Marbut's first winning record since 2010. That team made the NCAA tournament for a second consecutive season, about one full recruiting class after WSU's last big baseball investment: the 2004 installation of FieldTurf throughout the ballpark.
There hasn't been much to show recruits in awhile, however. Marbut says it's hurting him on the recruiting trail.
"The last time a recruit was on campus the information got back to us that opposing coaches were using it against us," Marbut said. "So that was kind of a frustrating moment for me.
"Usually what's been happening lately is when they go to those places – we've got to get them first," he added. "Kids want that stuff, that's why we built such a nice football facility, because it's attracting a different type of recruit."
Marbut hopes to have the facility in place by 2017, when this year's freshman class will be juniors, so that he can recruit off a new facility and what he anticipates will be a successful season. But at the current rate of fundraising that is admittedly optimistic, and the coach acknowledges that he is "disappointed" in the lack of support from the athletic department.
The athletic department is currently attempting to raise about $25 million for an indoor practice facility for the football team, which Moos says will benefit baseball as well.
Moos acknowledges that the baseball facility will likely begin construction before the football facility, although he'd prefer to save some money by doing the projects simultaneously.
Most of the "big asks" are obviously on the football side.
"People will give to something that they have an interest in," Moos said. "We've seen people have an interest in both of those facilities."
The recruiting issues have been exacerbated as WSU's peers invest heavily in baseball facilities, creating more of a gap between the Cougars and the rest of the conference even as they try merely to close the one created by the lack of a clubhouse.
Arizona State spends frequently on baseball and completed a $3 million stadium renovation last year, Washington bought itself a palace by Lake Washington, and Oregon decided to buy itself a program in 2009 after nearly 30 years without baseball and made the NCAA tournament after one season.
And a program in Pullman that once prided itself on outpacing the Joneses hasn't been able to keep up.
• • •
Before hazing and head injuries were regular topics of coffee table discussion, mild versions of each were routine components of freshman orientation for baseball players at WSU. 
Back in Wainhouse's day, the dugout ceilings at Oregon State's ballpark were so low – intentionally, the Cougars suspected – that unwitting freshmen routinely smacked their foreheads on the overhang and expectant upperclassmen yukked it up nearby.
Wainhouse, a pitcher who began his collegiate career as a walk-on and ended it with a first-round selection in the 1988 MLB draft, recalls the perilous bunkers as a secondary hardship in Corvallis to the cold and distant locker rooms.
"They were away from campus in some old dingy place where we would shower and jump back in their vans," he recalls. "They didn't have anything at the field."
Back then, the Cougars could look down their noses at their rivals' resources.
It's not like anybody confused old Bailey Field with a big league ballpark, despite the late coach Chuck "Bobo" Brayton's efforts to scavenge parts from the defunct Seattle Pilots' Sicks Stadium.
But WSU, never able to compete with its peers on even financial footing in football or basketball, invested in baseball, and reaped returns when it did. One year after building a 3,500-seat stadium in 1980, the Cougars added an electronic scoreboard.
In 1984, the school became one of the first college programs with lights, allowing the team to play at night, thanks to $50,000 raised by "Farmers for Lights" and another $200,000 gift from a pair of anonymous benefactors.
By way of a contrast, back then Huskies played in front of just 1,500 seats at choppy Graves Field that was eventually replaced in 1997 when a booster, businessman Herb Chaffey, played a summer-league game at the site and deemed it unsuitable even for recreational use.
The dollars were spent and wins were purchased; between 1980 and 1990 the Cougars won the Pac-10 North eight times. Pullman turned into something of a baseball town during those heady days.
"People like to identify with a winner and we've had success in the past in baseball," Moos said. "There were years where we hung our hat on the success of baseball when other sports were struggling."
The Cougars were cool back then. They had slick new digs and they won big. But any upgrades since have been mostly cosmetic. WSU has added a hitting barn close to the field, a press box, and the bleachers are a little better.
The installation of FieldTurf in 2004 was a big deal for a program whose players spent as much time digging draining holes as digging in at the batter's box during wet years.
But when it's cold out the players still warm their hands in the same dingy bathroom behind the concessions stands as Wainhouse did, and take the same 10-minute walk from Bohler every day.
• • •
It would be easier if WSU's rivals would just quit spending, or even if the spending didn't correlate so well with success. Oregon State remodeled Goss Stadium at Coleman Field in 1999 and installed lights in 2002.
In 2006, the Beavers won their first national championship and repeated in 2007.
In 2012, UW completed a $15 million stadium project. The Huskies won just six conference games in 2011 but recruited well following the completion of the new stadium, and won 21 Pac-12 games last season to finish second in the conference for the first time in a decade.
Of course, it would be even easier if the Cougars had money to spend. Like his peers, Moos had hoped the Pac-12 Networks would provide more of a windfall then they have to date.
Moos says he came away from a recent conference of Pac-12 athletic directors in Phoenix confident the TV revenues will rise, but right now it's not much help to an athletic department that spent about $13 million more than it took in during the last fiscal year, fully erasing a $10 million nest egg.
"I know we all were hoping the Pac-12 Networks would produce more than they are currently," Moos said. "Yeah, it would have been nice if each of our payouts had been 4 or 5 million, and I still think we can get there. But last year, each of us saw $1.5 million, and that's not insignificant."
Moos added that he is against the conference selling a share of the networks for a lump sum payment that would likely provide each school with about a $15 million shot in the arm, as some have suggested.
A few more wealthy baseball alums would help as well. One need only visit Nick Swisher Field at Ohio State or see the benefits Oregon State has reaped from Jacoby Ellsbury's $1 million donation to see the snowball effect putting a few players in the big leagues can have on a program.
But the Cougars will have to do that without being able to replicate the major league experience many other schools can offer, and that's not easy.
"In 1984, (we) were the first program on the West Coast with lights. That's on the West Coast," Marbut said. "Now we're the last program in the Northwest to get a baseball facility with a clubhouse and those types of amenities. Everybody has those now."
---