Sports
CV boys and girls sweep
Sun., May 24, 2015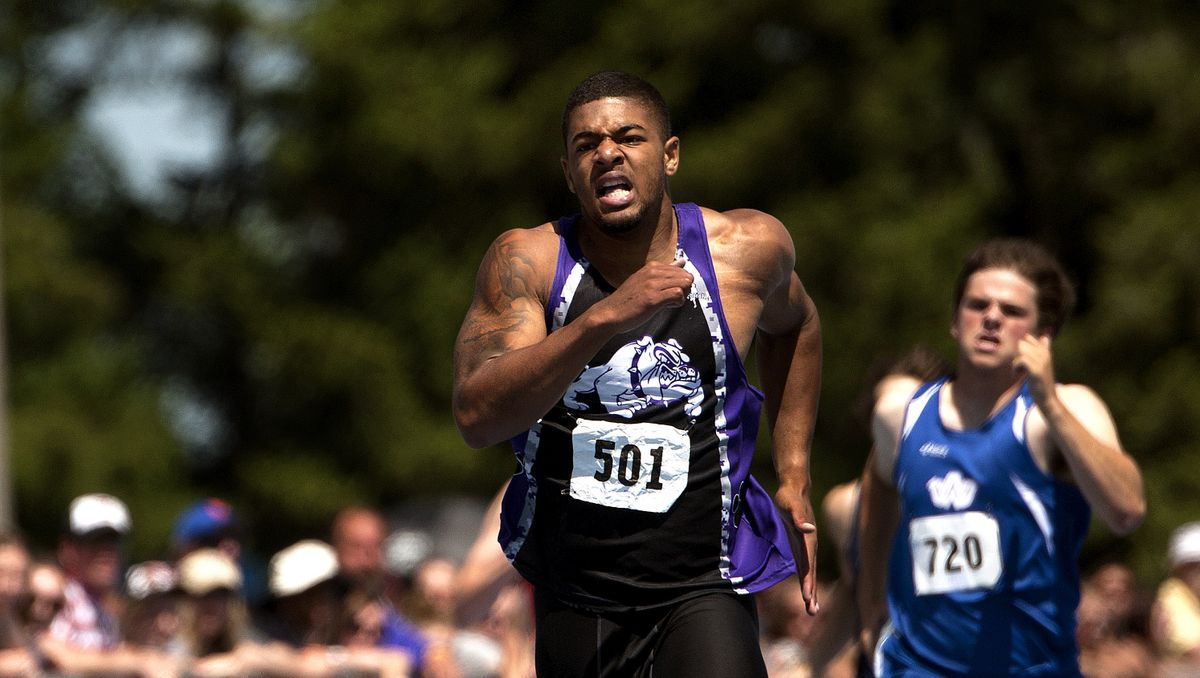 Pasco's Christian Young powers his way to victory in the 400-meter race at the 4A regional meet Saturday at SFCC. (Kathy Plonka)
When the Greater Spokane League hosts the 4A and 3A Regional track meets every other year, there's a specific reason the state-qualifying meet is held at Spokane Falls Community College.
The track is known for contributing to faster times. And that's always appreciated between GSL and Mid-Columbia Conference schools, considering just the top two in each event earn automatic state berths. But any athlete meeting a minimum state-qualifying standard also earns a berth. Hence the appreciation for a fast surface.
A few extra berths were earned on a steamy day Saturday on and off the track with the temperature hitting at least 82 degrees, and perhaps another 10 degrees hotter on the FieldTurf and track.
Central Valley's girls and boys captured 4A team titles while the Kamiakin girls, in contention for a fourth straight state championship, and the Mt. Spokane boys dominated in 3A.
4A: Anna Fomin and Briegan Bester led the Bears.
Fomin captured a title in the 400-meter race, winning in a time of 56.38 seconds. Bester placed second in the 1,600 behind state leader Lindsey Bradley of Richland and came back later to win the 800 (2:15.46), leading a 1-2 CV finish in the event.
For good measure, Bester ran the second leg on CV's 1,600 relay (4:01.47), which finished runner-up to Richland (3:59.05).
CV will increase its speed in a couple relays next week at state with the addition of sprinter Kelsey Turnbow, who was absent at regionals because she was playing in a club soccer tournament.
Bears coach Geoff Arte tailored his regional lineup so CV could qualify its relays and best individuals. The only heartbreak was losing Hannah Reiman in the triple jump. Reiman, ranked third in the state, hyperextended her knee on her first attempt. Arte said the jump appeared as if it had the potential to break 39 feet.
"What I'm really proud of and what this really shows is a lot of kids who scored points for us who aren't going to state but they fought for points for their team," Arte said. "That's a big deal to us. It shows what we preach all year. It's as big a deal as getting kids to state because only one team gets to be a regional champion on the east side of the state."
While CV outdistanced runner-up Lewis and Clark by 74 points, the Tigers' state qualifiers can turn that around with the quality they're taking to Tacoma. Both CV and LC should challenge for a trophy.
LC freshman Anna Rodgers took care of business with relative ease in the 100 (12.22) and 200 (24.99). She combined with Olivia and Grace Ellis and Isabella Millsap to lower their state-leading 800 relay time (1:39.97).
In the boys, CV held off Ferris by seven points.
Collin Nelson and Ben Craig led CV. Nelson won the 800 in 1:54.42, holding off Ferris' Sam Bloom by .02, and Craig won the 110 hurdles (14.35).
Jalen Hicks and Zach Jensen led Ferris. Hicks, who won the long jump on Friday, captured the triple jump with a leap of 44-1. Jensen, who qualified for state in the discus on Friday, won the shot put (52-4 ½).
3A: John Dressel of Mt. Spokane showed why he's going to be difficult to beat in the distances at state.
Dressel, who won the 3,200 on Friday by holding off Tanner Anderson of North Central, completed the distance sweep by taking the 1,600 (4:11.44).
"I feel like I have a lot more potential," Dressel said. "It's been more of a tactical season. I wanted to work this year on my finish. I'm able to finish stronger and faster. It's championship-style racing really."
Andrew Vandine of NC didn't run his fastest time but he was nothing short of impressive in the 800, winning in a time of 1:58.55. He finished second to Dressel in the 1,600.
Jacob Krantz, David Hipes, Zach Vogel and Roy Hyatt of Mt. Spokane combined to win the 1,600 relay (3:25.37).
Adding to Mt. Spokane's team title was freshman Jacob White, who won the triple jump (42-10½).
In the girls, Sofia Pizzillo of Shadle Park was easily the top area athlete Saturday.
Pizzillo won the 100 (12.42) and 200 (26.00) and teamed with Abby Bauernfeind, Sidney Ritter and Kaelyn Baker to win the 1,600 relay in 4:01.64, a season best.
Lauren Dunnell of Shadle pulled off the distance double, winning the 1,600 (5:16.93) after taking the 3,200 on Friday.
1A: There were a handful of multiple winners as the state-qualifying district meet concluded.
In the boys, Domenic Rehm of Medical Lake won the 800 and 1,600; Tristan Downing of Riverside won the 110 and 300 hurdles; Aaron Obert of Deer Park took the shot and discus; and Tellas Johnson of Medical Lake won the 100 and 200.
In the girls, Alexi Rolan of Medical Lake won the 100 and 200 and Moriah Duenich of DP won the 1,600 and 3,200.
Local journalism is essential.
Give directly to The Spokesman-Review's Northwest Passages community forums series -- which helps to offset the costs of several reporter and editor positions at the newspaper -- by using the easy options below. Gifts processed in this system are not tax deductible, but are predominately used to help meet the local financial requirements needed to receive national matching-grant funds.
Subscribe to the sports newsletter
Get the day's top sports headlines and breaking news delivered to your inbox by subscribing here.
---