Sports
G&T guest column – Bill Moos: Recalling an Edwall superstar
Sun., May 24, 2015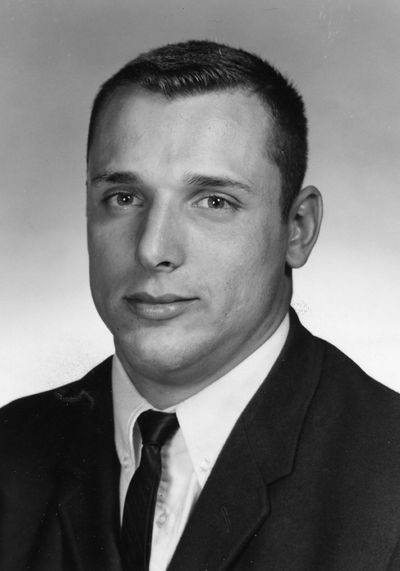 Recently we lost an exceptional athlete and a wonderful man. Bob Simpson passed away on May 11 at the age of 68.
Bob was raised in the small farm town of Edwall and attended Reardan High School where he excelled as an athlete. In the early 60s, he played a huge role in establishing Reardan as a Class B powerhouse, which it is still considered today.
But Bob's natural talent would have been impressive at any high school level of competition. I watched with my own eyes this handsome and chiseled schoolboy dunk the basketball with two hands, high jump over 6 feet scissors style and blast over opponents for touchdowns. His seemingly perfect jump shot earned him the nickname Silky Simpson. In the fall of 1963, he led the nation in football scoring. He was offered a baseball contract with the Pittsburgh Pirates.
In 1964, Bob took his talents to Washington State University on a football scholarship. He was one of a handful of very good players to endure four years of the Bert Clark era at WSU and was a sophomore on the famed Cardiac Kids team of 1965. The second time he touched the ball in a game he scored the winning touchdown in the final seconds to beat Villanova in Joe Albi Stadium. Bob's versatile talent enabled him to play and start at a different position in each of his varsity seasons including running back, defensive back and tight end. He was the last player cut by the Dallas Cowboys in 1967.
But Bob's life in sports was far from finished. He became a full-time assistant for the Cougars at the age of 23 and spent six seasons on coach Jim Sweeney's staff. Later, he would become a Big Sky, then Pac-10 basketball official well into the 1990s.
I didn't have to research any of this information because it is cataloged in my mind and in my heart. You see, Bob Simpson and I shared the same hometown. He was my childhood idol, my college coach and my dear friend. Like many, I will miss him.
Local journalism is essential.
Give directly to The Spokesman-Review's Northwest Passages community forums series -- which helps to offset the costs of several reporter and editor positions at the newspaper -- by using the easy options below. Gifts processed in this system are not tax deductible, but are predominately used to help meet the local financial requirements needed to receive national matching-grant funds.
Subscribe to the sports newsletter
Get the day's top sports headlines and breaking news delivered to your inbox by subscribing here.
---