Sports
Central Valley soccer coach Andres Monrroy values hard work
Fri., May 29, 2015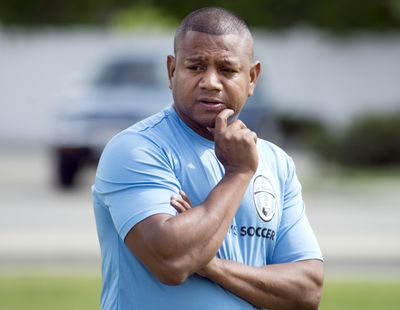 There's a rich sense of history among the Central Valley boys soccer players. But a sense of entitlement? Never.
Starting spots are earned – and re-earned – at every practice; coach Andres Monrroy wouldn't have it any other way.
The reward came last week with a 1-0 win over Pasco that sent the unbeaten Bears to only their second state semifinal appearance in school history. With two more wins CV will be the first 4A school to take the girls and boys titles in the same school year.
It also would end the good-natured teasing from Monrroy, whose girls have won the last two state championships.
"We joke all the time that the only way to get Monrroy to stop talking about the girls is to win one ourselves," said senior defender Braden Corigliano, a poster boy for the work ethic his coach embraces.
Three years ago, injuries to other players helped Corigliano earn a starting spot as a freshman. A year later they returned, and Corigliano went back to the bench. As a junior he had to fight to become a starter again, and now he's a captain on a team that's 18-0 heading into tonight's semifinal match against Wenatchee.
"It's exciting just to be a part of that," said Gabe Grabowski, another senior defender and team captain.
And fun, too. Monrroy is an exacting coach, but often lets the team decide practice drills.
"He's a really nice guy," Grabowski said. "He likes to push us, but he also keeps it light. We know when it's time to work, but we also work at being his friend."
Monrroy came to Spokane through talent and hard work: growing up in one of the few regions in Venezuela that didn't prize baseball above soccer; overcoming the dirt fields and poor equipment to improve his skills; becoming a high school exchange student; and pursuing his education at Whitworth University while playing forward for the Pirates.
"My philosopy is that I don't believe in entitlement – you have to earn everything," said Monrroy, who embraced the English language from the day he arrived. Later, while serving as an assistant coach at East Valley, he returned to Whitworth and earned a master's degree in education.
He joined at the staff at CV in 2006, teaching history and Spanish. After one year as an assistant, he took over the boys and girls programs when former coach Brandon Deyarmin became an administrator.
In eight years, Monrroy has led the Bears to a 94-24 record, including a 31-3 mark the last two years.
His boss, CV athletic director Butch Walter, says that Monrroy "would be the first to say he's been blessed with a lot of talent."
On the other hand, the 40-year-old Monrroy is tasked every spring and fall with taking players who come from a variety of club teams and repurposing their talents for the high school game. Like other high school coaches, he must do it in two weeks.
"He's done a great job of getting the kids into the positions that are going to work the best for CVHS and getting the kids to work together," Walter said.
Monrroy is a teacher, after all.
"I love teaching and I love coaching soccer," Monrroy said. "I just like having a positive impact on kids."
Local journalism is essential.
Give directly to The Spokesman-Review's Northwest Passages community forums series -- which helps to offset the costs of several reporter and editor positions at the newspaper -- by using the easy options below. Gifts processed in this system are not tax deductible, but are predominately used to help meet the local financial requirements needed to receive national matching-grant funds.
Subscribe to the sports newsletter
Get the day's top sports headlines and breaking news delivered to your inbox by subscribing here.
---