Sports
Ladenburg realizes dream of hosting U.S. Open at Chambers Bay
Fri., May 29, 2015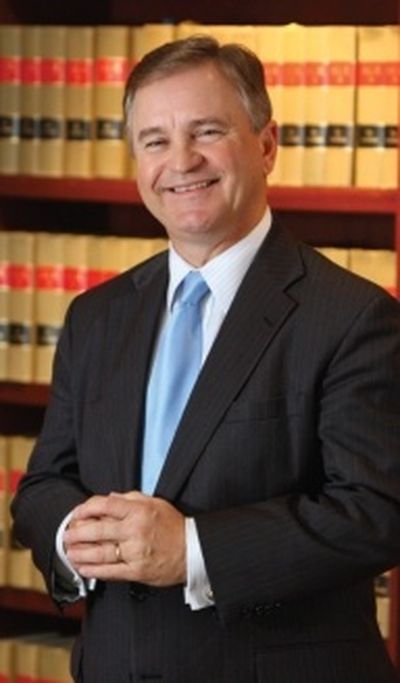 John Ladenburg didn't take up golf until he was in his early 50s. Slow-pitch softball was his game and he played for the Family, featuring his eight brothers and assorted relatives.
The former Pierce County executive hit a grand slam with Chambers Bay outside of Tacoma, which will host the U.S. Open next month. The gorgeous links course, the U.S. Open, perhaps the biggest sporting event ever held in the Pacific Northwest – none of it would have happened without Ladenburg's vision, determination, and political acumen.
He pictured a world-class golf course on an abandoned gravel pit. Many thought Ladenburg needed to get his eyes checked, but he pushed, demanded and finagled to keep the $20 million project moving forward.
"I did a lot of wheeling and dealing and twisting arms," Ladenburg said. "The other day I was on Facebook and a former council member posted about Chambers Bay and remembering the day he voted on it. I posted back, 'Do you still remember the broken leg?' He replied, 'No, it was a broken arm.'
"A lot of people didn't understand what I was doing. I was convinced it was the right thing to do. I used all my political capital to get it done."
Along the way, Ladenburg and others weren't afraid to make hard decisions. One of Ladenburg's most important calls was choosing Robert "Bobby" Trent Jones Jr.'s company to design the course. Chambers Bay would be 18 holes instead of 27, leaving plenty of spectator/tent space. Golfers would walk instead of using power carts, helping protect the fine fescue grass.
Decisions were made with one goal: landing a U.S. Open. Ladenburg said he read a book on Bethpage Black, the first municipal course to host the national championship, and was convinced Chambers Bay could do the same.
"As I told my staff, the danger is not that we shoot high and fail," said Ladenburg, a Gonzaga law graduate now in private practice. "The danger is we shoot low and succeed. Why don't we go for the best."
That meant not only building a great course but one with the acreage to accommodate the 35,000 fans, media, volunteers, hospitality tents and portable bleachers that come with hosting the national championship. "We measured how much tent space was used at previous Opens," Ladenburg said, "and we basically doubled it."
More than 50 architects, including Jack Nicklaus and Phil Mickelson, submitted design plans. Mickelson made the final five.
"Nicklaus fell off because he was just patting us on the head, 'Sure, you want to build an Open course,' " Ladenburg said. "Bobby had built 250 courses around the world. He believed it could be a U.S. Open course."
Soon enough it was. Ladenburg and Jones lobbied United States Golf Association officials with calls and letters throughout the building process and encouraged site visits. Chambers Bay opened in 2007. Roughly seven months later, it was awarded the 2010 U.S. Amateur and the 2015 U.S. Open, unheard of for a new course.
"It shocked the golf world," said Ladenburg, who carries a 7 handicap despite his late introduction to the game. "I told people after 5 1/2 years of hard work we're an overnight success."
The U.S. Open's economic impact is expected to be $140 million, according to the USGA's Reg Jones.
"There are going to be 80 million watching on TV and people are going to want to come here as tourists," Ladenburg said. "It puts the state on an international map in a way that's never happened in our lives."
Local journalism is essential.
Give directly to The Spokesman-Review's Northwest Passages community forums series -- which helps to offset the costs of several reporter and editor positions at the newspaper -- by using the easy options below. Gifts processed in this system are not tax deductible, but are predominately used to help meet the local financial requirements needed to receive national matching-grant funds.
Subscribe to the sports newsletter
Get the day's top sports headlines and breaking news delivered to your inbox by subscribing here.
---
Subscribe and log in to the Spokesman-Review to read and comment on this story