Sports
Dressel makes double sure
Mt. Spokane runner wins 3,200 for second state title
Sun., May 31, 2015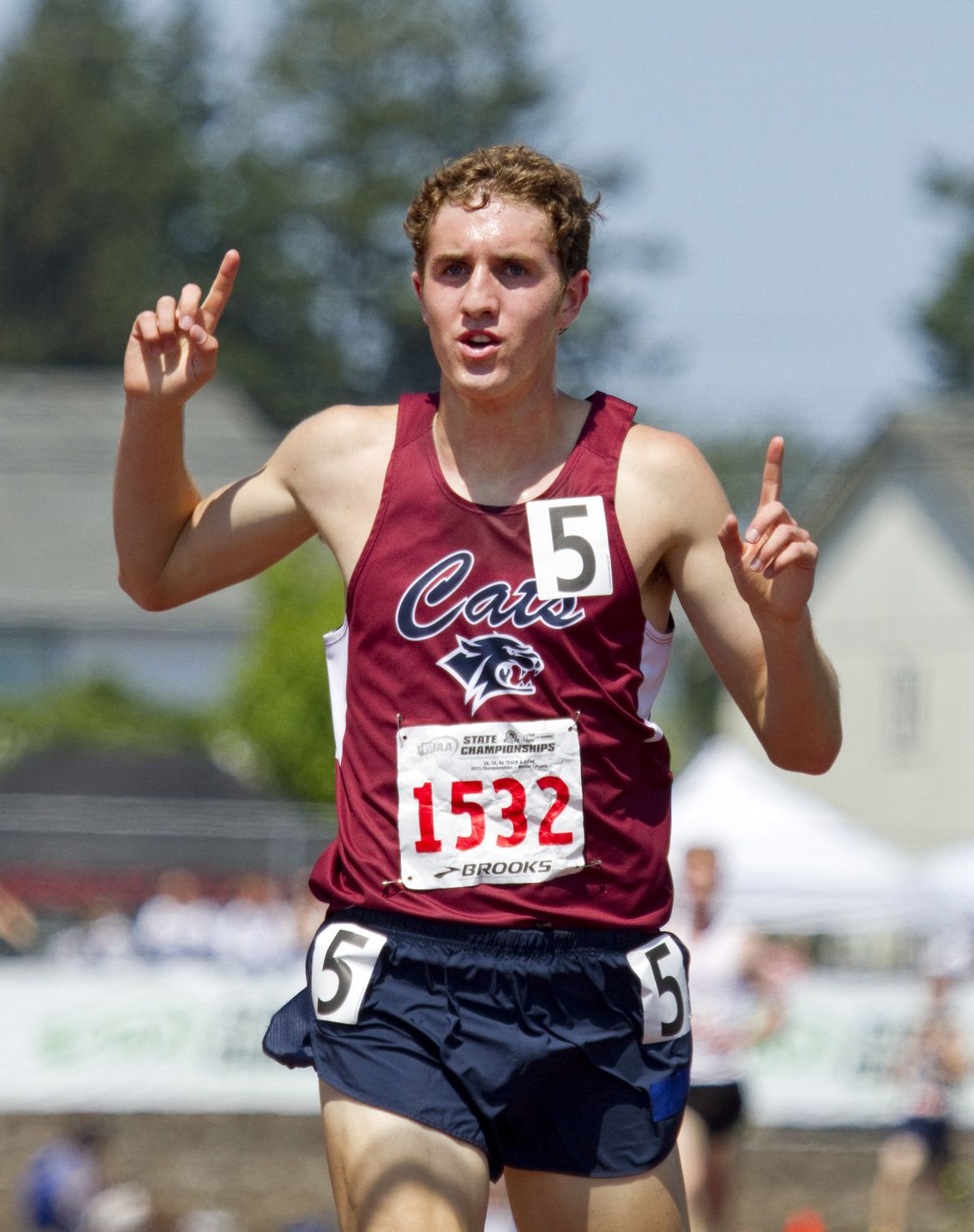 Mt. Spokane's John Dressel crosses the finish line in the 3A 3,200 meters and completes a distance double. (Patrick Hagerty)
TACOMA – It took John Dressel, a cross country and long-distance standout in track, three years to capture his first state championship.
So it made sense for the Mt. Spokane senior to go out a double winner. Dressel pulled away from friendly rival Tanner Anderson of North Central to win convincingly in the State 3A 3,200 meters Saturday as Star Track XXXIII finished at Mt. Tahoma High School.
Dressel came close to cracking 9 minutes, finishing in 9:00.32, and Anderson finished a distant second (9:09.27).
It brought to an end an entertaining high school rivalry. But it may not be the end overall. Dressel is headed to Colorado and Anderson to Oregon, both Pac-12 schools.
Appropriately, the rivals hugged afterward.
"I give credit to my competitors like Tanner who have helped me get to this point in my career," Dressel said. "I respect him. It's been a good tough four years of competing against each other. It's been a fun four years. I just thanked him for competing with me these four years."
Mt. Spokane took third with 40 points. Bellevue (58) captured a fourth straight title.
Dressel stuck to his strategy and it paid off.
"There were a few different ways we could have taken this meet head on," Dressel said. "We decided I'd sit four laps in and take it. I knew I was strong enough to do it. I sat back and it was slow the first three laps. It wasn't a scorching race after looking back on it. But it felt easy. It's kind of weird after these last three years of trying to win a state title when it was so hard. And then this year it was the easiest year to win a state title."
Dressel gave credit to his dad, Alex, Mt. Spokane's cross country coach and long-distance coach in track. And he also said it was due to his training.
"Mentally, I've been doing a lot of things that have been working well for me," he said. "I've listened to my dad this season really well and everything he's told me to do I've done it."
Dressel appeared as if he was going to break the state-title drought last fall at state cross country. Dressel was well in front of Anderson, but Dressel couldn't hold off a late surge by the NC standout.
"I was really mad about not coming out on top," Dressel said. "I did everything I could. The decisive fact was I went a little too early."
Dressel was inspired when he made the U.S. national team and took a trip to China in March.
"Having a late cross country season, I had to stay patient with the track season," Dressel said.
Dressel was happy with the team trophy.
"I'm happy with how we competed this weekend," he said. "It's a long three-day meet. We'll take it."
Kamiakin's girls captured a fourth straight team title with 92 points.
Others receiving medals were: Cheyenne Konrad of Mt. Spokane, sixth in the 400 (57.83), and the Mt. Spokane boys 1,600 relay, also sixth (3:24.98).
Local journalism is essential.
Give directly to The Spokesman-Review's Northwest Passages community forums series -- which helps to offset the costs of several reporter and editor positions at the newspaper -- by using the easy options below. Gifts processed in this system are not tax deductible, but are predominately used to help meet the local financial requirements needed to receive national matching-grant funds.
Subscribe to the sports newsletter
Get the day's top sports headlines and breaking news delivered to your inbox by subscribing here.
---