Sports
Lewis and Clark girls change their spots with second-place team finish
Sun., May 31, 2015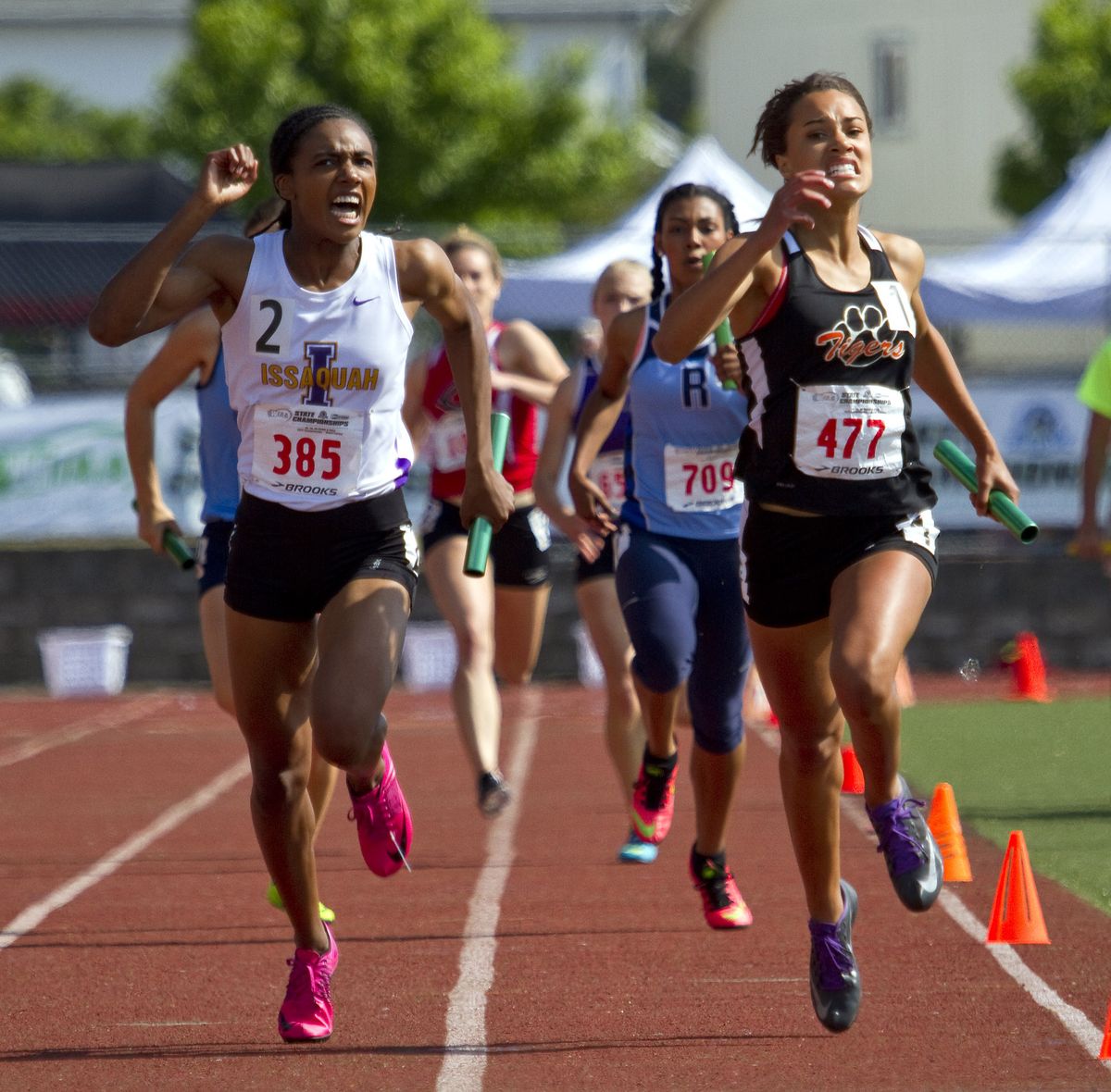 Lewis and Clark's Olivia Ellis, right, edges Issaquah's Nikki Stephens in the anchor leg of the 4A 4x200 relay. (Patrick Hagerty)
TACOMA – The Lewis and Clark girls track team scored one point last year at state, finishing last.
Correct that. Olivia Ellis scored one point for the Tigers, finishing eighth in the 800 meters.
Talk about a turnaround. Buoyed by a talented pair of freshman sprinters, LC jumped all the way to second as Star Track XXXIII concluded Saturday at Mt. Tahoma High School.
LC finished with 48 points, 11 behind State 4A champion Issaquah. Central Valley (36) finished sixth, five points out of a trophy.
Freshman Anna Rodgers captured the 100 title in 12.13 seconds and ran a leg with Ellis, Maya LeBar and Isabella Millsap on the winning 800 relay (1:40.95). Rodgers, second on Friday in the long jump, took third in the 200.
Ellis anchored the 800 relay, and she stumbled as she neared the finish line, doing a face plant on the track.
"It felt sweet," Ellis said of eating some track.
The Tigers didn't know at first if they'd won, but they erupted in emotion and formed a group hug when the times were posted on a tote board near the finish line. They won by .04.
"I looked up at the scoreboard after the race and it looked like she might have gotten me," Ellis said as she watched a delayed feed of the finish. "It's the most lean (at the line) I've ever done in my life. It was worth it. I wouldn't have done it any other way."
Rodgers credited work on starts for her victory in the 100.
"It felt pretty good," Rodgers said. "That's all I was thinking about during this race. I just concentrated on getting up strong and staying low and then finishing the race as hard as I could."
Ellis teamed with her sister, Grace, LeBar and Millsap to win the 400 relay (48.53).
"Our handoffs were pretty good. It was a great race," LeBar said. "We've been working so hard for so long; to be able to get this with my teammates … that's what matters most."
The Tigers did it with their third coach in five years, Dan Hilsendeger.
"We came in this year and our goal was to score double digits at state and we exceeded that," Hilsendeger said. "Everything else was gravy for us. This was beyond anything I could imagine."
Five of the six Tigers who competed at state return. They graduate Olivia Ellis.
"Obviously losing Olivia Ellis is going to be tough because she's our glue that holds everything together," Hilsendeger said.
"She brings all the younger girls up."
The Tigers made a statement. And they'll be back.
"The five who are coming back are freshmen and sophomores," Hilsendeger said. "We have some great eighth-graders who are coming in and more sprinters. We're going to fill that pipeline. I have goose bumps just thinking about the future. These girls accepted me. I came in and I told them that I was going to try to build something. I asked them to believe in me and they have and here we are. I'm really excited for 2016."
Perhaps no other sport offers the sudden delirium and disappointment as track and field.
Case in point is Mead senior pole vaulter Carrie Jacka. The defending state champ finished second (11-9). The winner set a meet record with a vault of 12-7.
"I'm a little disappointed," Jacka said, choking back tears. "I'm more disappointed over the height than anything else."
After she hit 12-6 at the Pasco Invite, she struggled the last month of the season.
Jalen Hicks led the Ferris boys to third with 36 points. South Kitsap (50) won the title.
Hicks took third in the 100 (10.96) and third in the long jump (22-3¼).
Others receiving medals were: Sydney Johnson of CV took third in the high jump (5-4); Anna Fomin of CV was third in the 400 (56.19) and Olivia Ellis was fifth (57.38); the CV girls 1,600 relay took fifth (3:58.31); Briegan Bester of CV finished fifth in the 800 (2:14.26); and Bryan Anderson of Mead was fourth in the 300 hurdles (39.46).
Local journalism is essential.
Give directly to The Spokesman-Review's Northwest Passages community forums series -- which helps to offset the costs of several reporter and editor positions at the newspaper -- by using the easy options below. Gifts processed in this system are not tax deductible, but are predominately used to help meet the local financial requirements needed to receive national matching-grant funds.
Subscribe to the sports newsletter
Get the day's top sports headlines and breaking news delivered to your inbox by subscribing here.
---