Sports
Shock rally only to be foiled at end by Rattlers
Sun., May 31, 2015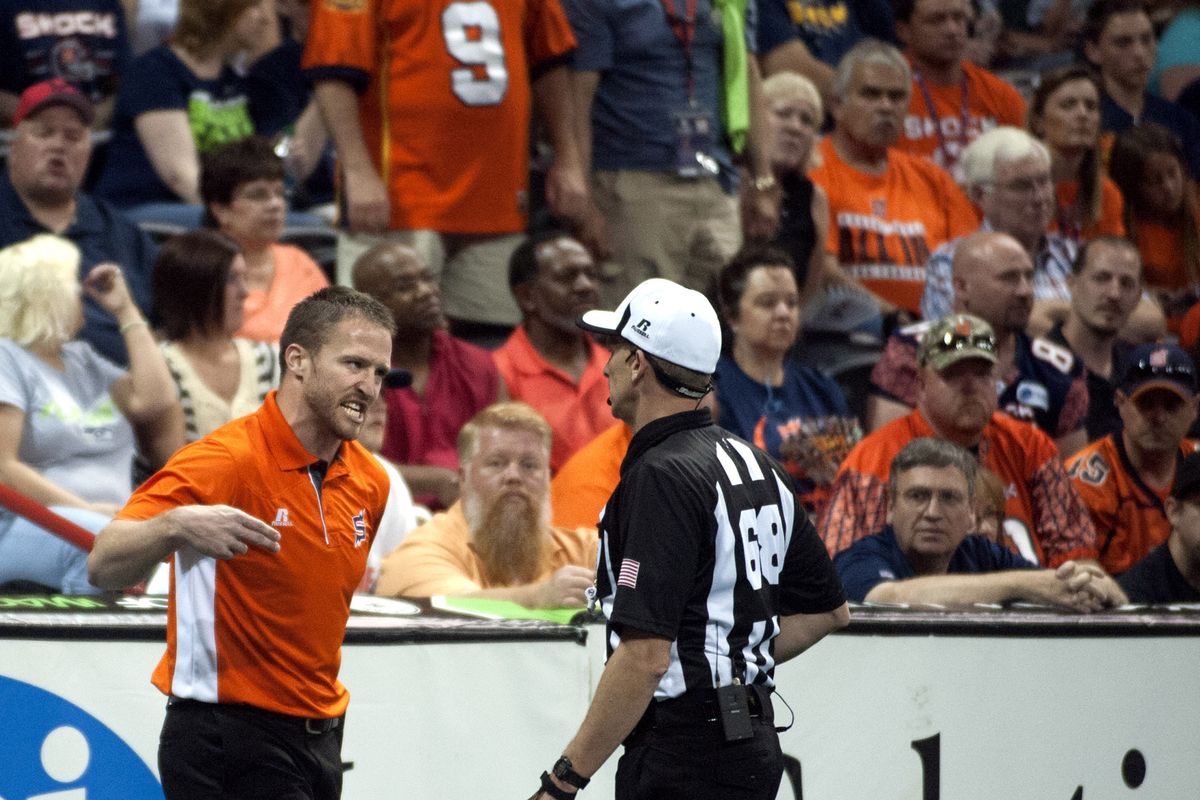 Shock head coach Andy Olson disputes a call in the second quarter. (Kathy Plonka)
After playing catch-up most of the game, the Spokane Shock had a couple of opportunities to take the lead in the final minute.
They didn't convert and Arizona took care of the rest, claiming a 59-47 Arena Football League victory in front of a noisy crowd of 7,884 Saturday at the Arena.
The Shock (3-6) rallied from 21 points down to pull even at 34, 41 and 47, but failed to finish off the comeback against the three-time defending AFL champion Rattlers (7-2).
"Any loss is hard but when you fight, come back and you're at home and it's a game you know you really need, it's a little harder," said linebacker Kevin McCullough, whose third-quarter interception helped trigger Spokane's rally.
Samuel Charles' touchdown catch evened the score at 47 but the Rattlers blocked Taylor Rowan's PAT to keep it tied with 1 minute left.
Spokane attempted an onside kick, trying to ensure it would have at least one more offensive possession. The Rattlers recovered and scored on Rod Windsor's touchdown catch, but they left the door open when Fabrizzio Scaccia missed the PAT.
Trailing 53-47, Spokane had possession, timeouts and 55 seconds on the clock. Warren Smith's first pass was tipped and fell incomplete. Defensive back Jeremy Kellem jumped in front of a Smith pass intended for Nick Truesdell for an interception. Windsor's touchdown run sealed Arizona's victory.
"We ran a dig," said Smith, who passed for 319 yards and six touchdowns. "In arena football you trust your receiver to get across the DB's face. The DB guessed and he guessed right. If we had a post or a go on, he would have been beat. He must have known we were running the dig there."
Prior to the interception, Smith had put together a solid second half, despite take a shot to the right knee he had injured just before the season opener.
"It's the first time Warren has been in that situation before, game on the line, everything on his shoulders and it didn't work this time," Shock coach Andy Olson said. "There were a lot of plays up to that point that put us in that situation but regardless, any AFL coach is the happiest guy in the world when you have the ball last and have chance to drive down the field and win the game. It didn't work this time."
Arizona led by as many as 21 in the first half. Shane Boyd, pressed into duty by Nick Davila's toe injury and B.J. Coleman leaving the team earlier this week, completed his first four passes, two for touchdowns as the Rattlers jumped in front 14-0.
Smith's pass in the end zone was read by Marquis Floyd, who made an easy interception. The Rattlers scored to bump their lead to 27-6.
Spokane answered but left too much time – 29 seconds – on the clock. The Rattlers' scored, but they also left too much time – 10 seconds. Smith threw an incomplete pass as time expired but the Rattlers were flagged for roughing the quarterback, giving Spokane an additional down. Smith connected with Truesdell for a 13-yard score and Spokane trailed 34-20 at half.
Spokane tied it up twice on Truesdell touchdown receptions but a defensive blunder allowed Arizona to go back in front. Darrin Moore made a sliding catch on fourth-and-10 and Shock defenders neglected to touch him. Moore got up and ran untouched to complete a 45-yard scoring play.
"That stuff can't happen," Olson said. "It was a pretty dumb play and it affected the outcome."
Boyd, who was intercepted four times by the Shock last June as San Antonio's starting quarterback, had seven touchdown passes.
Local journalism is essential.
Give directly to The Spokesman-Review's Northwest Passages community forums series -- which helps to offset the costs of several reporter and editor positions at the newspaper -- by using the easy options below. Gifts processed in this system are not tax deductible, but are predominately used to help meet the local financial requirements needed to receive national matching-grant funds.
Subscribe to the sports newsletter
Get the day's top sports headlines and breaking news delivered to your inbox by subscribing here.
---