News > Spokane
Two years in, more people insured under Obamacare but changes rattle some enrollees
Sun., Nov. 1, 2015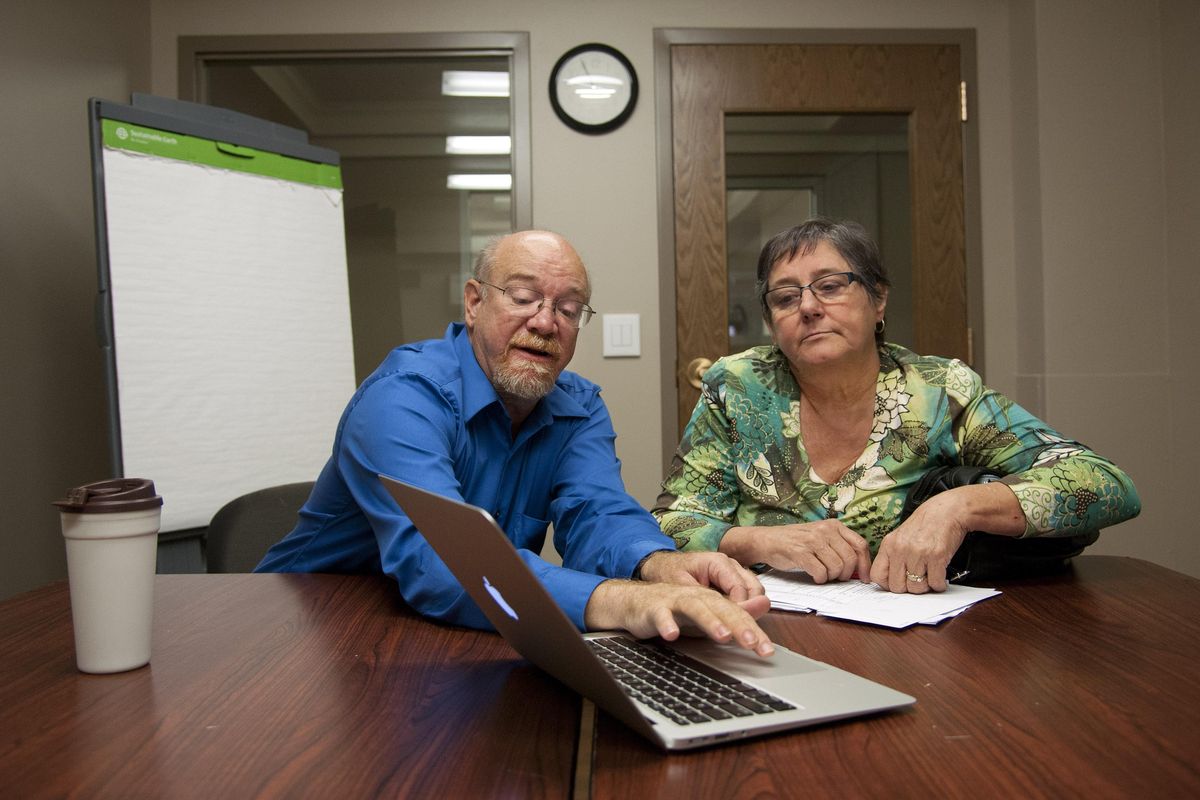 Donna Russell is shopping for new health insurance plans for her family through the state-run exchange, Washington Health Benefit Exchange. Her husband's employer recently dropped insurance coverage for its workers. Helping her find the right plan is Curt Fackler, an exchange navigator with Better Health Together. (Dan Pelle / The Spokesman-Review)
Donna and Stephen Russell are part of America's newest and largest group of shoppers. Thanks to the Affordable Care Act, they're in the market for health insurance.
In their early 60s, the Deer Park couple are too young for Medicare. Stephen's employer told workers in July it was dropping its fairly generous medical coverage because paying the federal penalty is cheaper. That was a few months after Donna took an early retirement from her job as a credit union teller.
Their household income is just below 400 percent of the poverty level, a magic number that qualifies them for a federal subsidy to help pay their premium of about $460 a month. That's more than they were paying for the coverage through Stephen's employer.
Or Donna could go back to work, which could make insurance easier to afford. But it would also boost their household income and wipe out any subsidy, giving them a premium as high as $1,000 a month.
On Thursday, Donna was reviewing her options with Curt Fackler, a navigator with Better Health Together who helps people sort through the complicated medical insurance landscape. The Russells are typical of many clients between 55 and 65 – they are trying to balance jobs and affordable health insurance in a roller-coaster economy. All they want, Fackler said, is a modest bridge to the security of Medicare.
Third year begins
As the third year of "Obamacare" dawned Sunday and Americans began shopping online for next year's health insurance, Washington officials expected to avoid some problems that plagued the state's website when it debuted in 2013.
State residents who want to compare insurance plans likely will be spared the delays and computer crashes shoppers experienced two years ago. The Washington Health Benefit Exchange also has jettisoned the most problematic aspect of its system – having the state act as middleman between customers and insurers for payments.
"It's hard to imagine it will be as hard as it has been in the last two years," state Insurance Commissioner Mike Kreidler said.
Starting at 7:30 a.m. Monday, the state will have about 300 representatives at the exchange's Customer Support Center to answer questions on a toll-free line, (855) 923-4633. They'll be answering phones weekdays 7:30 a.m. to 8 p.m.
The exchange is touting its record of enrolling more than 1.5 million Washingtonians in some kind of health care plan in 2015. About 90 percent of those were in Medicaid plans, available because the state agreed to accept federal money to cover most of those costs. It's one of the main differences now between Washington and Idaho health exchanges; legislators in the Gem State were adamantly opposed to expanding Medicaid because of fears that federal money would someday run out.
More people are covered and more choices for medical insurance are offered, which were two goals of the Affordable Care Act.
But a key promise has not been kept for many.
Plans keep changing
Customers found out two years ago that if they liked their insurance plans and their doctors, they couldn't always keep them. And now those who like their current plan may not be able to keep it, either. The insurance companies change co-payments, deductibles, covered drugs or approved doctors so frequently that one year's well-liked plan may not exist the next year.
"There's no guarantee the plan you're in today will keep everything," said Michael Marchand of the Washington Health Benefit Exchange. "The marketplace hasn't settled."
That's why individuals and families who are not eligible for Medicaid and signed up for an insurance plan on an exchange or through a broker last year are advised to review their coverage to see if they should or must switch to a different plan for 2016.
"Once a year, you should go in and re-evaluate. There might be a better plan for you," said Fackler, who is one of about 1,200 navigators in the state. There are also about 2,000 registered brokers in the state available to give personal assistance to people shopping for individual or family health insurance.
Better Health Together, which was started with a grant from the Empire Health Foundation, has navigators in many Eastern Washington medical facilities and has helped nearly 100,000 people find health insurance, Fackler said.
He might seem to be an ironic choice for a navigator to Obamacare, the name for the Affordable Care Act that has become so common that even the president has adopted it. He's the former Spokane County Republican Party chairman, and the Democratic president's signature domestic program is anathema to most Republicans. Fackler said recently he doesn't see a conflict.
"I'm just really enjoying it," he said. "I've been involved in health care a long time. You can change it more from within than from outside."
Choices keep increasing
The number of insurance companies operating in Washington has nearly doubled from eight to 15 since the start of Obamacare, and the number of plans offered has increased markedly in recent years. Last week, however, Oregon-based Moda Health pulled out of Washington and California, saying federal reimbursements for Obamacare plans were far below expectations. It had provided coverage for about 30,000 people through individual and business plans, including Associated Industries of Spokane.
Washington residents shopping for a plan on the exchange will have a total of 148 plans to choose from, although not all will be available in every part of the state. The plans are divided primarily into three levels of coverage that correspond to Olympic medals: gold, silver and bronze. Moving down the coverage level generally raises the deductible or out-of-pocket expenses a person must pay before key benefits kick in, but lowers the monthly premium.
Federal assistance is the carrot offered to some people for the Affordable Care Act. But there's a stick, too, and it gets bigger in 2016. It's the higher of 2.5 percent of the yearly household income or $695 per adult and $347.50 per child, with a maximum of $2,085 per family. The penalty is paid when filing taxes, which for 2016 would be sometime in 2017.
The selection can be so daunting the exchange has a new website, www.knowyourplan.org, to walk potential health insurance customers through the basics before they go to the main website to begin reviewing plans.
"Looking for new health insurance is very much like shopping for a car," said Marchand, of the benefit exchange. "If you're a family of five, you're probably not shopping for a Miata." That doesn't mean there won't be plenty of small cars that don't meet your needs in the ads or on the lots, but it probably means you won't spend time test-driving them.
Another annual checkup
Reviewing your coverage and shopping around is a lesson Jerry Descoteaux learned last year. A Spokane tax accountant who runs his own business, he was told he didn't need to do anything to renew the Blue Cross policy he had for his family, which included two sons in college. "We'll just roll you over," he recently recalled someone from the insurance company telling him as 2015 approached.
Then he went to the doctor in January, and was told by the office staff he didn't have insurance. Several phone calls later he learned the company had changed the deductible, so his plan didn't exist and the state hadn't collected his premium in December. Getting the premiums and coverage to match up took repeated calls, and the payments weren't straightened out until this fall.
He can't automatically renew for next year because he received a notice that his premiums would be going up by more than $200 a month, and his deductible would rise another $1,000. He'll be shopping around for other plans.
It wasn't the first time Descoteaux had problems with billing. He was among hundreds who temporarily lost coverage in 2014 when payments made to the exchange were not properly forwarded to their insurance company and credited to their account. They'd have claims rejected and procedures canceled because their companies listed them as uninsured even though they'd paid monthly premiums to the state.
That billing system, known as premium aggregation, was a decision the exchange made in 2013 before turning on the website. The state would collect both the payments from insured residents and federal funds available to some customers based on their income, and send the money to the insurance companies.
Federal law requires the exchange to aggregate premiums for small-business customers. To have the system available on time in 2013, officials decided not to set up a separate payment plan for individuals, Marchand said.
That was probably the biggest mistake the exchange made, Kreidler said, and changing the system earlier this year to require individual customers to make their payments to insurers is probably the best improvement. Only four other states did it that way, and all have abandoned that system.
Many things to consider
People buying insurance, Marchand said, have to consider the three Cs: cost, both the price of premiums and out-of-pocket expenses; coverage, or the services and prescription drugs a policy does and doesn't pay for; and convenience, which includes whether a favorite doctor, nearby hospital or local clinic is in the plan.
Most people in balancing those three items will wind up picking the two that are most important to them, he said. They may have to get a more expensive plan that includes their doctor and the drugs they are taking, or pay less for a plan with the right benefits but requires them to use different health care providers.
Those were among the questions facing the Russells as Donna examined options with Fackler for the coverage they'll buy for 2016. Although they can sign up now, they have until mid-December to decide and start their coverage on Jan. 1.
"We're going to stick it out for now to see what happens," she said. "We'll live a little poorer, and hopefully stay healthy."
Staff writer John Stucke contributed to this report.
Local journalism is essential.
Give directly to The Spokesman-Review's Northwest Passages community forums series -- which helps to offset the costs of several reporter and editor positions at the newspaper -- by using the easy options below. Gifts processed in this system are not tax deductible, but are predominately used to help meet the local financial requirements needed to receive national matching-grant funds.
Subscribe now to get breaking news alerts in your email inbox
Get breaking news delivered to your inbox as it happens.
---