News > Spokane
Spokane police ombudsman commission selects Canadian Raheel Humayun
UPDATED: Tue., Nov. 3, 2015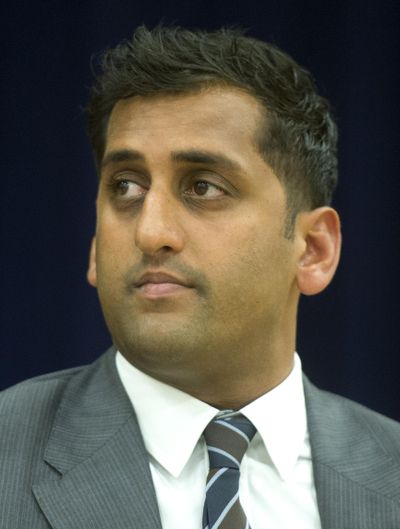 A city commission on Tuesday selected a Canadian who initially was the second choice of the group to be Spokane's next police ombudsman.
The group unanimously chose Raheel Humayun, an investigator with the British Columbia Office of the Ombudsperson, contingent on him getting a visa allowing him to work in Spokane within 75 days.
The decision is the latest move in the city's long struggle to replace Spokane's first ombudsman, Tim Burns, who left the job in January. Since Burns' departure, most of the members of the ombudsman commission have been replaced.
The commission previously offered a four-month, temporary job as ombudsman to ex-Florida Department of Law Enforcement supervisor Robert Breeden. He turned down that offer last month.
Commissioners had praised Breeden's experience, but offered him a temporary position to give them time to evaluate claims that Breeden belittled employees he supervised in Florida. Breeden has said those allegations were brought in retaliation for blowing the whistle on his supervisor for neglecting her work. He has filed a lawsuit against the Florida Department of Law Enforcement.
After he turned down the temporary job, Breeden remained in the running to be the permanent ombudsman.
On Tuesday, commissioners said they had received reports from a private investigator about Breeden and Humayun that caused them to change their mind about Breeden. They said information contained in the report is confidential and did not discuss the contents of the report.
"I am not comfortable with Mr. Breeden at this point," said Commissioner Ladd Smith.
Commissioner Aaron VanderPol said Breeden no longer looks like an attractive candidate.
"We are put in a bind once again," he said.
The third original candidate, Allen Huggins, wasn't in serious contention after concerns were raised in multiple public forums about his online comments on the Black Lives Matter movement.
Several commissioners on Tuesday wondered whether they should direct the search committee to start over and come up with three new candidates. But they agreed that Humayun was a good candidate and the only issue was whether he can get a work visa and how long that would take.
"I think he's a very attractive candidate," said commission Chairwoman Debra Conklin.
"I do think he'd do a good job," said Commissioner Scott Richter.
Ombudsman Commission attorney Breean Beggs said Humayun could apply for an expedited visa under the terms of the North American Free Trade Agreement and should know within 60 days if he will get it. That information seemed to offer new hope to the commission.
"It has been 10 months since Tim Burns left, and we don't even have an interim (ombudsman)," Conklin said.
Richter said that if Humayun can't get an expedited visa he would be in favor of asking the search committee to start over. "I'm not willing to wait a year," he said. "This has been a long time coming. I hope it all works out like it needs to."
Local journalism is essential.
Give directly to The Spokesman-Review's Northwest Passages community forums series -- which helps to offset the costs of several reporter and editor positions at the newspaper -- by using the easy options below. Gifts processed in this system are not tax deductible, but are predominately used to help meet the local financial requirements needed to receive national matching-grant funds.
Subscribe to the Coronavirus newsletter
Get the day's latest Coronavirus news delivered to your inbox by subscribing to our newsletter.
---