Sports
Eastern couldn't stop NAU on third-down plays
Sat., Nov. 7, 2015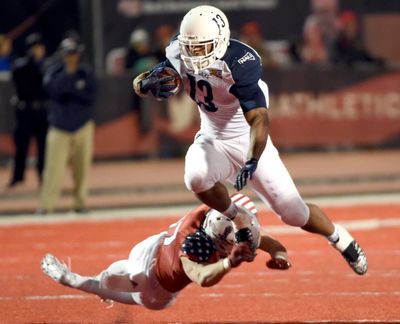 For Eastern Washington's defense, the tone was set early in Saturday's 52-30 loss to Northern Arizona.
Early in first quarter, the Eagles were down 7-0, but had NAU bottled up on its own 7-yard line.
Twenty-two plays later, the Lumberjacks were back in the EWU end zone after a drive that also consumed more than 9 minutes and left the Eagles gasping.
It didn't end there, as Eastern simply couldn't get off the field thanks to a superb effort on third-down by NAU. By games end, the Lumberjacks had converted 13 of 19 third-down chances – a stat that went a long way in sending Eastern to its first home loss of the year.
"It's frustrating right now, we really thought we had a good game plan," said defensive end Matthew Sommer, whose fumble recovery midway through the third quarter led to an Eastern touchdown that cut the deficit to 21-14.
However, NAU responded with a 13-play, 61-yard drive ending in a field goal that pushed its advantage back to two scores.
For good, as it turned out.
Said linebacker Ketner Kupp, "You think you have momentum and we want to keep fighting for it and if you don't have momentum, it's nothing."
Eastern struggled all night to solve freshman quarterback Case Cookus, the highest-rated passer in the Football Championship Subdivision. The Eagles sacked him four times, but Cookus kept them off balance with his running ability.
By game's end, Cookus was 22-for-30 for 224 yards and a score. Most of his completions went for first downs.
"I was impressed before we played them and I'm impressed after seeing him in person," Baldwin said. "He hasn't played all year like a freshman. He is playing the quarterback position like a junior or senior. That's what's most impressive to me."
Coming off a big performance in a 14-13 win over Weber State, the Eastern defenders struggled early against NAU. Cookus completed eight of his first 10 passes as the Lumberjacks converted five of seven third-down attempts.
NAU also had a huge early advantage in time of possession, holding the ball for almost 12 minutes in the first quarter. For the game, NAU gained 384 yards.
The Eagles said they weren't taken by surprise by NAU's game plan.
"It wasn't anything we haven't seen," safety Zach Bruce said. "We'll come back, make corrections, and be ready to go next week."
Local journalism is essential.
Give directly to The Spokesman-Review's Northwest Passages community forums series -- which helps to offset the costs of several reporter and editor positions at the newspaper -- by using the easy options below. Gifts processed in this system are not tax deductible, but are predominately used to help meet the local financial requirements needed to receive national matching-grant funds.
Subscribe to the sports newsletter
Get the day's top sports headlines and breaking news delivered to your inbox by subscribing here.
---