Sports
WSU comeback makes Cougars bowl eligible
Nov. 7, 2015 Updated Sat., Nov. 7, 2015 at 10:52 p.m.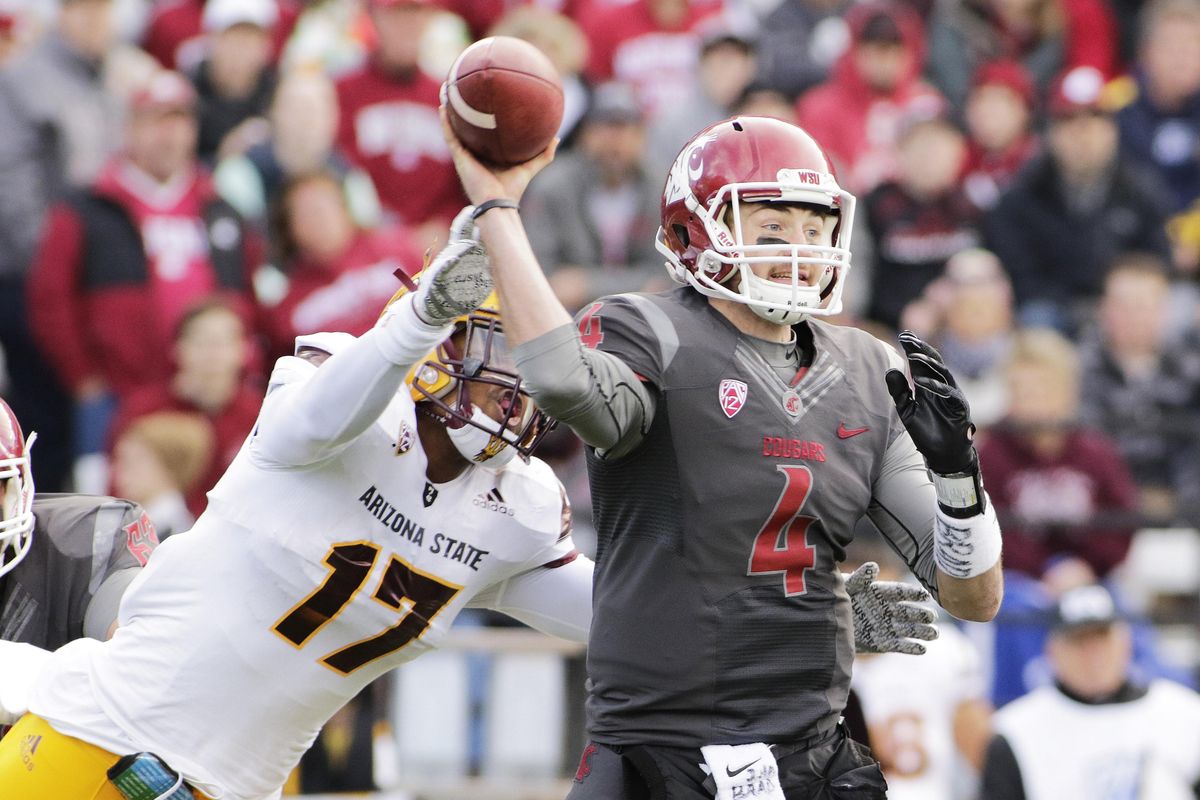 Washington State quarterback Luke Falk (4) passes as he is hit by Arizona State linebacker Ismael Murphy-Richardson (17) during the first half of an NCAA college football game, Saturday, Nov. 7, 2015, in Pullman, Wash. (Associated Press / AP)
PULLMAN – The time it took for the possibility of postseason play to become a reality was however long Dom Williams needed to race three-quarters of the field and score the game-clinching touchdown.
Washington State beat Arizona State 38-24 to become bowl eligible with three games remaining in the season, overcoming a two-touchdown first quarter deficit.
Freshman cornerback Darrien Molton iced the victory with an interception on the ensuing drive. The Cougars had such firm control of the fourth quarter – outscoring the visitors 21-3 in the period – that a victory celebration with four minutes left on the clock was not premature.
"I thought as a team, collectively we finished this game better than we have any game all year," Mike Leach said. "We did some things as far as come back and things like that against other people, but there was a point where this game was on the bubble and we put it out of reach, which is a thing we as a team weren't necessarily very consistent at."
The Sun Devils tried to match up man-to-man with WSU receivers and that led to a second half that was full of explosive plays for WSU. The 75-yard pass to Williams, a 36-yarder to freshman Kyle Sweet, another that went 47 yards to Robert Lewis. Such plays are what allowed WSU to score on touchdown drives of 94 and 99 yards against one of the conference's toothier defenses.
"When you play man coverage, you make one guy miss and you're going to have huge yards," said quarterback Luke Falk. "Coach has been saying that all week in practice and it showed."
The Cougars went three-and-out on their first two offensive drives and the Sun Devils responded to both with touchdowns. Running backs Demario Richard and Kalen Ballage broke tackles in a way that recalled the WSU defense in this year's first few games rather than the one that held Arizona's Nick Wilson and Stanford's Christian McCaffrey in check.
The circumstances also harkened back to last time the Sun Devils were in Martin Stadium, when they put the Cougars away with three first-quarter touchdowns and cruised to a 55-21 victory in 2013.
When Luke Falk's pass was intercepted and returned to the WSU 22-yard line with the Cougars trailing 14-0, it appeared WSU would again be knocked out in the first round.
But the Cougars stuffed quarterback Mike Bercovici on fourth down and the Cougars managed a field goal on the ensuing drive.
"I think that was big," said nickel Parker Henry, who led the Cougars with 14 tackles.
"They were up 14, the first few drives went so fast, I don't think we were able to get in a rhythm defensively," Henry said. "We were kind of playing soft. I think coming out of the fourth down we reverted back to the way we were playing the last few weeks. It got us some momentum and we needed that."
WSU (6-3, 4-2 Pac-12) is tied for third in the overall Pac-12 standings, putting the Cougars in prime position for a desirable bowl game if they can win even one of their final three games.
While a 6-6 record would not guarantee a postseason berth, with 40 bowl games in 2015, it is almost impossible for an eligible Pac-12 school not to receive an invite. While Leach is not prone to looking at the context of a win or loss until after the season is over, he did acknowledge the significance of becoming eligible for the postseason.
"It always is (significant), it always is," Leach said. "Of course, we win the next one we're guaranteed one. There's bowl eligible and bowl guaranteed in this country."
The WSU offense gained just 3.9 yards per play in the first half, compared to 6.3 for ASU. The Sun Devils blitzing defense sacked quarterback Luke Falk three times and forced him into five hurried incompletions, yet the Cougars trailed just 14-10 at the half thanks to a timely turnover and assist from the officiating crew.
The Sun Devils had a 14-3 lead over WSU and drove deep in to WSU territory. Bercovici's pass to Devin Lucien was completed beyond the WSU 30-yard line, but WSU defensive back Kirkland Parker ripped the ball way from the receiver and cornerback Marcellus Pippins scooped it up.
Bercovici completed 27 of 44 passes for 229 yards and no touchdowns. Falk was 36 of 55 for 497 yards, five touchdowns and an interception. Richard and Ballage, who each averaged better than six yards per carry and finished with 111 and 84 rushing yards, respectively, led the ASU offense.
The Cougars scored their first touchdown, cutting ASU's lead to 14-10, when Gabe Marks was stopped short of a first down on fourth down. The officials did not blow their whistle when the play appeared dead, and Marks seemed to argue that he should had a chance to fight for extra yards.
The officials granted the Cougars a fifth down and Falk threw an 11-yard touchdown pass to Williams on the extra play.
WSU took its first lead with 7:57 left in the third quarter, when Falk threw a short pass to Harrington, who ran to the left side of the field, juked a defender in, and then cut upfield for a 23-yard touchdown reception to put the Cougars up 17-14.
Local journalism is essential.
Give directly to The Spokesman-Review's Northwest Passages community forums series -- which helps to offset the costs of several reporter and editor positions at the newspaper -- by using the easy options below. Gifts processed in this system are not tax deductible, but are predominately used to help meet the local financial requirements needed to receive national matching-grant funds.
Subscribe to the sports newsletter
Get the day's top sports headlines and breaking news delivered to your inbox by subscribing here.
---