Sports
Byron Scott: Kobe said recently this could be his last year
Sun., Nov. 8, 2015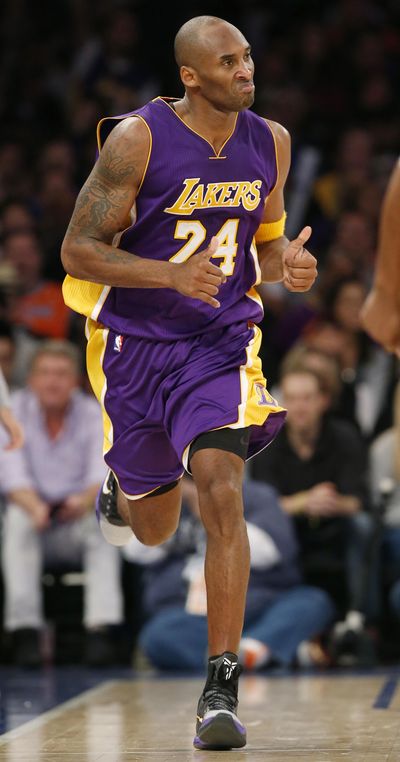 NEW YORK – Lakers coach Byron Scott asked Kobe Bryant recently how he wants to handle his minutes this season.
Bryant's response was about next season – there might not be one.
Scott said Sunday that was when Bryant first told him this could be his last season in the NBA.
With the 37-year-old Bryant coming off Achilles, knee and shoulder injuries that cut short his last three seasons, Scott talked to him over the summer about how Bryant would be used, particularly when the Lakers played on back-to-back nights.
"We've talked about it a few days ago. Talked about it again and his feeling was, 'Coach, this might be my last year. So if possible I would like to try to play every game,'" Scott said.
Bryant hasn't said if his 20th season will be his last. He told reporters Saturday that "if you asked me today, this would be my last year," but that he was leaving it open. His comments Sunday echoed that.
"My message has been consistent all the time. If I change my mind, I'll come back and play. If I don't, I won't," Bryant said. "I've been pretty consistent with that, so I don't know how much, what else can I say?"
Bryant finished with 18 points Sunday in a 99-95 loss to the New York Knicks in what may have been his final appearance at Madison Square Garden, where he scored his first NBA point in 1996 and set the opponent record with 61 points in 2009. He is in the final year of his contract and is shooting just 32 percent while trying to regain his form after a calf injury during the preseason.
He shared a long embrace afterward with Carmelo Anthony, who said Bryant remains a tough opponent even while contemplating retirement.
"I wouldn't count him out," Anthony said. "But especially for young guys to be able to be in his presence, and knowing the mark that he left on this game, or that he's leaving on this game, it's a special moment."
Local journalism is essential.
Give directly to The Spokesman-Review's Northwest Passages community forums series -- which helps to offset the costs of several reporter and editor positions at the newspaper -- by using the easy options below. Gifts processed in this system are not tax deductible, but are predominately used to help meet the local financial requirements needed to receive national matching-grant funds.
Subscribe to the sports newsletter
Get the day's top sports headlines and breaking news delivered to your inbox by subscribing here.
---
Subscribe and log in to the Spokesman-Review to read and comment on this story