News > Spokane
Local EMT, rock climber dies in fall
Wed., Nov. 11, 2015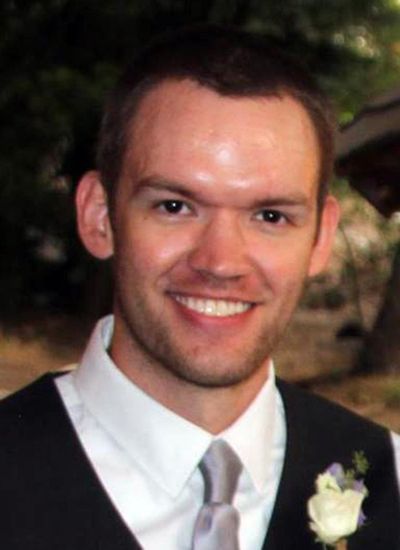 Andrew Bower was preparing to do the two things he liked best last Friday - rock climbing and helping people - when he fell off a cliff in the Dishman Hills Natural Area and died.
Bower had gone to the climbing area to replace old bolts attached to the rock face, which are used by climbers to attach their ropes. Spokane County Sheriff's Office spokesman Deputy Mark Gregory said investigators found disturbed moss and pine needles at the top of the cliff.
"Everything points to this being an accident," said Gregory.
Bower was found by a family member who went looking for him when he didn't arrive home on time and didn't answer his phone, Gregory said.
His brother, Aaron Bower, wrote a lengthy post in honor of Bower on a GoFundMe page set up to help Bower's wife pay for funeral expenses. He wrote about Bower's passion for replacing old bolts to make climbing safer for others.
"He wasn't able to complete his mission that day and we assume he was called to be with the Lord quickly and peacefully before he unpacked his gear," his brother wrote.
Bower, who would have turned 27 on Tuesday, grew up in Colorado and was an avid outdoorsman. He was a certified mountaineer and whitewater rafting guide. He worked at the Wild Walls Climbing Gym in Spokane as a climbing instructor for several years before beginning to work at American Medical Response as an emergency medical technician.
Phil Sanders worked with Bower at Wild Walls for years and also went climbing with him frequently. "You pretty much can't be more into rock climbing" than Bower was, Sanders said.
Bower's effort to replace old bolts was a reflection on his focus on safety, Sanders said.
"When we climb outside there are a lot of bolts that are placed in the rocks by other climbers," he said. "Eventually they wear out."
A climbing route can have between 10 to 20 bolts, depending on the difficulty, Sanders said. Bower had been replacing bolts all summer, a task that involves rappelling down a rock face to drill holes for new bolts.
"It's something that everybody uses," Sanders said. "His big thing was that he wanted bolts that were, for starters, just safer. A lot of the bolts in Spokane are quite old, some more than 30 years."
Bower was patient and always willing to help someone who wanted to learn, Sanders said. He was very religious and Sanders said he never heard Bowers say a bad word about anyone. "He was the only person in my life who legitimately walked the talk in that respect," he said.
One of the things Bower liked about training to be an EMT was the challenge and the desire to push himself, Sanders said. That's likely also what drew him to rock climbing.
"You're only ever working against yourself," he said. "It's all you and the rock, training yourself, pushing yourself. When you finally finish it, when you're done, you know that nobody else but you did all that work."
Sanders said others in the climbing community will take over Bower's mission to replace the old bolts.
"It's just going to be a different world without him," he said.
Local journalism is essential.
Give directly to The Spokesman-Review's Northwest Passages community forums series -- which helps to offset the costs of several reporter and editor positions at the newspaper -- by using the easy options below. Gifts processed in this system are not tax deductible, but are predominately used to help meet the local financial requirements needed to receive national matching-grant funds.
Subscribe now to get breaking news alerts in your email inbox
Get breaking news delivered to your inbox as it happens.
---