Sports
Adrienne Dotson leads group of experienced seniors for Mt. Spokane volleyball
Thu., Nov. 12, 2015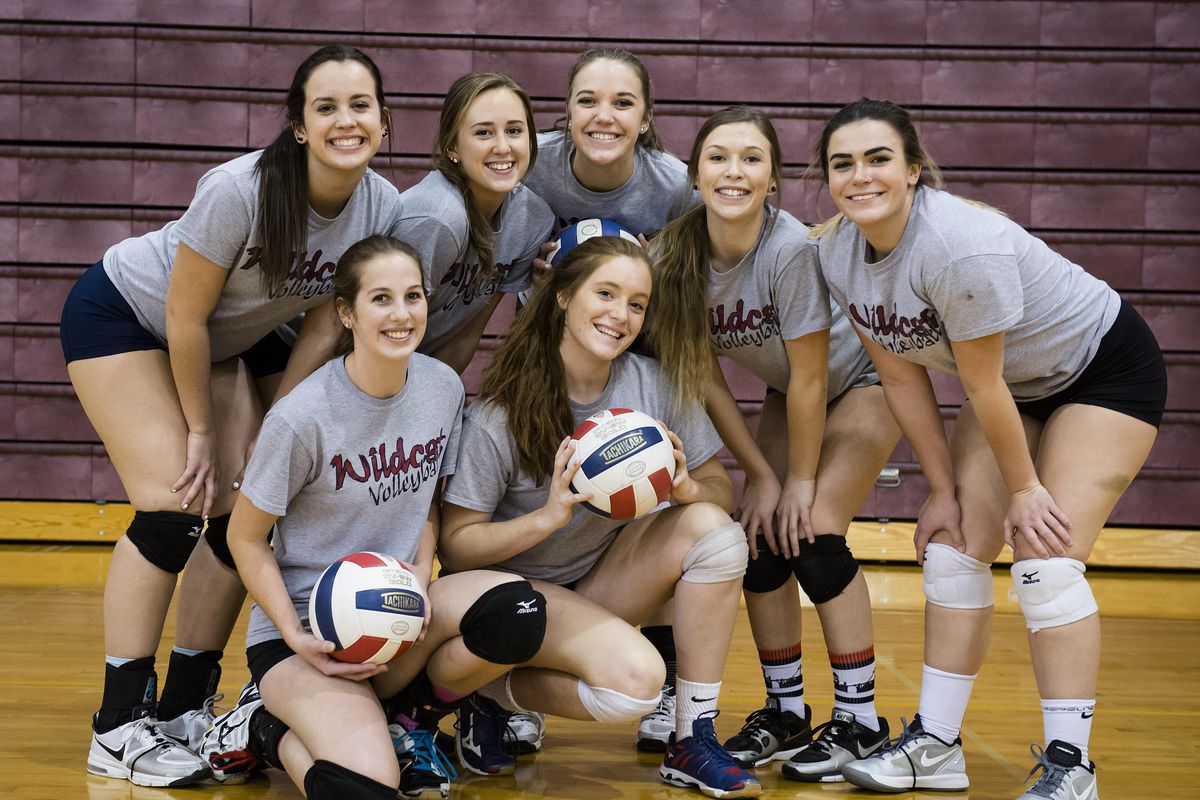 Mt. Spokane volleyball seniors, In back, left to right, Mya Voeller, Kelly Brown, Bailey Ricard, Megan Landaker, Laurel Furulie. In front, left to right. Kaitlyn Streltzoff and Adrienne Dotson. The Wildcats are preparing for the state tournament this weekend in the Tri-Cities. (Colin Mulvany / The Spokesman-Review)Buy a print of this photo
Adrienne Dotson learned the nuances of the state volleyball tournament as a young player.
She's passing on that knowledge to her Mt. Spokane teammates while approaching her final days with the Wildcats.
Mt. Spokane won the 3A regional title last Saturday to qualify for the State 3A tournament for the first time since 2012, Dotson's freshman season.
"I was really nervous going in," Dotson said of her memories of 2012. "It's like a crazy experience. It's surreal. It's the best of the best and you're playing them."
With a few breaks at the 2014 regional, the Wildcats would have qualified last season. Dotson said the difference this season came from the team-first concept embraced by the Wildcats' seven seniors.
"We're more like a family," said Dotson, a 5-foot-10 right-side hitter. "There are no cliques. We're all together, all the time. We're like an actual team. We all get along."
In a way, the Wildcats played not to lose at last year's regional, challenged by tough teams from Kamiakin and Southridge. This season, Mt. Spokane had already played dead-even with Kamiakin at two tournaments, so the Wildcats expected to compete well when they met the Braves in the regional title match.
"This is a senior-laden team that's gone through a lot and they know what it takes," Wildcats head coach David Whitehead said. "From the summer on, I knew we had something special. Just to see them grow throughout the year has been fun."
Mt. Spokane's other seniors are 5-10 middle blocker Kaitlyn Streltzoff, 5-9 setter Kelly Brown, 5-6 libero Megan Landaker, 5-5 defensive specialist Laurel Furulie, 5-9 outside hitter Bailey Ricard and 5-10 DS Mya Voeller. Dotson, Brown, Landaker and Ricard are the co-captains.
Most have played together since seventh grade at Mountainview Middle School. Whitehead coached many of them as eighth-graders, and most are starters for their final season at Mt. Spokane.
"We're all team players," Dotson said. "We all try to keep each other up. They're confident and they help each other."
"These guys are really close and I really don't think they wanted the season to end," Whitehead said.
The Wildcats began a ritual this season in which they clap the number of practices they've had after each practice ends. Their goal was to hit 40 – meaning they've qualified for state – and they'll hit that number in their final tune-up for state.
Mt. Spokane, ranked eighth in the most recent state volleyball coaches' poll, will open state play at Kennewick's Toyota Center at 8 a.m. Friday against Bishop Blanchet.
"We have to be at the center at 7, so that should be fun," Dotson said. "We've been having morning practices to try to wake us up."
The weekend will mark the end of the road for Dotson with sports at Mt. Spokane. She hasn't selected a college, but she'd like to study nursing.
"I'm kind of done with it," Dotson said. "I'm overwhelmed by how much I've played the last four years, so I'm just ready to have a break."
Local journalism is essential.
Give directly to The Spokesman-Review's Northwest Passages community forums series -- which helps to offset the costs of several reporter and editor positions at the newspaper -- by using the easy options below. Gifts processed in this system are not tax deductible, but are predominately used to help meet the local financial requirements needed to receive national matching-grant funds.
Subscribe to the sports newsletter
Get the day's top sports headlines and breaking news delivered to your inbox by subscribing here.
---