Sports
Portland State's Bruce Barnum has fond memories of Eastern
Tue., Nov. 17, 2015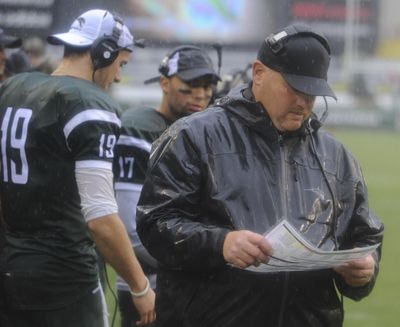 Ask Portland State football coach Bruce Barnum about his playing days at Eastern Washington and he'll give you a simple answer:
"I didn't."
Wikipedia backs him up: Under "Playing career, Eastern Washington" there's a solitary question mark.
For the record, Barnum spent two seasons with the Eagles in the mid-1980s, mostly on the scout team. He rarely found the field but found his calling as a coach.
And he had fun along the way. During one practice session at Woodward Field, Barnum was expected to call out coverages for the scout team, based on hand signals from head coach Dick Zornes.
Barnum decided to poke fun at Zornes and his gnarled hands. The call was Cover 2, but Barnum yelled back: "What was that, coach - Cover 1 or Cover 4? I can' tell from your hands."
If Cheney in the 1980s was the cradle of coaches – current Florida head man Jim McElwain was a teammate – Barnum was a rebellious child.
On several other occasions, Barnum got into fistfights with the first-team offensive players, which never sits well with coaches.
"Zornes and I went round and round," Barnum said.
Zornes probably wasn't amused, but he never forgot the undersized linebacker from Vancouver. In 2011, Barnum – then PSU's offensive coordinator – was leaving his booth in the press box at Roos Field.
It was halftime, and Barnum was heading to the visitor's lockerroom. "I came down, opened the door to and there's this guy standing with his arms crossed, and he corners me. He says, 'Barney, I'm proud as hell of you – now get going and coach!'"
Of course, it was Zornes.
"That was quite a memory," said Barnum, who hopes to make a few more memories on Saturday when PSU visits the Eagles in the final game of the regular season.
Barnum and the Vikings have had some big moments this year. After Nigel Burton was fired, the Vikings named Barnum the interim coach. "A 12-month interview," Barnum called it. A tough one, too, since the Vikings were picked by the media to finish next-to-last in the 13-team Big Sky.
He crushed the interview in his first game by beating Washington State, then was rewarded with a five-year contract that was unveiled on the morning of practice on Oct. 14.
As athletic director Mark Rountree handed Barnum the contract, the players cheered wildly: "Barney Ball, Barney Ball."
In Barnum's words, "Barney Ball" is nothing more than blue-collar, back-to-basics football – updated with an uptempo Pistol offense. All have resonated with his players, who've responded by winning eight of 10 games and all but clinching a spot in the FCS playoffs with one game to go.
Not bad for a kid who could have left the game for good after was called into Zornes' office after his sophomore year and told that his scholarship wouldn't be renewed.
To soften the blow, Zornes asked Barnum to work as a volunteer coach.
"I said no, that I was going to finish my degree," said Barnum, who spent his last fall in Cheney in 1986 splitting time between classes and working as an assistant at Central Valley High School.
Over the next quarter-century, Barnum was all over the map – literally. One more high school stint in Vancouver was followed by positions at schools as diverse as Western Washington, Cornell, American International, the Coast Guard and Idaho State.
The 51-year-old Barnum has been in Portland since 2010, leading an offense that's been among the better units in the Big Sky. Barnum still calls the Vikings' offensive plays.
And he still recalls the players from his time in Cheney. "I loved my time there, and frankly one of the coolest things was watching the other guys play."
And apparently they like to watch him coach. Last year, when the Eagles visited PSU, Barnum received more than three dozen ticket requests from former teammates.
One of them was tight end Eric Riley, who went on to play in the NFL. His son Trent is a wide receiver for the Vikings.
"I really love this job," Barnum said.
Local journalism is essential.
Give directly to The Spokesman-Review's Northwest Passages community forums series -- which helps to offset the costs of several reporter and editor positions at the newspaper -- by using the easy options below. Gifts processed in this system are not tax deductible, but are predominately used to help meet the local financial requirements needed to receive national matching-grant funds.
Subscribe to the sports newsletter
Get the day's top sports headlines and breaking news delivered to your inbox by subscribing here.
---