News > Obituaries
Obituary: Bender, Donald Lee
Age 84
Sun., Nov. 22, 2015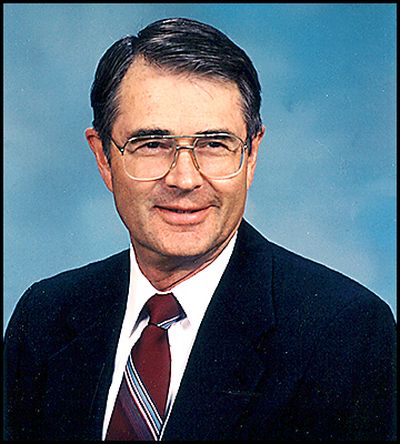 BENDER, Donald Lee Donald Lee Bender passed away November 13, 2015, in Spokane, Washington after a short bout with cancer.
He was born September 7, 1931, in Powell, Wyoming.
During his 84 years, Don proved himself to be an intelligent, inquisitive and courageous man while always remain- ing humble.
Friends and family who shared his life experienced his unending love and generosity.
Don grew up in a rural setting in the shadow of the great depression and World War II.
As a young man he worked with his father, a beekeeper, to help provide for their family of five.
In high school, Don excelled in sports: football, basketball and track and field, setting a state record in the discus throw.
He entered college at the University of Wyoming where he earned a Bachelor's degree in civil engineering.
He followed that with a Master's degree in civil engineering at Colorado State University in Fort Collins, Colorado.
It was there that he met and married his wife, Lois.
From Fort Collins, the young couple moved to Pullman, Washington where Don took an engineering faculty position at Washington State College.
Don's pursuit of his own education, however, wasn't over as he packed his family, now with two sons, to the University of Wisconsin where he earned a PhD, also in civil engineering.
Returning to Pullman to resume his professorship at WSU, the family had grown to five, adding a third son somewhere along the way.
Eventually the family became seven, bringing two daughters into the mix.
After a long career at WSU where he became associate dean of engineering, Don and Lois decided to move to Spokane where Don took a faculty position at Gonzaga University.
He spent the remaining thirty-two years of his life in Spokane.
After retirement, Don involved himself with several service organizations, both within and outside the Riverview retirement community where he lived.
Perhaps his favorite activity was being co-leader of the Riverview Men's Club.
Don had a distinguished career as an engineering educator.
He was a long-time member of the National Society of Professional Engineers and served as vice president, heading the groups education branch, Professional Engineers in Education.
He was also a long-time member of the National Society of Civil Engineers and was once selected Civil Engineer of the Year in the Inland Empire.
One of his proudest moments was being elected by his peers to be national president of Tau Beta Pi, the preeminent engineering honor society.
Don is survived by his wife, Lois (married 60 years), and their five children, Donald Lee Jr, Thomas, Bruce, Barbara and Linda.
Don has two sisters, Doris and Dorothy, and leaves us with seven grandchildren and two great-grandchildren.
Preceding him in death were his parents, Dwight and Della Bender, and one grandchild, Donald Lee Bender III, who succumbed in a tragic accident at the age of seven.
Services will be held on Saturday, November 28, 11:00 am, at Saint Aloysius Catholic Church, 330 E Boone Ave, Spokane, WA.
Lunch at the church will follow at noon.
Donations in Don's memory may be made to: Catholic Charities of Spokane, 12 E. 5th Avenue, Spokane, WA, www.catholiccharitiesspokane.org.
Local journalism is essential.
Give directly to The Spokesman-Review's Northwest Passages community forums series -- which helps to offset the costs of several reporter and editor positions at the newspaper -- by using the easy options below. Gifts processed in this system are not tax deductible, but are predominately used to help meet the local financial requirements needed to receive national matching-grant funds.
Subscribe now to get breaking news alerts in your email inbox
Get breaking news delivered to your inbox as it happens.
---