News > Spokane
Navy pilot, lost in winter storm in 1945, to be honored at Veterans Cemetery
Sun., Nov. 29, 2015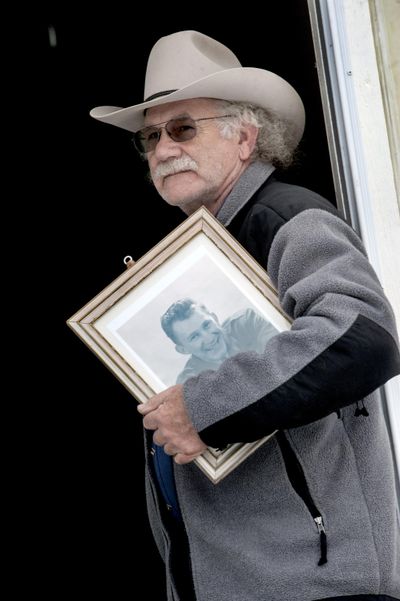 Andy Norberg was just a few months old when his father, a Navy Reserve pilot, disappeared and was presumed dead.
"Some of the things that I knew, when I grew up, it was all hearsay information," Norberg said from his shop in Greenacres last week.
The Nov. 29, 1945, crash somewhere near Mount St. Helens claimed the lives of four men aboard during a brutally cold, windy and snowy winter that killed dozens across the United States.
The storm that disoriented the crew of the Ventura-2 transport plane carrying Lt. Carl E. Norberg, 23, was so intense the winds damaged Navy freighters moored at Puget Sound more than 200 miles away, according to newspaper reports. Eight feet of snow impeded rescue efforts for weeks, and Norberg's remains were never found.
On the 70th anniversary of his father's disappearance, Andy Norberg is working for the recognition his dad deserves, and to answer lingering questions he never asked his family.
"We didn't talk about this stuff very often," said Norberg, 70. "This was a family tragedy that nobody ever said anything about."
Norberg hopes to change that. He's gone through a yearlong process of verifying records, including signed letters of condolence from President Harry S. Truman and H.B. Atkinson, a U.S. Naval Reserve commander. On Monday, Lt. Norberg will receive a memorial with full military honors at the Washington State Veterans Cemetery.
A plaque will be placed honoring Lt. Norberg in an area set aside for service members whose remains have been scattered elsewhere, said Rudy Lopez, the director of the cemetery.
"Andy was 6 months old when he lost his dad," Lopez said. "Really, when he came to me, all he really had was a story."
Andy Norberg credits Lopez for helping him document the stories he heard about his dad from relatives and family friends.
"Without Rudy, none of this would have happened," Norberg said.
One survivor of the crash, Lt. Warren Lawson, hiked three days to safety in nearby Cougar, Washington. The Oregonian newspaper printed an image of Lawson, resting on an elbow in a hospital bed and plying with his fingers the parachute that twice saved his life, on the front page Dec. 4, 1945. In an interview, Lawson said he slept under the cloth of the parachute to escape the bitter cold the first night following the crash.
"I knew we were in trouble when one engine cut out as we were letting down through the overcast trying to get back into Portland airbase," Lawson told the Oregonian.
The plane, a bomber and transport aircraft manufactured by Lockheed during the war, left Whidbey Island headed for Red Bluff, California. It landed in Portland and took off around noon. The plane crashed about an hour later, after the pilot lost course in the thick clouds and ice that covered the wings, according to Lawson's account.
Lawson remembered watching the pilot and Norberg jump before him, but he lost them in the cloudy sky. Lawson, who'd served tours of duty in the European theater during World War II, found himself snagged in a tree, but was able to climb and cut himself free.
A few hundred yards away, a fellow sailor injured in the jump was also strung up in a tree. He lacked the strength to do the same while hung up 40 feet above the ground, Lawson told the Oregonian.
"I had no means of climbing the tree, which was about three feet in diameter," Lawson said. "I had to start out for help, leaving him there hollering for help."
No one else survived the crash. Andy Norberg has had to piece together family stories of what happened to his dad from the letters and scraps of information he's received from distant family members and friends.
"I have all these questions I didn't ask for 50 years," he said.
Some of those questions were answered by Sig Unander Jr., a published aviation historian in Portland. Unander visited the site of the wreckage in 1988. The landing gear and fuselage remained, after 40 years, on a hill with a steep slope.
"Throughout the war, there were hundreds of fatalities in the northwest states, because of various training mishaps," Unander said.
The Spokesman-Review reported the downing of the Navy plane a few days after the crash. Multiple planes had been lost that winter. An Army plane crashed near Coos Bay, Oregon, around the same time, triggering a frantic search for survivors. Search parties did not discover until January 1946 wreckage and a parachute from the crash, according to news reports.
"That's not uncommon," Unander said. "Oftentimes, remains weren't discovered until nearly a year later."
Lopez said the cemetery's mission is to offer closure for the loved ones of military veterans, even in the absence of remains to be interred.
Andy Norberg keeps photos of his dad, his military awards and a painting of the type of plane his father flew hung on the wall of his shop. He said the ceremony Monday will offer closure he never received, for the life of a father he doesn't remember.
"It's not a funeral, it's a memorial for my dad," Norberg said, his voice catching and tears welling at the corner of his eyes and sliding down his white whiskers. "It's about time."
"It's just emotions, finding out and learning about your dad," Norberg added, his voice once again failing. "I couldn't see him. I couldn't talk to him."
Local journalism is essential.
Give directly to The Spokesman-Review's Northwest Passages community forums series -- which helps to offset the costs of several reporter and editor positions at the newspaper -- by using the easy options below. Gifts processed in this system are not tax deductible, but are predominately used to help meet the local financial requirements needed to receive national matching-grant funds.
Subscribe to the Coronavirus newsletter
Get the day's latest Coronavirus news delivered to your inbox by subscribing to our newsletter.
---
Subscribe and log in to the Spokesman-Review to read and comment on this story