News > Voices
Landmarks: The decades-old mystery of South Hill murder
Thu., Oct. 1, 2015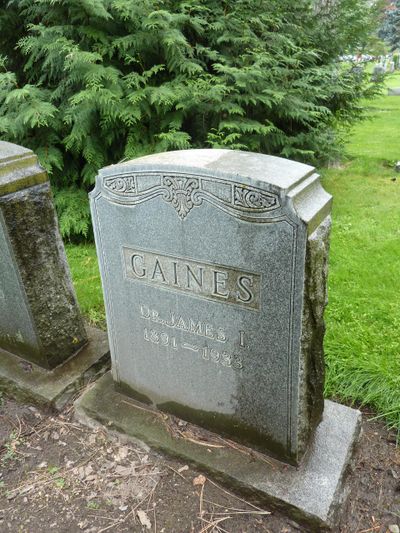 Beneath some of the gravestones in cemeteries in the Spokane area are buried victims of murder. Some of those murders were headline-grabbing and scandalous. And a few of them remain unsolved to this day.
The killing of Dr. James I. Gaines many decades ago is one such case. The investigation and trial that followed drew national attention, with each day bringing more twists and turns, and newspapers devoting extensive coverage to every detail.
Gaines died of gunshot wounds in his driveway at 712 E. 25th Ave. in the wee hours of the morning on Aug. 15, 1933, just days short of his 42nd birthday. On the evening before, Gaines, who was a sanipractor − a licensed drugless healer − told his wife he was going to his boat in Coeur d'Alene with a male friend. Upon returning at about 1:20 a.m., he was gunned down before he was able to enter his house. A neighbor stated she saw a car driving away. Gaines' wife, Lily, told investigators she heard the shots, saw a car drive off, saw her husband lying in the driveway and called the police.
Investigators quickly discovered that Gaines had in fact taken a 17-year-old Spokane girl with him to his boat, and a witness also noted that another car had been present by the lake, as if someone where observing them. The very first headline on the very first story about the shooting read "Victim Spent Evening With Pretty Woman." This was the beginning of many such headlines exposing Gaines' tangled life.
According to coverage in the news, the "pretty young woman" told detectives nothing was inappropriate about their behavior, and that the doctor took her back to her home after the Coeur d'Alene excursion. After dropping her off, investigators learned, he went to the apartment of Harriette Andrew, a 24-year-old woman he had known for three weeks, a woman who had applied for a job with him. She, too, stated that their behavior was proper and he had been visiting her four or five times a week since her job interview. She also stated that Mrs. Gaines knew of the friendship. And she noted she had asked her husband, John, for divorce one week after meeting Gaines. Police were unable to locate the estranged husband.
It was determined that Gaines was killed with a .38-caliber gun. The doctor owned several guns, one of which was a .38, and it was missing. It was also learned that Gaines had taught his wife how to shoot. Police thought jealousy or revenge were likely motives. Gaines and his wife had been married a year earlier, just after his divorce from his first wife was final, though he and Lily had been living together for three years in what was called a trial marriage, a newspaper account reported.
Police interviewed a man named Willis Garrett who stated Lily had offered him $5,000 in July to kill her husband but that his own wife talked him out of it. Garrett apparently tried to take his own life on Sept. 3, but questions remained if the attempt was faked. Lily Gaines was arrested on Sept. 5 and charged with the murder.
As police continued to investigate, it was learned that one month before his death Gaines had created and had his wife sign what was deemed a compassionate divorce document giving him "all the privileges of a single man until Jan. 1, 1934." A police officer was quoted as saying that Gaines could "come and go as he pleased, and so could she." Lily said she did sign it but never read it.
It was determined that Gaines was killed with his own gun. Before the trial, apparently because of a request by Gaines' parents and brother, the doctor's body was exhumed so that the coffin could be searched for the missing gun, which his family thought might have been concealed there. It was not found – then or ever – and Gaines was quietly returned to his final resting place at Greenwood Memorial Terrace.
The trial before Judge Fred Witt took two weeks and two days, during which other sensational details and allegations were aired. For example, Detective Arthur Aikman stated in court that Gaines was an abortionist and that as a result, there may have been others who were hostile toward him.
On Nov. 28, 1933, the eight-man, four-woman jury deliberated just over an hour and brought in a not guilty verdict on the first ballot. Lily Gaines was set free.
After the trial she stated she hoped to return to her house and that "I'm not going to leave Spokane. I'm going to stay here and hold my head high and live this thing down." But by 1935, the Gaines home had been sold.
Two months after the trial the Philadelphia Inquirer ran a long story about the Gaines murder. The story noted that Gaines' safe deposit box had yielded some 60 engagement rings. The how and why of those rings was never learned.
Police stated they would continue their investigation into the John or Jane Doe who committed the crime, but the homicide of Dr. James Gaines remains an unsolved case to this day.
Local journalism is essential.
Give directly to The Spokesman-Review's Northwest Passages community forums series -- which helps to offset the costs of several reporter and editor positions at the newspaper -- by using the easy options below. Gifts processed in this system are not tax deductible, but are predominately used to help meet the local financial requirements needed to receive national matching-grant funds.
Subscribe now to get breaking news alerts in your email inbox
Get breaking news delivered to your inbox as it happens.
---