News > Spokane
Negotiations begin with Spokane police ombudsman finalist
Thu., Oct. 1, 2015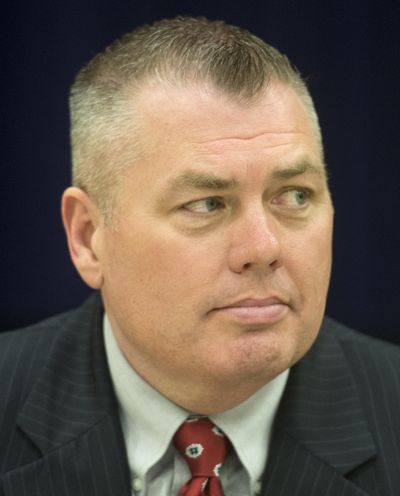 Robert Breeden, the former Florida cop offered Spokane's top police oversight job, said Thursday he's looking forward to discussing the details of the offer with the city.
"I have not spoken with anyone from Spokane yet but I saw the news article of their decision. I am honored and humbled that the OPOC has made the decision to offer me the interim position," Breeden said in a text message Thursday morning, referring to the police ombudsman commission.
The panel voted unanimously Wednesday night to offer Breeden the interim position while they hire an investigator to look into allegations that he belittled employees at the Florida Department of Law Enforcement. Breeden has said the complaints against him were an effort at retaliation by his boss after he blew the whistle about her neglecting work responsibilities.
If he accepts the post, Breeden would be relocating from Florida for a temporary four-month position in hopes of getting hired as the city's permanent police ombudsman.
Negotiating an offer with Breeden will be up to the ombudsman commission. Chairwoman Deb Conklin said she's working with the city's human resources department to put together an offer package, which she hopes to present to Breeden in the next few days.
The salary range for the ombudsman position is between $82,634 and $101,375, depending on qualifications and experience. Commissioners did not discuss Wednesday night a specific salary to offer or other details about how negotiations will proceed.
Conklin said she spoke to Breeden Thursday morning. He was surprised to be offered the temporary job and said he'd have a new set of questions to discuss with his husband, she said.
"He did make it clear he's going to seriously consider an offer when he gets it," she said.
Local journalism is essential.
Give directly to The Spokesman-Review's Northwest Passages community forums series -- which helps to offset the costs of several reporter and editor positions at the newspaper -- by using the easy options below. Gifts processed in this system are not tax deductible, but are predominately used to help meet the local financial requirements needed to receive national matching-grant funds.
Subscribe to the Coronavirus newsletter
Get the day's latest Coronavirus news delivered to your inbox by subscribing to our newsletter.
---