News > Spokane
Front & Center: Drawing for dollars and a laugh
UPDATED: Fri., Oct. 2, 2015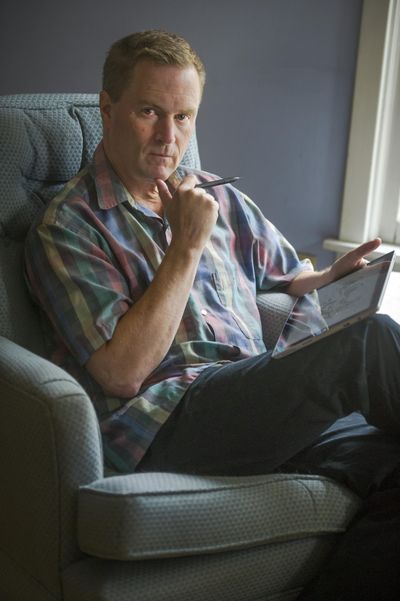 As hobbies go, what could be more affordable than drawing cartoons?
All you need is paper, a pen or pencil, and a sense of humor.
But as a career, cartooning is a joke.
Just ask David Rowles.
He once sent a chess publication 10 cartoons for consideration.
"Five months later, I get a reply in the mail: 'Love your work! We are purchasing four of your cartoons. Enclosed is a check for $13.'
"Brutal," recalled Rowles.
OK, so the money isn't great.
But with more than 700 of his cartoons published in the Journal of Business during the past 28 years, at least Rowles can bask in the notoriety.
Except that he's too shy to acknowledge his authorship
One reason is that, until a year ago, Rowles was self-conscious about his illustrations.
"People would contact me, wanting me to draw something, and I say, 'Are you kidding? Why don't you get an artist?' If I didn't have a gag line supporting my drawing, I always felt like I was in trouble."
Rowles reluctantly agreed to discuss his evolution as an artist, his goal of getting a cartoon published in the New Yorker, and what that would mean.
S-R: Growing up in Spokane, did you have a favorite class or activity?
Rowles: Not really. I played football and baseball at Ferris, and was on the chess team.
S-R: Did you draw?
Rowles: No. I didn't start drawing until my early twenties. I'm self-taught, so I learned from someone who had no idea how to draw, which helps explain my style.
S-R: What did you study in college?
Rowles: Horticulture. But I didn't finish.
S-R: Then what?
Rowles: I went to work for what is now ALK, a pharmaceutical company in Post Falls specializing in allergy treatment. I've been there 34 years. I'm a production supervisor.
S-R: What inspired you to start drawing?
Rowles: A college friend suggested I write comedy. I'm way too shy for stand-up, so I tried cartooning.
S-R: How much time do you spend on it?
Rowles: Until a year ago, probably two hours a week. Now that I'm doing the New Yorker thing, about two hours a day.
S-R: What does the process involve?
Rowles: I work on a tablet computer, which is way more efficient. I can finish a cartoon in 30 minutes instead of two hours, and I don't go through reams of paper like I used to.
S-R: Where do you get your ideas?
Rowles: Everywhere from Donald Trump to Rachel Dolezal. I'm kind of a news junkie. Sometimes ideas come real quickly. Other times I'm pulling my hair out on deadline.
S-R: Do friends offer suggestions?
Rowles: No. People I've known for 20 years still don't know I draw cartoons.
S-R: Does your wife offer advice?
Rowles: No, because I don't show the cartoons to her before I send them to the Journal.
S-R: Why not?
Rowles: I'm fearful of her reaction. If she shrugged or rolled her eyes, I'd be devastated.
S-R: But thousands of people see the cartoons when they're published.
Rowles: I know. It's probably not a smart move.
S-R: Do Journal readers offer feedback?
Rowles: No. I'm pretty anonymous. They call my dad more than me, because he tells people that I'm a cartoonist. He's more proud of me than I am.
S-R: Which is more important – the words or the illustration?
Rowles: The words are way more important. A good gag line can always save a poorly drawn picture, but never the other way around.
S-R: Do editors ever ask you to rewrite captions?
Rowles: Occasionally. And sometimes they'll change a caption without asking, which drives me absolutely crazy.
S-R: How did you get your first sale?
Rowles: I was pretty lucky. I took a dozen or so cartoons to the Journal the week after it started publishing, and they said, "OK, you're hired."
S-R: Did you present yourself as an editorial cartoonist when you approached them?
Rowles: No, that was a total accident. I mostly like doing generic gags. I prefer to keep my opinions to myself, which is not a desirable trait for editorial cartoonists. But the Journal allows me to do pretty much whatever I want, as long as it has somewhat of a business slant.
S-R: How much did you get paid for that first Journal cartoon?
Rowles: Fifteen dollars. A few months later, at a Journal party, I walked up to the publisher and said, "I want to talk about my compensation." His face dropped and he swallowed hard. I said, "I think I should be making $16 a cartoon." He was so relieved, he howled. And I got the $1 raise.
S-R: How much do you earn now?
Rowles: Fifty dollars a cartoon. But I've been fortunate to have the Journal job, because it kept me in the game through a lot of years when I was raising a family and working long hours at another job. If I didn't have the Journal commitment, I may have given up cartooning.
S-R: Did you ever imagine this could be a full-time career?
Rowles: Yes. That was my dream, and it still is. I've been way more productive the past year than I was the previous 27. Consequently my drawing has gotten considerably better.
S-R: Do you have a lot of ideas floating around before you sit down to create?
Rowles: No, I try not to think about what I'm going to draw until late Sunday, when I'm on deadline.
S-R: What do you like most about cartooning?
Rowles: I like working alone, and starting with a blank screen and creating something that people will react to.
S-R: What do you like least?
Rowles: There's not much respect for the effort that goes into cartoons.
S-R: Have you ever tried to calculate what you earn per hour?
Rowles: No. It would be too discouraging.
S-R: What questions do you get when you tell someone you draw cartoons?
Rowles: I would never say that. I work with 100 people, and only a couple of them know I do this.
S-R: What made you finally approach the New Yorker a year ago?
Rowles: I suddenly had confidence my drawings were at that level. Learning to draw as an adult is like learning a new language. It's very difficult. I wasn't comfortable with my drawings until recently. Now my drawings can compete with the best of them.
S-R: How did the New Yorker respond to your submission?
Rowles: They kept two from my first batch. And when they returned the others, along with a rejection slip, they said they liked the art. I was quite encouraged by that.
S-R: And since then?
Rowles: I've sent them 33 batches and have not heard anything. But I'm told that's typical. It can take years to get your first cartoon published there.
S-R: How many do you send at a time?
Rowles: I usually send nine. Most people send 10, so I want to be known as the guy who sends nine.
S-R: What's the appeal of the New Yorker?
Rowles: For a cartoonist, being in the New Yorker is the ultimate. Especially being a regular contributor to the New Yorker.
S-R: Would getting a cartoon published there change your life?
Rowles: I think so. If nothing else, it would at least be a line in my obituary. (laugh)
This interview has been edited and condensed. If you have suggestions for business or community leaders to profile, contact writer Michael Guilfoil via email at mguilfoil@comcast.net.
Local journalism is essential.
The journalists of The Spokesman-Review are a part of the community. They live here. They work here. They care. You can help keep local journalism strong right now with your contribution. Thank you.
Subscribe to the Coronavirus newsletter
Get the day's latest Coronavirus news delivered to your inbox by subscribing to our newsletter.
---
Subscribe and log in to the Spokesman-Review to read and comment on this story