Sports
George Fox's game at Whitworth will create Tully reunion
Fri., Oct. 2, 2015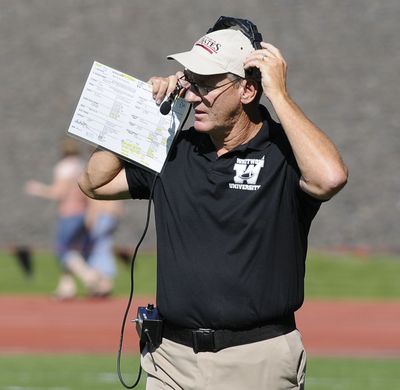 Whitworth is hosting homecoming on Saturday, but the annual event has a deeper meaning as the Pirates welcome a George Fox team that is loaded with coaching ties to the Whitworth program.
The Bruins (2-1) restarted football operations in 2014 after a 46-year hiatus and hired head coach Chris Casey, who previously served as defensive coordinator at Whitworth from 1994-04.
But it's George Fox's quarterbacks coach, John Tully, who likely will receive the most attention. Tully tallied the most wins in Whitworth history (100) before he was terminated in 2013 after 19 years.
He'll be on the opposite side of the Pine Bowl from his son, Jay Tully, who played at Whitworth (2004-07), coached under his father and was retained as the defensive backs coach by Rod Sandberg, who was hired in 2014 to replace the elder Tully.
"It won't be awkward," Jay Tully said. "Honestly, I haven't talked to him. I hope there is a warm welcome for him. He's the winningest coach in Whitworth history."
But the connections from the two programs go deeper. George Fox's special teams coach, Ian Sanders, played at Whitworth (1996-2000) and defensive assistant Nic Brockhoff played linebacker for Tully and last year for Sandberg.
"It's always nice to play against coaches that you respect and know," Jay Tully said. "The guys on the previous staff are the people I learned football from. They prepared me to be successful with another opportunity."
Blocking distractions
The Pirates (3-0) open the Northwest Conference season with a defense that forced five turnovers and didn't allow any points last week in the 37-7 win over Chapman, which was ranked to start the season and hung 49 points on the Pirates last year. Chapman's only points last week came on an 87-yard kickoff return for a touchdown.
But the Pirates' offensive line earned the most praise. The line did not allow a sack or tackle for loss in a game in which Whitworth gained 486 total yards. As a result, the entire line was named to the D3football.com Team of the Week.
"The kids are playing hard and they are tackling better," Sandberg said. "It's fun when you work on something and you see it on game day."
Sandberg said he looks forward to playing George Fox, which is much improved from its 1-8 campaign last year. He also said he wanted to hire Brockhoff at Whitworth but didn't have an opening. He noted that the head coach, Casey, was Brockhoff's coach in high school.
"What a fun rivalry," Sandberg said. "They are the most similar to us. I'd rather compete against my buddy than somebody I don't know."
Efforts to reach John Tully this week were unsuccessful. A wrongful termination suit he filed in January against Whitworth remains pending in Spokane County Superior Court.
As for hiring Jay Tully, Sandberg said he had a frank discussion with him in early 2014 about conducting an open search for assistants.
At the time, Jay Tully told Sandberg that he was just going to keep working until the new coach made a decision.
"He kind of made it easier for me," Sandberg. "At the end of the day, he was the best option. Jay is a great young coach and teacher."
In the end, Sandberg retained seven assistants who worked under John Tully.
"I hire for character, competence and compatibility. I spend more time with my assistant coaches than my family, so we have to work well together," Sandberg said. "All of them had to get used to a very new system of doing things. We wouldn't be having the success we have had if they hadn't bought in."
As for the man he replaced, Sandberg said he's had no interactions.
"I have never met him in my life," Sandberg said. "But I'm looking forward to shaking his hand and telling him how much I love his son."
Local journalism is essential.
Give directly to The Spokesman-Review's Northwest Passages community forums series -- which helps to offset the costs of several reporter and editor positions at the newspaper -- by using the easy options below. Gifts processed in this system are not tax deductible, but are predominately used to help meet the local financial requirements needed to receive national matching-grant funds.
Subscribe to the sports newsletter
Get the day's top sports headlines and breaking news delivered to your inbox by subscribing here.
---