News > Voices
Gardening with Pat Munts: Summer heat delivers rich sweet potatoes
Thu., Oct. 8, 2015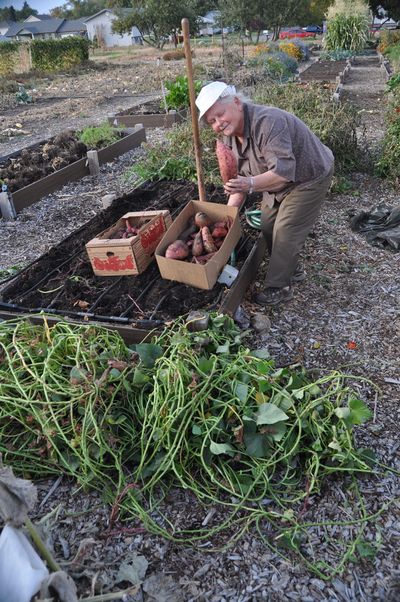 Well, the garden jury is in. You can grow sweet potatoes in Spokane if we get a long, hot summer.
I decided to grow Georgia Jets because Johnny's Seed catalog recommended them as being a good variety for cooler climates. That was relative though; the catalog said they had a 100-day maturity date. That wasn't too encouraging in a climate where 75-day tomatoes are considered an iffy proposition. I placed my order to arrive mid-May.
Sweet potatoes are grown from small started plants called slips, a dozen to a bunch. When mine arrived a week early they looked a little worse for wear. I had to stick them in a pot in the house for a week to recover and avoid the last of the spring frosts.
The next trick was creating the warm, 70-degree soil they needed to grow; our soils were still barely 60 degrees. To gain a little more early heat I planted them in a raised bed in the Resurrection community garden near Central Valley High School. Soil in raised beds warms up much faster than ground beds and my garden in general is colder than the community garden beds. I installed a drip soaker irrigation system and then covered the 4-by-8-foot box with a solarizing plastic mulch to capture more heat. The mulch absorbed infrared radiation and in two weeks raised the soil temperature from 60 to 70 degrees, perfect for sweet potatoes. I planted them May 20.
They sat there until we got our first blast of heat in late June and took off. By July 4, I had long green runners headed for the edges of the box in all directions. By the end of July and into our second heat wave, the box was covered with a beautiful green mat. Somewhere under that I was hoping there were some tasty sweet potatoes forming. Only time would tell.
Having lived in Spokane for 38 years, I knew we could easily get a sneaker frost any time after the end of August so I covered the box with heavy Agri-Bon floating row cover to ward off the frost and keep the temperature under it warm enough to give the sweet potatoes some more growing time. The row cover can keep temperatures 5 to 7 degrees warmer at night.
The community garden got nipped with frost Sept. 30 but the row cover was enough to protect the plants. I knew I was running on borrowed time though so last Friday afternoon my friend Jean Baker and I tore off the mass of greenery and dug into the box gently with a digging fork. Big, reddish roots began popping out of the ground and by the time we got done we had 36 pounds of sweet tasty roots.
I will cure them for a couple of weeks at 70 degrees to harden their skins and then store in basement at about 60 degrees. They should last well into the winter.
Local journalism is essential.
Give directly to The Spokesman-Review's Northwest Passages community forums series -- which helps to offset the costs of several reporter and editor positions at the newspaper -- by using the easy options below. Gifts processed in this system are not tax deductible, but are predominately used to help meet the local financial requirements needed to receive national matching-grant funds.
Subscribe to the Coronavirus newsletter
Get the day's latest Coronavirus news delivered to your inbox by subscribing to our newsletter.
---
Subscribe and log in to the Spokesman-Review to read and comment on this story