News > Spokane
Teacher squares off against nonprofit leader in Spokane school board race
Wed., Oct. 14, 2015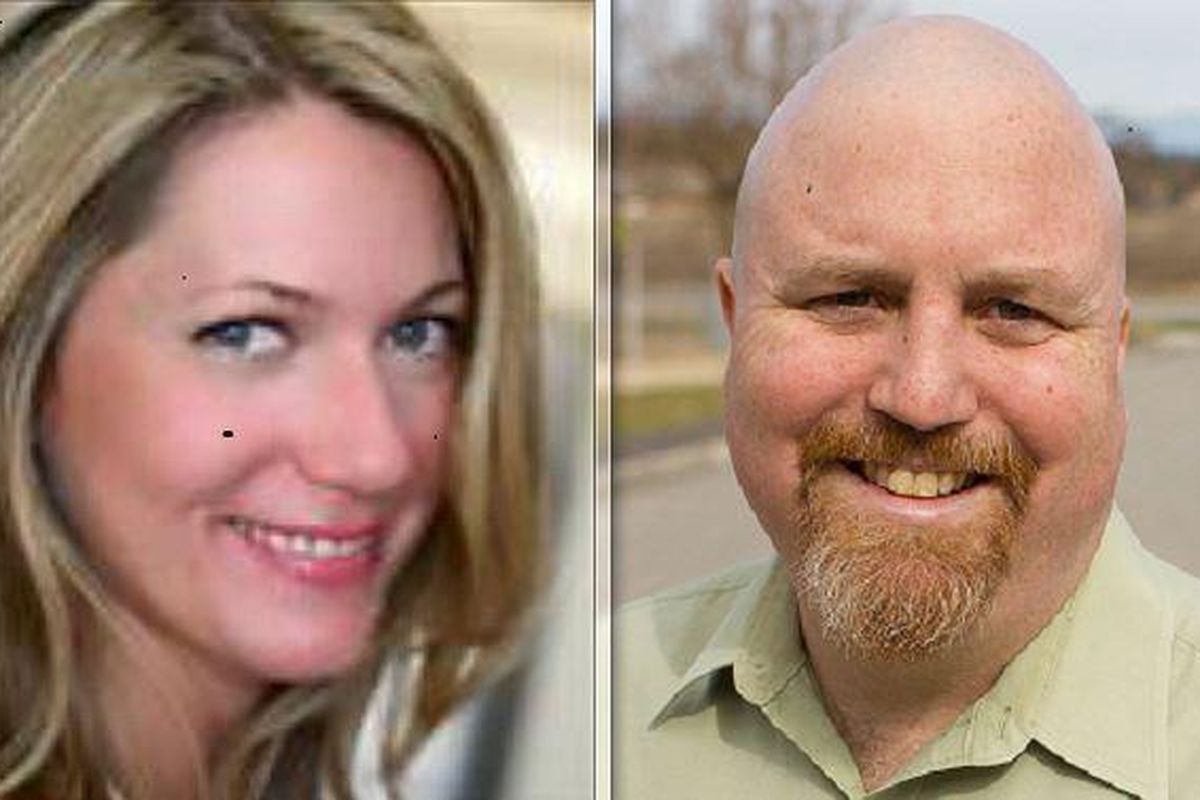 The race for Spokane School Board position 4 is between Patricia Kienholz and Paul Schneider. (Jonathan Brunt / The Spokesman-Review)
There isn't an incumbent in the race for Spokane Public Schools position 4. But if you ask candidate Patricia Kienholz, she's the underdog.
"I figured that I'm slotted to lose from the beginning," she said. "I think it's pretty typical that someone like him gets that kind of backing."
Kienholz is referring to University High School teacher Paul Schneider, who has endorsements from the Spokane Education Association and Spokane City Council President Ben Stuckart. He's raised more than $17,000. Kienholz has raised about $3,500.
Schneider said he's raised that much money because he's taking his campaign seriously.
"I wanted to run a smart campaign no matter what," Schneider said. "If I had gone unopposed I certainly wouldn't have raised that kind of cash."
Schneider portrays himself as a practical, in-the-trenches choice with nearly 20 years of teaching experience informing his positions.
"I know what policy feels like," he said.
Kienholz, on the other hand, is policy driven. She said her experience on a number of boards gives her a deep understanding of the processes running behind the educational scene. She is the president of Citizens Law and Safety Research Center and is a trustee for the Northwest Museum of Arts and Culture and is on the Affordable Housing and Real Estate Committee for the city of Spokane. She believes she can use that experience to help children succeed.
"I'm running because I think our children are key to building the middle class in our country," she said.
Kienholz questions Schneider's campaign tactics and ability to effectively serve on the board.
Her campaign manager, Derek Corbin, filed a complaint with the Public Disclosure Commission against Schneider on Aug. 6. The complaint alleges that Schneider used public school property to film three campaign videos featuring students.
Schneider doesn't deny that the videos were made. However, he said he didn't ask the students to make them, and they didn't use school equipment, other than filming on school property.
"Right now, as far as I'm concerned this is a baseless complaint," Schneider said. "I think she was coached by somebody to try and bury me in complaints."
PDC officials said they still are investigating.
Additionally, Kienholz believes that it's a conflict of interest for a teacher to serve on a school board. Schneider is a member of the Central Valley Education Association as well as the Washington Education Association.
"He will be conflicted out of all contract negotiations," she said.
Schneider said that because he's not a member of the Spokane union he's not directly affected by contract negotiations in the Spokane district, the region's largest. If there were a strike, either in Spokane or Central Valley, he'd still perform his board duties, he said.
Mark Anderson, associate superintendent at Spokane Public Schools, said it is legal for teachers to serve on school boards and that normal confidentiality rules would apply to Schneider.
Schneider started campaigning early in anticipation of running against long-term board member Rocky Treppiedi. However, Treppiedi switched from the seat he currently holds, position 4, to position 3 when he filed for re-election.
Jenny Rose, president of the Spokane Education Association, thinks Treppiedi was dodging Schneider.
"Rocky knew he couldn't beat Paul," Rose said. "There is no way Rocky could beat Paul."
Treppiedi said when he went to file there were no candidates running for position 3; Jerrall Haynes subsequently filed to run for that position.
"What person in their right mind would sign up for two other opponents when there is a vacant position?" Treppiedi said.
Haynes also is endorsed by the Spokane Education Association. Treppiedi endorsed Kienholz, as did Spokane County Sheriff Ozzie Knezovich.
"Mr. Schneider was recruited and endorsed by the WEA and the SEA. His positions are union positions in certain ways," Treppiedi said. "Hers are not. Hers are child-focused."
Both Schneider and Kienholz are concerned with students falling through the educational cracks. Although Schneider opposes the creation of charter schools, he said he supports other options for choosing schools, especially alternative programs.
"I don't pretend that public schools are the answer to every single problem our community faces," he said. But, "I don't know that we can fix our public schools by taking money out of our public schools." Charter schools receive public funds.
Kienholz is primarily concerned with bullying, online safety and the students who are falling behind in traditional public schools. She supports charter schools and would support a voucher system where private schools could receive government money.
"I'm basically for education any way we can get it," she said. "Education is the difference, not class."
She's also concerned about how the district handles bullying. To Kienholz, both the perpetrator and the victim should be treated as children. She's against expulsion in nearly every case.
"I see the target and the perpetrator as the same because they are both children."
As for strikes and collective bargaining, she believes in the values, if not the tactics.
"I do understand why they felt they needed to walk out," she said in reference to the spring teacher walkout.
Schneider supported the teachers in this fall's near-strike but stresses that strikes should be a last resort because of how disruptive they are. One of his top priorities would be smoothing relations between teachers and the school board.
"I would like to be a community bridge builder," he said.
Local journalism is essential.
Give directly to The Spokesman-Review's Northwest Passages community forums series -- which helps to offset the costs of several reporter and editor positions at the newspaper -- by using the easy options below. Gifts processed in this system are not tax deductible, but are predominately used to help meet the local financial requirements needed to receive national matching-grant funds.
Subscribe now to get breaking news alerts in your email inbox
Get breaking news delivered to your inbox as it happens.
---