A&E > Entertainment
'Evil Dead' musical is theater with a splash zone
Thu., Oct. 15, 2015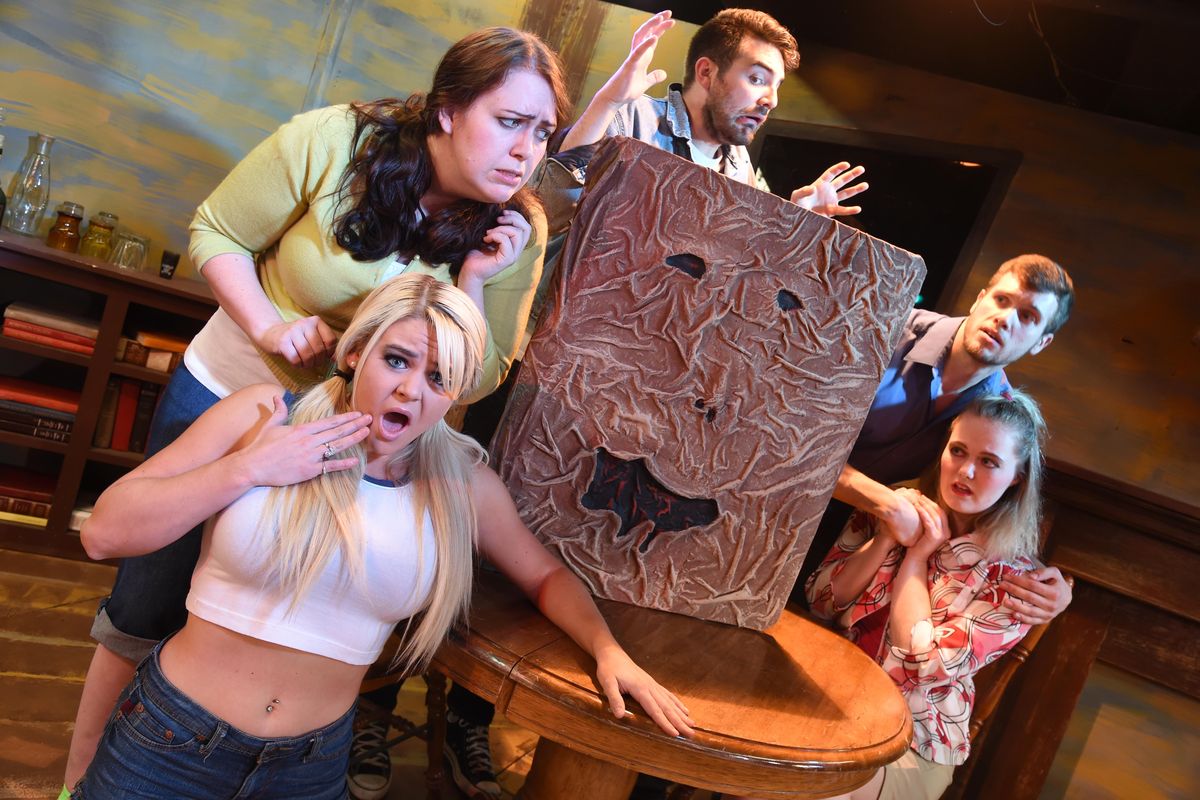 The cast of Spokane Civic Theatre's "Evil Dead: The Musical," from left, Tanya Barton, Whitney Huskey, Alexander Edmonds, Martin Sanks and Talena Kelln, gather around the Necronomicon, or book of the dead, they've found in a remote cabin in the play based on the campy horror movie series. Sanks plays Ash, the dubious hero. (JESSE TINSLEY jesset@spokesman.com)
Watching Sam Raimi's bloody, sadistic 1981 shocker "The Evil Dead," one of the last thoughts that would ever cross your mind is, "This could really use some show tunes."
But that's clearly what the creators of "Evil Dead: The Musical" were thinking. They took the premise of Raimi's influential low-budget horror film and the decidedly goofier tone of its two sequels, and the result blends the high camp of "The Rocky Horror Picture Show" with the theatrical sensibilities of "Little Shop of Horrors."
Troy Nickerson and Heather McHenry-Kroetch are at the helm of Spokane Civic Theatre's production of "Evil Dead: The Musical," which opens in the studio theater this weekend. They previously directed "Fiddler on the Roof" for Civic, but this show couldn't be any more different from that Broadway chestnut.
"The fun thing about it is it's just bloody camp," Nickerson said.
"It's kind of fun to do something where you can go all the way, as far as you can possibly go," McHenry-Kroetch said.
"You could just do this show and throw it out there and make it campy and kind of crappy," Nickerson said. "One of the cool things about it is that we've actually maintained a quality level of theater. It's skillfully done, and the cast is amazing."
The show's plot is one you've likely heard before. A group of college-age friends head deep into the woods for a weekend getaway in an isolated cabin. Once there, they stumble across a strange book – we come to know it as the "Necronomicon," or "Book of the Dead" – that unleashes monsters from the bowels of hell.
Raimi's film trilogy is defined by its gruesome but charmingly low-rent special effects, and the stage adaptation follows suit. The cabin itself seems to come to life, with everything from the furniture to the animals and trees outside succumbing to demonic possession.
"The technical aspects are pretty intense," Nickerson said.
"There's a breaking window; there's a talking moose," McHenry-Kroetch added.
"One of the girls lives in a cellar under the stage for most of the show," Nickerson said, "so there are people down there running things. It'll be one of the biggest sets you've ever seen in the studio theater."
"Evil Dead: The Musical" is an awfully bloody production – Chris Beazer, the show's music director, describes it as "SeaWorld with blood" – and if you're sitting in the first three or four rows, you're likely going to get sprayed with plenty of the red stuff.
"We're not guaranteeing that the splash zone stays in the splash zone," McHenry-Kroetch said. "I don't see that happening."
"But you do get a poncho," Nickerson assured.
In keeping with the spirit of Raimi's films, which were controversial and frequently censored when originally released, "Evil Dead: The Musical" is R-rated. But looking past the severed limbs and spurting blood, it's way too goofy to be truly horrifying.
"Even with the language and all that stuff, there still is a charm about it," Nickerson said. "It isn't really threatening at all. It doesn't take itself seriously for even a minute, but the intentions are real."
"A lot of people who just like to go see theater are really going to enjoy it," McHenry-Kroetch said. "But this show has a following, kind of like 'Rocky Horror' has a following, and people just like to see this show."
Local journalism is essential.
Give directly to The Spokesman-Review's Northwest Passages community forums series -- which helps to offset the costs of several reporter and editor positions at the newspaper -- by using the easy options below. Gifts processed in this system are not tax deductible, but are predominately used to help meet the local financial requirements needed to receive national matching-grant funds.
Subscribe to the Spokane7 email newsletter
Get the day's top entertainment headlines delivered to your inbox every morning.
---