News > Spokane
Spokane police department moves away from precinct model
Tue., Oct. 20, 2015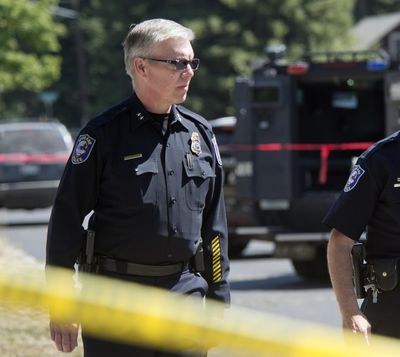 Unwinding one of former chief Frank Straub's signature achievements, the Spokane Police Department is no longer pursuing a plan to create decentralized police precincts.
The department will continue to staff the two precincts already created in Hillyard and downtown Spokane and search for a "storefront" location on the South Hill, Interim Chief Rick Dobrow said. The change doesn't mean an end to neighborhood policing, he said.
"We don't have the staffing levels, nor do we have the financial resources to decentralize," Dobrow said.
Straub unveiled his precinct plan in 2013 and said once precincts were open, the city could decide whether the department should vacate its headquarters in the Public Safety Building, which are shared with the Spokane County Sheriff's Office.
Instead, Dobrow plans to operate current precincts as "storefronts" for residents to bring concerns to police, but will move patrol operations back under a centralized command, a shift he says is administrative.
"The general public should not see any difference," he said.
Spokane City Councilman Jon Snyder, who chairs the committee, said the move was welcome after multiple shifts in strategy at the police department over the past few years.
"It finally seems like we're starting to settle in a little bit of a direction," he said.
That said, Snyder said he supports decentralization in the police department.
"I like us having a little bit of decentralization so we're not all in the Public Safety Building," he said.
Spokane police opened a downtown precinct next to the STA Plaza in 2013, and followed with a North Precinct in Hillyard earlier this year. There is no permanent South Precinct location, but staff assigned to that area work out of a COPS shop in East Central.
Under the new plan, the Northeast COPS shop will be co-housed with the North Precinct, a model Snyder hopes will mean more staff are available to talk to residents who walk in off the street.
"The problem on the precincts is that all the people stationed there are out in the field doing work," he said.
Dobrow said the precinct model makes sense in larger cities like Los Angeles, which are able to provide facilities to allow precincts to be run more or less as independent police stations. Those precincts have lockers and showers for officers, an armory to store weapons and interview rooms, things he says Spokane isn't set up to provide.
Patrol officers currently report to the precinct captain in their area, a model that's supposed to encourage them to work on neighborhood issues when they're not out on calls. Dobrow said that model isn't working.
"We are so call-for-service driven that they had bodies, but they didn't really have the time to focus on neighborhood issues," Dobrow said of the patrol officers. Precinct captains have been busy with neighborhood issues, he said, so moving officer supervision to a centralized captain will promote better accountability.
Starting in 2016, all patrol officers will report to Capt. Dan Torok, who's currently working as an assistant to the chief on a variety of department projects, Dobrow said. The department will also move ahead with plans to relocate downtown staff to the city-owned Intermodal Center on First Avenue. Renovations to that building have been completed and Dobrow said the city is planning a grand opening within the next month.
The officers assigned to each precinct will continue working there, and plans to find a permanent location for a South Hill storefront in a city-owned building will continue.
"We're still doing the captain kind of being the face of SPD" in each neighborhood, he said.
Local journalism is essential.
Give directly to The Spokesman-Review's Northwest Passages community forums series -- which helps to offset the costs of several reporter and editor positions at the newspaper -- by using the easy options below. Gifts processed in this system are not tax deductible, but are predominately used to help meet the local financial requirements needed to receive national matching-grant funds.
Subscribe now to get breaking news alerts in your email inbox
Get breaking news delivered to your inbox as it happens.
---