Sports
Big Sky notebook: Northern Colorado no longer a pushover
Wed., Oct. 21, 2015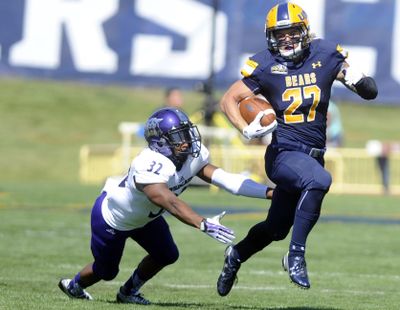 Have the Northern Colorado Bears finally come out of hibernation?
Long one of the most downtrodden football programs in the Big Sky Conference, UNC is 4-2 overall and 2-2 in the Big Sky Conference going into Saturday's home game against Eastern Washington.
"Obviously, they have a lot of momentum going," Eagles coach Beau Baldwin said of the Bears, who've won two straight conference games and are coming off a 56-27 whipping of UC Davis.
"They're 4-2 for a reason," Baldwin said.
On the other hand, those four wins have come against Western State (a Division II school), FCS newcomer Houston Baptist, plus Sacramento State and Davis (who are a combined 1-7 in the Big Sky).
A bigger test awaits on Saturday in the form of Eastern, which has never lost to the Bears and has won more Big Sky games in two-plus seasons than the Bears have since they joined the Big Sky in 2006.
To put its record in perspective, UNC has yet to record a winning season as a Division I school. Since 2006, the Bears have won just 13 conference games compared with 57 for Eastern; and they're 13-37 overall under fifth-year coach Earnest Collins Jr.
A UNC alum, Collins said he and his staff have tried to change the football culture since they arrived in 2011. The first glimmer of hope came with a 5-6 record in 2012, but UNC was just 4-19 the past two seasons.
Finally, this season "the kids are starting to believe in one another, and we're starting to get some leaders on and off the field," Collins said Wednesday.
One is quarterback Jacob Knipp, a redshirt freshman took over the starting spot a few weeks ago and promptly led the Bears to a pair of wins. Last week, he completed 10 of 14 passes for 186 yards in the romp over Davis.
"We knew we had a leader in him, and after seeing him in some games, we finally decided to give (the starting spot) to him," Collins said of Knipp, who for the season is 62-for-112 for 787 yards, three touchdowns and four interceptions.
Big Sky is crazier than usual
With wins over two FBS teams, Portland State may be the biggest surprise in the Big Sky, but the Vikings aren't the only team raising eyebrows this year.
Southern Utah, picked to finish eighth, is tied with EWU atop the standings, while North Dakota (picked ninth) is in contention for a playoff spot. Then there's Weber State, 3-1 in the conference after back-to-back wins over Montana and UND.
Meanwhile, Montana, Montana State, Cal Poly and Idaho State – all picked to finish in the upper half of the standings – are a combined 6-8 in conference games.
Baldwin said he isn't surprised. "We've said it from the beginning of the season: There's no one in this conference that can't win on any day against anybody else.
"Even with our best effort, we're going to be in dogfights," said Baldwin, whose team has bucked the trend by going 25-2 in conference play in the last three-plus seasons.
Eagles cutting down on penalties
Two weeks into the season, Eastern was the most penalized team in FCS, but the Eagles have made steady progress.
In the last four games, Eastern has been whistled for 18 penalties for a total of 141 yards. That's a stark contrast to the first two games at Oregon (11 flags for 78 yards) and the flag-fest at Northern Iowa (15 for 159 yards).
In a game of aggression, every team walks a fine line.
"It's a challenge," Baldwin said. "Like every coach we talk about playing on that edge, right to the whistle. When they (penalties) happen, we try to go over them."
Baldwin acknowledged that every team is going to commit penalties, but says that some "are in our control. … The teams who have the least amount of unforced errors are going to come out better."
Also, Baldwin said the team has become "smarter in how we approach certain situations that have helped us improve from game two to where we are now."
Midway through the season, the Eagles rank 74th out of 125 FCS teams in penalty yardage, with 63 per game. That ranks seventh out of 13 teams in the Big Sky.
Local journalism is essential.
Give directly to The Spokesman-Review's Northwest Passages community forums series -- which helps to offset the costs of several reporter and editor positions at the newspaper -- by using the easy options below. Gifts processed in this system are not tax deductible, but are predominately used to help meet the local financial requirements needed to receive national matching-grant funds.
Subscribe to the sports newsletter
Get the day's top sports headlines and breaking news delivered to your inbox by subscribing here.
---