Sports
EWU' lineman Thomas Gomez thrives after getting second chance
UPDATED: Thu., Oct. 22, 2015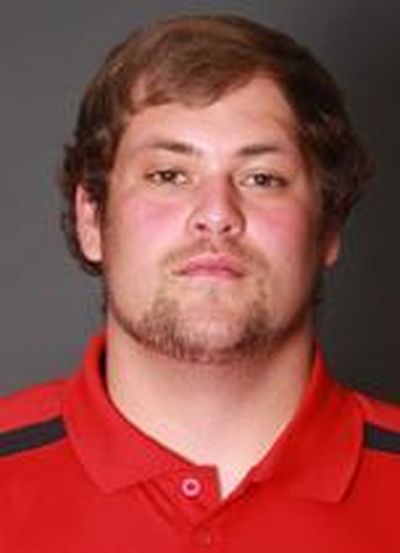 By his sophomore year at Eastern Washington, Thomas Gomez had hit rock-bottom. Struggling in the classroom, the Eagle offensive lineman also had violated school drug policies.
Expecting a push out the door, Gomez got something else from coach Beau Baldwin: a helping hand, a second chance that Gomez has embraced more than the game itself.
Now a fifth-year senior, Gomez has started 20 straight games at right guard and is on track to graduate with a degree in management.
Says Gomez, "Over the years, I've learned a lot of things: If you work hard, with passion, you're going to get where you want to be, and I don't know where I'd be if Coach B had let me go."
Gomez, an all-state lineman out of Graham, Washington, needed just one recruiting trip to know that Eastern would be a better fit than Montana and Montana State, the other contenders for his services. "I know in my head and in my heart that Eastern was the place," said Gomez, echoing other recruits who cited the program's family atmosphere.
Those bonds were strained when Gomez admittedly "made some terrible mistakes" early in his Eastern career.
"Coach told me at that point that I'd messed up," Gomez said. "But he looked me in the eye and said 'I'm going to keep you around.'"
"That put a fire in me, and from there I cleaned myself up and started paying more attention in the classroom," Gomez said.
On the field, he saw action on the offensive line and on special teams. By the fall of 2014, he moved into the starting lineup, where he's been ever since.
Says left guard Aaron Neary, "When I think of one word for Tim, it would be 'perseverance,' because after a few little hiccups, he's blossomed into a great player."
For that, Gomez said he can thank his teammates and O-line coach Aaron Best. "The first couple of years, we struggled, but now I know his expectations, and I look up to the guy … it's for the best of the team and the program."
The Eagle offense has thrived the last two years partly because of a veteran offensive line. Last year, Gomez and his mates have helped Eastern score at least 50 points in six games and lead the Football Championship Subdivision in scoring offense (44.1 per game) and first downs (361 total) while finishing second in passing efficiency (163.52), third in total offense (513.4) and second in passing offense (328.2). They also won the Big Sky title for the third straight year.
Of Gomez's contribution to the success, Best says, "So far he's made zero mistakes off the field and that shows on the field."
This year, Eastern leads the nation in passing yards (with 406 yards per game) and completion percentage (71 percent).
"I think this group can be the best O-line in the nation," the 6-foot-3, 295-pound Gomez said. "We've got some younger guys who've put in the work; and the older guys, we've been great friends since we were freshmen.
"It's nice to see us all on the field at the same time."
And when they part ways? Gomez plans to graduate in the spring and return to Graham, which is located south of Tacoma. "My dream job would be at Boeing," said Gomez, who also dreams of owning a restaurant.
Local journalism is essential.
Give directly to The Spokesman-Review's Northwest Passages community forums series -- which helps to offset the costs of several reporter and editor positions at the newspaper -- by using the easy options below. Gifts processed in this system are not tax deductible, but are predominately used to help meet the local financial requirements needed to receive national matching-grant funds.
Subscribe to the sports newsletter
Get the day's top sports headlines and breaking news delivered to your inbox by subscribing here.
---