Sports
Suddenly, Cougars in spotlight as Stanford game approaches
Sun., Oct. 25, 2015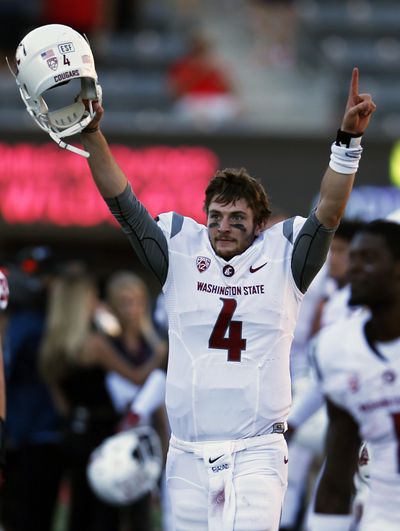 PULLMAN – It has been said that the Washington State football program lost its innocence when it fired Paul Wulff. Now it's lost its anonymity, too.
By paying new head coach Mike Leach more than $2 million in 2012, WSU joined college football's big-bettors table, and the Cougars quickly doubled down by spending tens of millions more on football facilities.
Three-and-a-half years down the line, here is the dividend on WSU's investment: The Cougars are about to play a nationally-televised game in late October with pole position in the Pac-12 North at stake.
If the Cougars (5-2, 3-1 Pac-12) can topple No. 10 Stanford (6-1, 5-0) on Halloween Night in Pullman, the Cardinal will still be a half-game ahead in the conference standings. But each team would have just one conference loss, and the Cougars would own the tie-breaker.
Win this weekend's ESPN game and the road to the Pac-12 title will go through Pullman. A letdown following a big win could be a concern, except the Cougars responded to wins of symbolic importance (Oregon) and great magnitude (Oregon State), with great first quarters in the following game that set up subsequent wins.
"One thing coach Leach and coach (Alex) Grinch won't let us do is be on the high," said senior linebacker Jeremiah Allison. "We celebrate the win but we'll get back to business."
Of course, losing one's anonymity is always another gamble. A lot of eyeballs will be sizing up the Cougars for the first time on Saturday and the Cougars are playing a team in Stanford that has a way of making other teams look terrible.
The Cardinal wear teams down with their physical play on the line of scrimmage and then finish them with a barrage of knockout punches in the form of explosive runs from running back Christian McCaffrey, who is on pace to break season all-purpose yards record set by Barry Sanders, and Sanders' son, Barry Sanders Jr., who is an explosive playmaker just like his dad.
Since a surprising season-opening loss at Northwestern, the Cardinal have won every game they've played by at least 10 points. The average margin of victory in five Pac-12 wins is 23.6.
The Cardinal will not let the Cougars get away with the second-half lull they went through in their last two wins. WSU has done a good job of playing with energy out of the gate in Pac-12 play, and the team has come through with its back against the wall, but when an opponent is in position to submit the Cougars haven't been able to finish them off.
"We didn't finish a drive offensively that certainly would have been a good one and then defensively we didn't finish the drive after that," said Leach after Saturday's win over Arizona. "I view that as within our control and I wish we would have finished them off then."
The Cougars have been unstoppable at times and if they can play four quarters the way they played the first in Tucson, they can beat Stanford.
Local journalism is essential.
Give directly to The Spokesman-Review's Northwest Passages community forums series -- which helps to offset the costs of several reporter and editor positions at the newspaper -- by using the easy options below. Gifts processed in this system are not tax deductible, but are predominately used to help meet the local financial requirements needed to receive national matching-grant funds.
Subscribe to the sports newsletter
Get the day's top sports headlines and breaking news delivered to your inbox by subscribing here.
---