Gonzaga women picked to win WCC title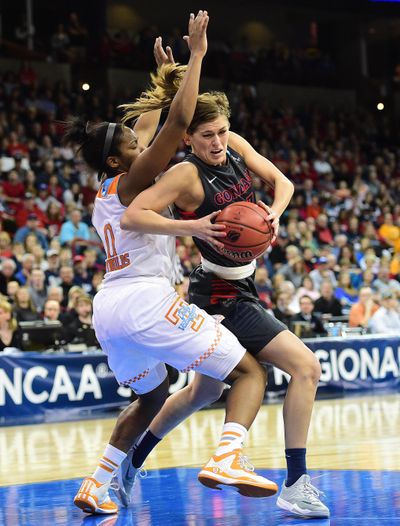 The Gonzaga women's basketball team has won 11 straight WCC titles and conference coaches don't see a change coming at the top this season.
The Zags were picked No. 1 in the coaches' poll released Monday at the WCC's annual Tip-Off event in Los Angeles. Gonzaga received six first-place votes and 78 points. Second-place BYU had four first-place votes and 76 points. Saint Mary's was a distant third with 61 points. Coaches aren't permitted to vote for their own team.
Gonzaga seniors Elle Tinkle and Shelby Cheslek were joined on the preseason All-WCC team by BYU's Lexi Eaton Rydalch and Kylie Maeda, Saint Mary's Shannon Mauldin and Lauren Nicholson, Pacific's Hailie Eackles, San Diego's Malina Hood, San Francisco's Taylor Proctor and Loyola Marymount's Sophie Taylor.
The Zags finished 26-8 last season, 16-2 in conference. They lost to BYU in the WCC tournament semifinals but bounced back with double-digit NCAA tournament wins over George Washington and Oregon State before falling to Tennessee in overtime.
"Obviously it's something we can aim toward," Tinkle said of last season's march to the Sweet 16. "It's something that we can teach this team, that it is attainable and something we can reach for. It's a new season and we can't expect anything to be easy or handed to us because of our success last year."
Gonzaga graduated top two scorers Sunny Greinacher and Keani Albanez, but returns a strong core in Tinkle, Cheslek, Emma Wolfram, Georgia Stirton, Shaniqua Nilles, Emma Stach and Kiara Kudron, who redshirted last season after averaging nearly 14 minutes per game as a sophomore in 2013-14. The freshmen class includes Gonzaga Prep grad Laura Stockton, daughter of Hall of Famer John Stockton.
Tinkle led Gonzaga in scoring in conference games (14.9) last year and averaged 11.7 points overall. Cheslek contributed 7 points and paced the Zags in rebounding (8.2) and blocks (53).
"She's going to be huge," second-year coach Lisa Fortier said of Cheslek. "She's made such improvements over her career at Gonzaga. She's always been a great defensive player and rebounder, and she's put in a lot of time working on her offensive game."
The Zags are 152-14 in WCC games the last 11 seasons, a 91.6 winning percentage.
BYU, which won the WCC tournament and advanced to the NCAA tournament, is led by senior guard Eaton Rydalch, who led the team in scoring 29 times and averaged 20.5 points a year ago. She was honorable mention AP All-American last season.
The Cougars return three starters, including point guard Maeda (6.2 points, 4.2 assists last season).
Saint Mary's features the senior backcourt duo of Nicholson and Mauldin. Both earned All-WCC honors a year ago. Nicholson averaged 17.6 points. Point guard Mauldin averaged 10.8 points and led the team in assists, blocks and steals. The Gaels also return WCC newcomer of the year Stella Beck.
Gonzaga entertains Carroll College in an exhibition game on Nov. 6 before opening the season against visiting Air Force on Nov. 13.
---