News > Spokane
Future of Avista's coal power to be discussed in Spokane Wednesday
UPDATED: Tue., Oct. 27, 2015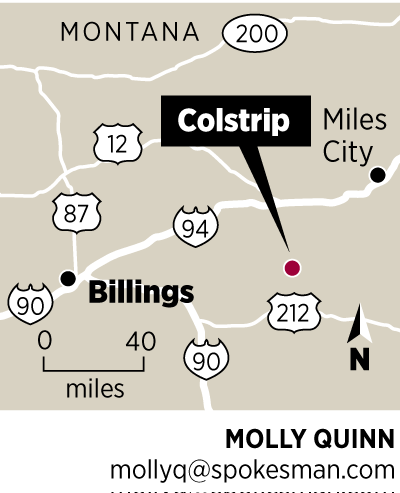 Avista Utilities' customers may not realize it, but part of their electricity comes from a coal-fired plant on Montana's high plains.
The Colstrip Generating Station provides about 9 percent of the electricity sold to Avista customers. The Spokane-based utility is among six owners of the plant, which is about two hours east of Billings.
Colstrip sends hundreds of megawatts of low-cost electricity to the Northwest. It's also one of the largest coal-burning plants west of the Mississippi, producing 13 million metric tons of carbon dioxide and other climate-warming gases each year. That's landed the plant in the crosshairs of Gov. Jay Inslee, who wants Washington utilities to stop importing coal-fired electricity, and groups such as the Sierra Club's Beyond Coal campaign, which is trying to shut down coal plants nationwide.
Colstrip's future is the subject of a Washington state Senate Energy, Environment and Telecommunications Committee work session Wednesday at the Davenport Hotel.
Most of the discussion will be about Puget Sound Energy, which owns half of Colstrip's two oldest, most polluting electrical-generating units. Given the likelihood of tougher environmental regulations, the Washington Utilities and Transportation Commission has raised questions about the economic viability of those two units in the future.
The prospect of shutdowns at Colstrip alarms Montana legislators, who will be at the meeting. Colstrip dominates the economy of the small town that bears its name and supports massive coal-mining operations around it.
"We're working to protect the customers of Puget Sound Energy, and also the economy of Montana," said Washington Sen. Doug Ericksen, R-Ferndale, chairman of the committee.
Committee members are working on a proposal to take to next year's Legislature that would address the needs of competing stakeholders, while protecting Puget Sound Energy's ratepayers from "sticker shock" under various possible outcomes at Colstrip, Ericksen said.
Puget Sound Energy serves about 1.1 million electric customers in Western Washington, including Olympia, Bellingham and Bellevue.
Wednesday's meeting won't directly address Avista's 15 percent ownership in Colstrip's two newer units, which company officials say can be upgraded to meet stricter environmental regulations and still remain a low-cost source of electricity for customers. But the Sierra Club is using the meeting to draw attention to Avista's stake in Colstrip.
More than 1,500 utility customers have signed petitions asking Avista to transition away from coal, according to the Beyond Coal Campaign. Electricity produced at Colstrip for Avista accounts for 32 percent of the utility's greenhouse gas emissions, according to company documents.
"The overwhelming majority of Avista customers didn't realize that they had coal, and they don't want it," said Doug Howell, a senior representative for the Beyond Coal campaign.
The Sierra Club is hosting its own meeting at 6 p.m. tonight at Spokane City Hall to discuss Avista's reliance on coal in the utility's recently released 20-year power plan, which describes how the company will meet future demand for electricity.
Avista expects coal to be a viable part of its energy mix through at least 2035, said Jason Thackston, Avista's senior vice president for energy resources.
"When we have a year like this one, which is very dry, our hydropower suffers," he said. "It was important to have Colstrip producing electricity for our customers."
After hydropower, Colstrip is Avista's lowest-cost source of electricity, beating out natural gas-fired turbines, wind, solar and biomass, he said.
Replacing Avista's stake in Colstrip with a cleaner-burning natural gas plant would cost roughly $250 million at today's prices, Thackston said. And unlike coal, whose price is relatively stable, the cost of natural gas fluctuates, which has led to past run-ups in bills for electric customers, he said.
The Beyond Coal campaign frequently attacks coal plants on economics, with Sierra Club representatives arguing that utilities aren't accurately portraying the plant's environmental liabilities. "Companies consistently underestimate the cost to ratepayers," Howell said.
Thackston said the company's assessment of Colstrip is based on "all regulations in place today."
Avista's calculations don't include potential impacts from the U.S. Environmental Protection Agency's Clean Power Plan, which was released in August, he said. The plan requires reductions in carbon emissions from power plants, which are the nation's largest source of greenhouse gases.
States are responsible for enacting the plan, which faces legal challenges.
"We don't know how it will affect our plants," Thackston said.
Local journalism is essential.
Give directly to The Spokesman-Review's Northwest Passages community forums series -- which helps to offset the costs of several reporter and editor positions at the newspaper -- by using the easy options below. Gifts processed in this system are not tax deductible, but are predominately used to help meet the local financial requirements needed to receive national matching-grant funds.
Subscribe to the Coronavirus newsletter
Get the day's latest Coronavirus news delivered to your inbox by subscribing to our newsletter.
---
Subscribe and log in to the Spokesman-Review to read and comment on this story