A&E > Entertainment
You don't have to stay at the Grand Hotel to drink and dine there
Thu., Oct. 29, 2015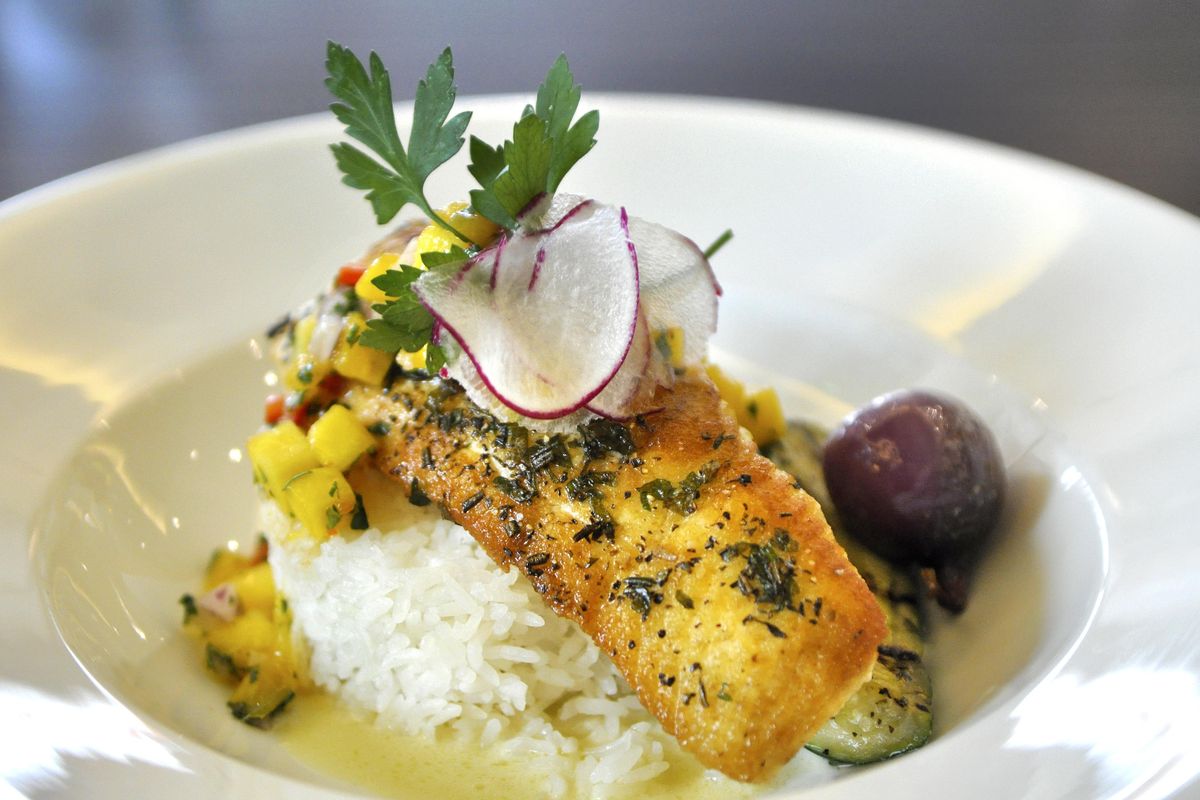 Seared Alaskan Halibut is a staple menu item at the new Davenport Grand Hotel in downtown Spokane. (Adriana Janovich / The Spokesman-Review)
Sip whiskey in the darkened, back-room bar.
Or, people watch from a more public perch in the lobby. When the weather's nice, imbibe outside. A second-story terrace offers cushy, low-slung couches fitted around fire features.
They're not just for out-of-towners.
You don't have to be an overnight guest to dine and drink in the bars and restaurants at the new Davenport Grand Hotel in downtown Spokane.
"Having that local business is really important to us," said Matt Jensen, director of sales and marketing for the Davenport collection of hotels. "I welcome everybody to come down."
The 17-story Davenport Grand Hotel, the largest in Spokane, opened in mid-June with 716 rooms, a café, restaurant and two bars, including the terrace. A second restaurant with the whiskey bar tucked in back opened in September.
One kitchen serves all. It's headed by executive chef Ian Wingate, who helped re-open the historic Davenport Hotel in 2002. Owned by Walt and Karen Worthy, both it and the Grand are part of a hotel collection that also includes Spokane's Davenport Tower and Davenport Lusso Hotel.
"It's been fun developing the menu," Wingate said. "It's very personal to me."
It's also personal to Walt Worthy, who worked closely with Wingate throughout the process.
"Every wine on the menu, he approved it. Every meal on the menu, he approved it," Jensen said.
About 100 people work in both front and back of the house between all of the Grand's food and beverage options. Here's a closer look at all of them.
The Grand Restaurant & Lounge
Located on the first floor of the hotel, across the street from the INB Performing Arts Center, the hotel's signature restaurant and lounge overlooks the gleaming, modern, white marble lobby. The floor plan is open. The dining area seats 187; about 75 people fit in the lounge.
The cuisine is a mix of Worthy's favorites and Wingate's influences. Their childhoods collide on the menu, which Wingate describes as "comfort food, elevated.
"We never skimp on ingredients," Wingate said. "We bring in prime-grade New York steak from the Midwest. The fish and chips are halibut."
There's evidence of Worthy's Georgia upbringing and his propensity toward hearty Southern comfort food: steak, smoke, burgers, barbecue, biscuits and gravy, corned beef hash, coffee cake.
Wingate grew up in Hawaii and attended culinary school in California. His tendencies are "very Pacific rim" and are evidenced in the coconut prawns, an orange-spiced tofu stir-fry with Asian vegetables and bean sprouts and the Grilled Fire Cracker Chicken with sweet Hawaiian plum sauce and a cucumber-radish salad.
His signature dish is classic, Hawaiian-style ahi tuna poke – "a childhood thing I ate every day" – with a twist: avocado-wasabi mousse, soy-lime-chili sauce, macadamia nuts, sweet onion, radishes and cucumber.
While he pays homage to his roots, Wingate has lived in Spokane for about 20 years. "It's home now," he said.
So there's grilled wild salmon, a Pacific Northwest staple, on the menu, too – along with Northwest Cobb Salad, Forest Mushroom Cream Sherry Soup, Washington Sweet Onion Soup Gratiné and Cougar Gold Gratiné, which features the regionally renown cheese from Washington State University.
After running a series of his own restaurants – Agave Bistro and Moxie, among them – Wingate returned to the Davenport hotel collection three years ago.
He said he plans to change the menu two or three times a year. But he also plans to keep the staples, such as the prime rib French dip, which is sliced to order and served at the customer's requested temperature.
"At all the restaurants I've worked at, I've never seen anything like it," Wingate said. "It's quite a commitment."
Flatbreads, salads and "designer" desserts round out the menu at the hotel's signature restaurant, which serves breakfast, lunch and dinner daily.
Breakfast dishes run from $10.95 to $15.95. The Ultimate Bloody Mary costs $12 and comes with a jumbo prawn.
Lunch mains are $11.95 to $28.95. For dinner, mains run from $15.95 for the tofu to $45.95 for the New York steak. Wines by the glass are $7 to $17. Specialty cocktails cost $12. There is no happy hour.
Desserts are $8.95, except for the sorbet which is $6.95. One of the most popular is the Rolo Dome, inspired by the candy with the same name. It features salted caramel and chocolate mouse and ganache, and sheet of sugar lace.
Table 13 Restaurant and Whiskey Bar
The Grand's newest restaurant opens for dinner only Tuesday through Saturday. At Table 13, the focus is on tapas, or small plates.
"You can kind of create your own meal when you come in – for sharing," said Wingate, who recommends two or more plates per person.
Most dishes cost $13. Look for tomatoes and peaches with arugula and burrata, ceviche, poke, a spicy tuna roll, shrimp and grits, a crab cake, halibut and prime rib sliders, Smoked Beef Brisket Street Tacos and a New York-style Italian Street Dog.
There are some smaller offerings – Brussels sprouts, potatoes, roasted baby organic carrots – for $6.50.
Seating is conducive to sharing. Booths seat four or eight. Two large communal table seat 24 on black, backless cubes.
The vibe is sleek and modern with industrial and urban overtones: distressed wood, leather, pressed cement board. There are a few smaller tables for two and four near the front of the house, where guests are greeted by a wall of wine encased in glass. The floor-to-ceiling wine cellar holds 1,400 to 1,600 bottles representing more than 400 labels.
"It's a showpiece," Jensen said.
Full bottles run from $25 to $275. There are two half-bottle selections for $26 or $37. Townshend Cellar's T3 red blend sells for $12 per glass or $47 per bottle; Barrister Winery's cabernet franc is $15 or $59.
In the back bar, the focus is on whiskey. Signature cocktails are $12 and $13. Look for the Elder Collins with St. Germain elderflower liqueur, Hendrick's Gin, citrus and simple syrup or the Whiskey Smash with Maker's Mark bourbon, lemon, mint and simple syrup.
There's no happy hour here, either. Signature whiskey flights are $15 to $25 for three or four samples. Or, build your three- or four-sample flights for $13 to $15 with whiskey that's on the menu for $10 or under per glass.
There about 60 whiskeys on the menu. Find sips from $6 per glass for blended malts to $75 for a 25-year-old single-malt Scotch.
The Grand Terrace Bar
Las Vegas-sized hallways on the second-floor lead to the terrace – and the feeling of sitting outside at a rooftop bar in downtown Los Angeles – except that the view is distinctly Spokane.
The Clocktower and Pavilion rise above the trees of Riverfront Park; it almost seems like you could reach over and touch them from the terrace-top.
There's no food service here. It's drinks only on the roof. And that's only from 4 to 11 p.m. (midnight on Friday and Saturday) weather permitting. There's no happy hour.
Beer by the bottle – Alaskan Amber, Heineken, Budweiser, Coors Light, Miller Light – is $4. Wine is also available by the glass or bottle. So are $12 seasonal sips such as the Riverfront Refresher with lemon- and sweet tea-flavored vodka and soda and the Grand Worthy – get it? – with tequila, raspberries, lemon and simple syrup.
Local journalism is essential.
Give directly to The Spokesman-Review's Northwest Passages community forums series -- which helps to offset the costs of several reporter and editor positions at the newspaper -- by using the easy options below. Gifts processed in this system are not tax deductible, but are predominately used to help meet the local financial requirements needed to receive national matching-grant funds.
Subscribe to the Spokane7 email newsletter
Get the day's top entertainment headlines delivered to your inbox every morning.
---