Sports
Lewis and Clark grabs third playoff spot with win over Mead
UPDATED: Fri., Oct. 30, 2015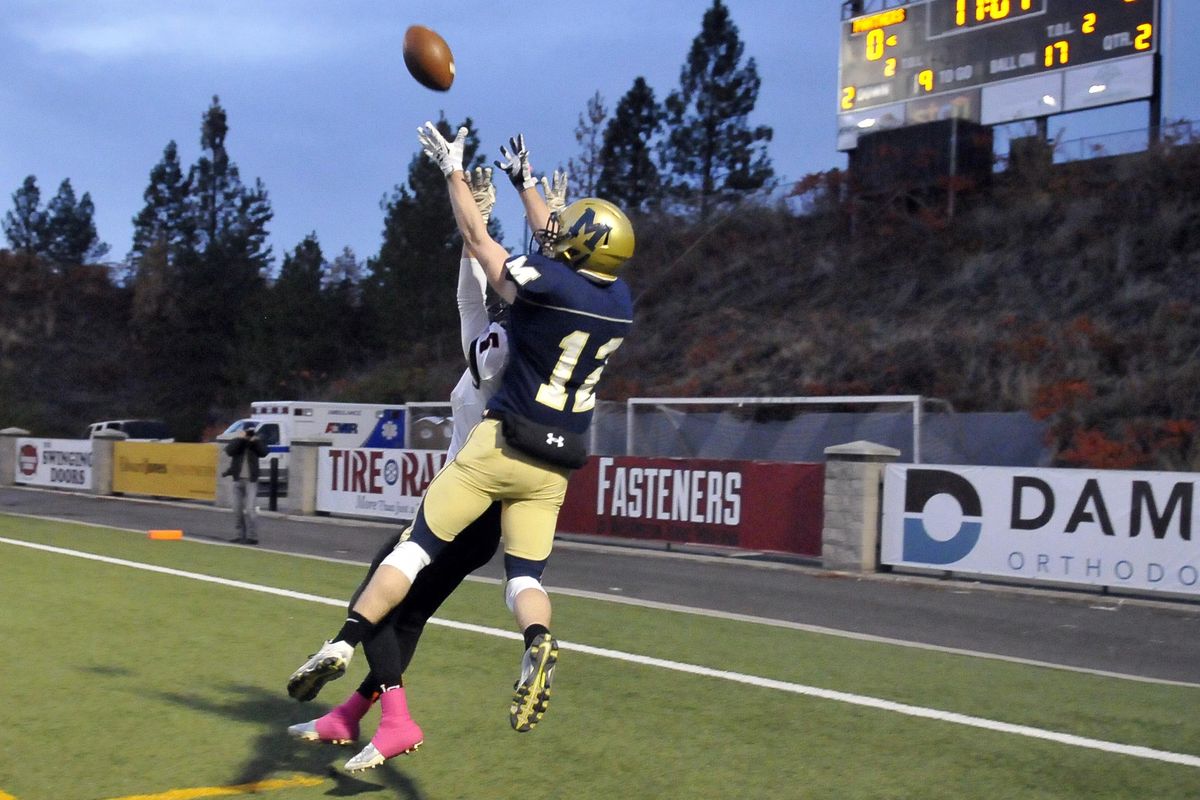 Mead's Bryan Anderson (12) leaps and grabs a touchdown reception in the corner of the endzone over the defense of Lewis and Clark's Zach Monosmith (behind) for the first score of the game, Friday, Oct. 30, 2015, at Joe Albi Stadium. At the half, Mead was up 14-7. (Jesse Tinsley / The Spokesman-Review)
Leo Haghighi found himself on the receiving end of two of the Lewis and Clark football team's biggest plays this season.
And a third came on an interception.
Haghighi caught touchdown passes of 33 and 76 yards as Lewis and Clark scored three straight touchdowns to upend the Mead Panthers 21-14 to earn the Greater Spokane League's third postseason berth Friday at Albi Stadium.
The Tigers (5-4 overall, 2-3 league) travels to Mid Columbia Conference No. 1 seed Richland (8-1) next Friday in a play-in game.
"Leo was huge for us," LC coach Dave Hughes said. "He got our motor started. When we get started we can be dangerous."
Mead (5-4, 2-3) opened a 14-0 lead. But LC finally got untracked late in the first half.
It started when Haghighi intercepted a pass.
Then he made an incredible catch on his back in the end zone.
Haghighi dove for a pass that was deflected by Mead defensive back Beau Skinner. But the ball bounded toward Haghighi, who finished off the 33-yard scoring play. He showed great hand-eye coordination on the catch.
"I was a bit lucky, I'm not going to lie," Haghighi said. "We were in a hurry-up offense and (quarterback Jordan Summers) checked it. It was an audible to a streak. The defender made a great play on it, batted it up and it just happened to bobble to me while I was laying in the end zone."
LC scored the equalizer late in the third quarter when receiver Camryn Schon threw a 76-yard pass to Haghighi, who got behind the Mead secondary.
"We knew we could set it up because Camryn has been running that jet sweep all season," Haghighi said. "He put it on the money. He hasn't thrown it that well in practice. It was perfect. It was all him on that play."
The winning TD came on a short drive that began at LC's 49-yard line.
Eight plays later, Adam Jacobson bulldozed in from 5 yards out with 10:52 remaining.
Mead had two more possessions but LC's defense, stingy all season, wouldn't budge.
"We play well on defense and offensively we work on things," Hughes said. "We tackle every day, we practice defense every day, we spend a lot of time on defense. We spend a lot of time on offense but it is a focus that we expect to play good defense."
Midway through the season, LC lost Summers to a high ankle sprain. During that time, Ferris shut out the Tigers 3-0.
Instead of letting things unravel, the Tigers dug deep.
"We knew we had it in us," Haghighi said. "This is a great, great group of kids. Our senior class is amazing. The Ferris loss was tough but we bounced back and won three straight, had a tough one against (Gonzaga Prep). The win over (University) was big, it gave us some confidence. When our backs were against the wall against Mead and U-Hi we performed."
Hughes noted that when LC won the state championship in 2007, the Tigers opened with a play-in game at Richland.
"As far as coaches, we believe our job is to keep them in games, get them better every time," Hughes said. "Then we tell them that players win football games. Tonight our players won the game."
Local journalism is essential.
Give directly to The Spokesman-Review's Northwest Passages community forums series -- which helps to offset the costs of several reporter and editor positions at the newspaper -- by using the easy options below. Gifts processed in this system are not tax deductible, but are predominately used to help meet the local financial requirements needed to receive national matching-grant funds.
Subscribe to the sports newsletter
Get the day's top sports headlines and breaking news delivered to your inbox by subscribing here.
---