Sports
Rogers reaches postseason for first time as GSL member
UPDATED: Fri., Oct. 30, 2015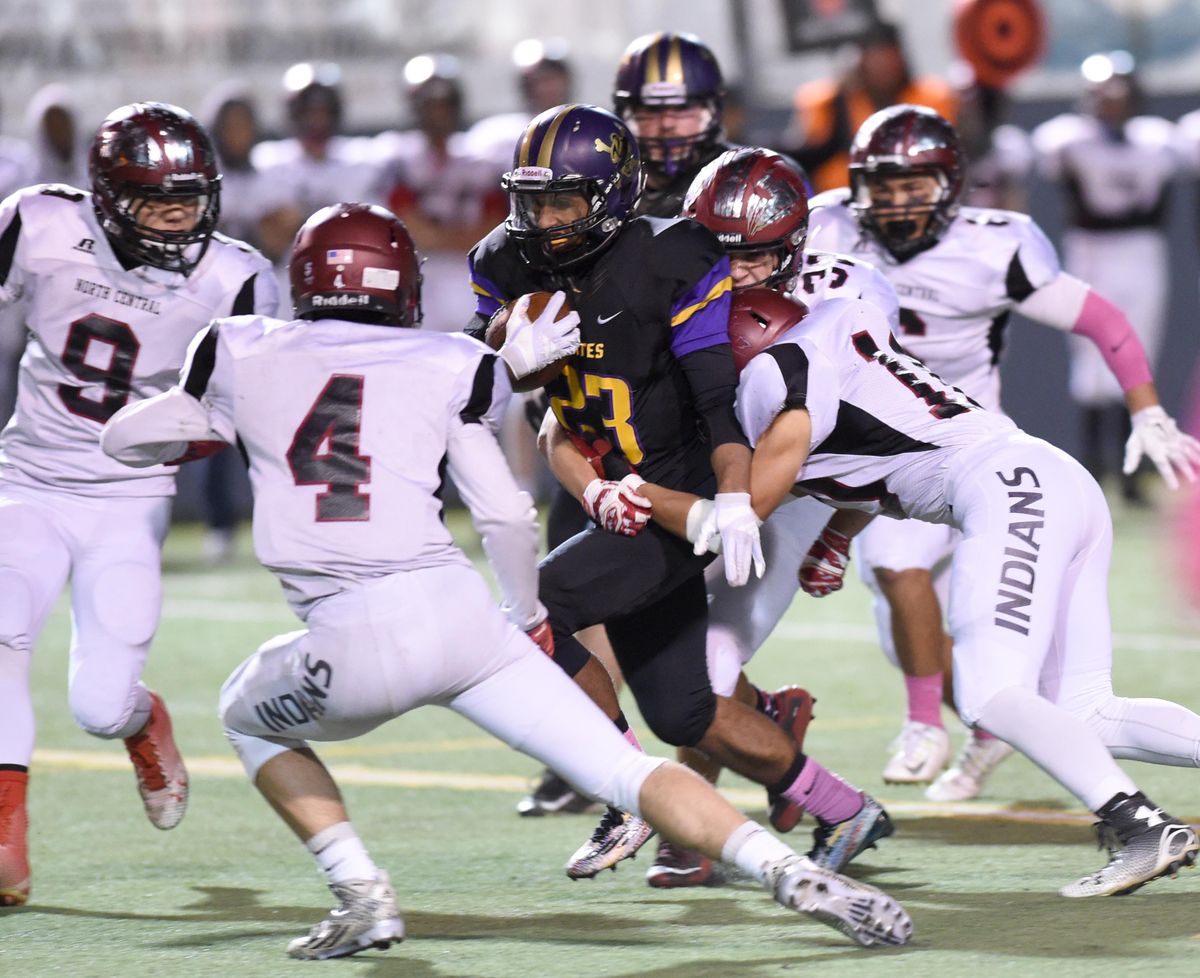 Rogers' Marcus Phillips (23) is mobbed by North Central Indians on the run, Friday, Oct. 30, 2015, at Joe Albi Stadium. (Jesse Tinsley / The Spokesman-Review)
After 39 years of futility, the Rogers football team is headed to the postseason for the first time in the Greater Spokane League.
Rogers didn't leave any doubt, handling the North Central Indians 42-17 in a GSL 3A finale Friday at Albi Stadium.
Rogers (4-5 overall, 2-1 league) travels to Kamiakin (7-2) next Friday in a play-in game. League champ Mt. Spokane (8-1) entertains Kennewick (4-5) Friday at Albi.
"They came to beat us and we came to be us," Rogers second-year coach Ben Cochran said. "All we had to do was be us. For all four quarters we just wanted to play our personal best."
It worked. Rogers piled up 333 yards rushing, and leading the way was senior running back Patrick Pullins, who had a season-high 175 on 24 carries and three touchdowns.
Rogers relied more on its rushing attack than passing.
"They were just running hard and guys were unselfish because we've got guys who can carry the ball," Cochran said.
The Pirates got to four wins for the first time since 1994 when the Pirates finished in a five-way tie for a postseason playoff berth.
Pullins said Friday was a long time in the making.
"This means a lot," Pullins said. "We haven't been to the playoffs since the GSL started. Ever since we got here as freshmen, we knew that we were going to come around and change this."
Rogers got out fast Friday, scoring on long touchdown passes.
Quarterback Cole Shafer hit Edward Smith on a 40-yard scoring pass and followed it up with a 51-yard toss to Khalil Winfrey for a 14-0 lead.
North Central (1-8, 0-3) cut Rogers' lead to 14-7 when running back Khanian Charlton dashed 5 yards late in the first quarter.
Rogers linebacker Reed Johnson got an interception at NC's 23-yard line and returned it to the 9. Two plays later, Pullins scored from 4 yards out to extend the lead to 21-7 with 5:30 to go before halftime.
With a minute to go, Dominic Deatherage coaxed a 46-yard field goal just over the crossbar, cutting Rogers' lead to 21-10.
In the third period, Winfrey scored on a 15-yard jet sweep to give Rogers a 28-10 lead at the 6:19 mark.
Brandon Madsen set the Pirates up at the NC 28 with an interception.
Pullins scored his second TD, dashing 7 yards to extend the lead to 35-10 with 4:45 to go in the third.
He scored his third TD midway in the fourth when he sprinted 9 yards, diving to touch the pylon at the goal line, to give the Pirates a 42-10 lead.
Local journalism is essential.
Give directly to The Spokesman-Review's Northwest Passages community forums series -- which helps to offset the costs of several reporter and editor positions at the newspaper -- by using the easy options below. Gifts processed in this system are not tax deductible, but are predominately used to help meet the local financial requirements needed to receive national matching-grant funds.
Subscribe to the sports newsletter
Get the day's top sports headlines and breaking news delivered to your inbox by subscribing here.
---