Sports > Outdoors
A Grizzly issue: Relocating cattle-killing bears doesn't solve problem
Sat., Oct. 31, 2015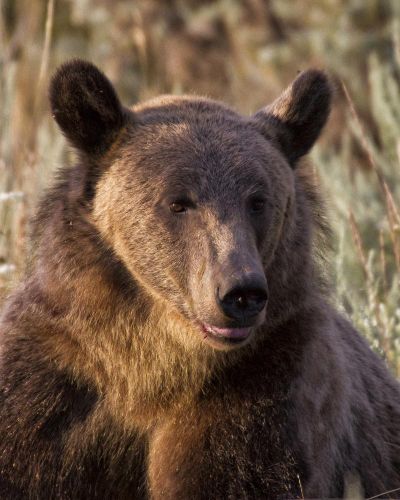 Elusive, resourceful and in the end a troublemaker, grizzly bear 822 was killed Oct. 1 for developing an intolerable appetite for cattle.
"She was a real piece of work," said Shawn Stewart, biologist for Montana Fish, Wildlife and Parks in Red Lodge.
The story of 822 and other grizzlies has wildlife managers rethinking what they once defined as grizzly bear habitat when the animals were first listed as a threatened species in 1975.
"Certainly bears are utilizing far broader landscapes than what we thought," Stewart said. "They are amazingly adaptable critters."
Instances like 822's capture and eventual death sentence points out a problem, too, as grizzly bear numbers in the Greater Yellowstone Ecosystem have climbed to around 700. The country, despite its relative vastness at more than 34,000 square miles, is getting crowded because bears are hemmed in by increasing human development in rural areas.
So far this year, at least 46 grizzly bears in the GYE have died, 20 of them removed for conflicts with humans such as cattle depredation.
"The challenge for wildlife managers is that while the Yellowstone Ecosystem is large, it has only limited release sites for problem grizzlies," wrote Greg Losinski, of the Idaho Department of Fish and Game, in a news release. "Once a bear has learned a negative behavior, it is extremely difficult to relocate that animal to a place where it cannot get into a similar problem situation or even head back to where it originally was trapped."
That was the case with 822. Stewart first met the sow when she was trapped on July 24 in the Bearcreek Basin after more than a dozen cattle, mostly calves, were killed. The basin is southeast of Red Lodge along the eastern front of the Beartooth Mountains. At the time, Stewart estimated about 24 grizzly bears inhabited the area.
Since the cattle killings were a first offense for 822, and because she had a cub of the year, the sow and son were moved to the Teepee Creek area high up Gallatin Canyon, thereby removing the bears from the temptation of killing more livestock.
822 was a healthy 8- or 9-year-old female, Stewart said, weighing in at about 300 pounds — an average weight for that time of the year. After being released in the Gallatin drainage, 822 hung around about 24 hours to get her bearings, then began traveling west. Stewart could follow her GPS collar.
Four days later, she crossed a highway and river again and traveled east along the northern edge of Yellowstone National Park.
"That's the other thing fascinating about following the collared bears — the tremendous diversity of places they use," Stewart said. "On the same mountain you'll have some out in the sagebrush while others are always up high and you'll never catch them down low."
About a week after being dropped off in the Gallatin Canyon, 822 had climbed over the Gallatin Mountains and crossed the Yellowstone River and Highway 89. That distance is only 30 miles by airplane, but in between are mountains more than 9,600 feet tall.
"When they have a mind to go, they can definitely cover the country," Stewart said.
A trail-cam photo showed her without the cub. Perhaps the cub was killed during an encounter with a male grizzly, which are known to slay cubs to induce the female to mate.
Bear 822 dropped into the Absaroka-Beartooth Wilderness, across the Beartooth plateau and back onto the Beartooth Front, frequenting the Fiddler Creek region, where she began killing cattle again: this time 12 calves.
Wildlife Services is an agency specifically tasked with killing livestock-killing wildlife such as bears, lions and coyotes.
"She typically would not return to a kill site," Stewart said. "Wildlife Services would set traps, but at that point she was a pretty wary old girl.
"She would come down the mountain and tiptoe around those (trap) sites after dark," Stewart said. "By morning she was way up on top of the ridges. I never saw her. She was always in the thick timber (during the day)."
Wildlife Services agents finally caught 822 in the open and shot her.
"When we took her out, there was never another kill east of Red Lodge," Stewart said.
He said it's possible that to feed her cub, while also attempting to avoid other males in the Bearcreek area, 822 would kill a calf, feed and then move on. Two males that may have been following her to feed on her kills were trapped and euthanized this summer.
Stewart can only speculate on how 822 navigated this summer across such rugged country to return to within 20 airplane miles of where she had been originally trapped two months earlier.
Each bear that he's relocated has reacted differently.
Unfortunately for researchers, most of the trapped bears quickly lose their GPS collars, so continued tracking is impossible.
"Their necks are bigger than their heads, so it's like trying to put a collar on a funnel," Stewart said.
A week after 822 was killed, Idaho Department of Fish and Game officials euthanized a 13-year-old sow grizzly. She had been trapped near Cody, Wyoming, with her two yearling cubs three weeks earlier and had been relocated more than 100 miles west in the Jedidiah Smith Wilderness, northwest of Jackson Lake. Three weeks after being trapped near Cody she was trapped again, this time near Chester, Idaho, because she and her cubs were raiding apple trees.
"In this case, the relocation of the bears only delayed the inevitable decision about what to do with bears that have become too comfortable around humans," Losinksi wrote. "The decision to euthanize the sow was not made lightly but underlies the ongoing challenge of managing a population that has exceeded all recovery goals set under the Endangered Species Act."
The U.S. Fish and Wildlife Service is preparing to delist grizzly bears as a threatened species, a decision that will be tied up in court challenges. What the grizzly bear's future will look like is uncertain, but one thing is for sure in Stewart's opinion.
"In my mind, the areas used by grizzly bears are not limited by a grizzly's ability to make a living there. It's limited by our social tolerance," Stewart said.
"That's not to say grizzlies belong every place, but they can make a living in places that are no longer socially acceptable."
Local journalism is essential.
Give directly to The Spokesman-Review's Northwest Passages community forums series -- which helps to offset the costs of several reporter and editor positions at the newspaper -- by using the easy options below. Gifts processed in this system are not tax deductible, but are predominately used to help meet the local financial requirements needed to receive national matching-grant funds.
Subscribe to the sports newsletter
Get the day's top sports headlines and breaking news delivered to your inbox by subscribing here.
---