This column reflects the opinion of the writer. To learn about the differences between a news story and an opinion column, click here.
Opinion > Column
Eye on Boise: Otter wants 'instant racing' back, but with restrictions
UPDATED: Sat., Oct. 31, 2015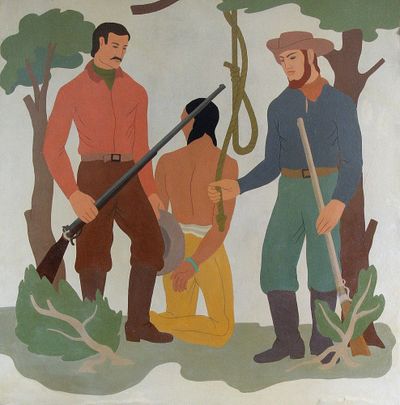 Idaho Gov. Butch Otter wants to see slot machine-like "instant racing" terminals return in Idaho with tighter regulations, in an effort to boost the state's live horse racing industry.
"Let's start with the steps I laid out in my veto message last winter: Creation of a state gaming commission to set operating rules that are sensitive to community and industry concerns, restoration of horse racing services – including pari-mutuel terminals – but with tighter regulations on the location of the machines and operations," Otter wrote in a guest opinion distributed to Idaho newspapers.
Idaho lawmakers this year repealed authorization for the betting machines, two years after they first authorized them in 2013. Lawmakers said they'd been duped, because the "historical horse racing" terminals they'd been promised, which showed replays of unidentified past horse races and allowed operators to place bets on them, instead featured quick betting, flashing lights, spinning reels with cherries and other graphics, and only a tiny screen showing the final seconds of a horse race. The Idaho Constitution bans any electronic simulation of casino gaming, including slot machines.
Otter vetoed the repeal bill, but didn't deliver his veto back to the Senate within the constitutionally required five-day time frame. The Coeur d'Alene Tribe, lead sponsor of the repeal bill, sued, and the Idaho Supreme Court ruled the veto invalid and the machines illegal. The tribe operates its own video gambling machines at its reservation casino under a negotiated compact with the state and a voter-approved initiative. The "instant racing" machines had been operating at three locations around the state: Les Bois Park near Boise, the Double Down Betting Bar & Grill in Idaho Falls, and the Greyhound Park and Event Center in Post Falls.
"This story isn't about me. It's about the devastating impact of that unfortunate decision, and all that led up to it, on the lives of thousands of Idaho families," Otter wrote in his piece. "Horse trainers, jockeys, hay farmers, stable hands, restaurant operators, veterinarians, hotel/motel owners, horse breeders and trailer manufacturers are among the multitude of folks threatened by this reversal. Simply stated, Idahoans involved with the horse industry have been treated unfairly. I'm not willing to let something so integral to our culture simply disappear. I'm not willing to turn my back on an industry with businesses, ranches and farms – and most importantly people – contributing hundreds of millions of dollars to our communities and economy."
"It's time to work collaboratively and constructively to preserve Idaho's horse racing industry," the governor wrote. "There are some tough decisions to be made and some hard work to do, but I'm ready to work with legislators and the industry to craft new laws in the next session of the Legislature."
Les Bois Park operators have been threatening to shut down live horse racing next year, saying it's not financially feasible without the betting machines. The Idaho Falls betting parlor has closed, after its license came into question because the county hadn't approved off-track betting there. The Greyhound Park has never had live horse racing; it hosted live greyhound racing from 1988 until lawmakers outlawed dog racing 1996; the park was "grandfathered in" and allowed to continue to conduct betting on simulcasts, or broadcasts of races conducted elsewhere.
In 1998, the Coeur d'Alene Tribe wanted to buy the park and turn it into a casino, but then-Gov. Phil Batt said no, saying gaming should remain on tribal reservations.
Meeting on murals
Idaho Department of Administration Director Bob Geddes has called a public meeting of stakeholders Wednesday to discuss the historic murals in the new Idaho Law and Justice Learning Center, the former Capitol Annex that long served as the Ada County Courthouse. The Depression-era murals include depictions of white settlers preparing to hang a Native American man; those two scenes have been covered with banners since the opening of the new center, which now houses law school classes for the University of Idaho and the state law library, along with some functions of the Idaho Supreme Court.
In 2008 and 2009, the Idaho Legislature held its sessions in the building while the state Capitol was being renovated; it's right across from the Capitol. After a year of negotiations, the state agreed to keep the two controversial murals on display, with interpretive plaques prepared by the state Historical Society and approved by the state's Indian tribes.
University officials covered the offending scenes with banners for the building's reopening this fall, but said they were open to a broader dialogue about them. The meeting is set for 1:30 p.m. in Room WW55 of the state Capitol, lower level.
Tuition measure favored
If a proposed initiative to raise Idaho's cigarette tax by $1.50 a pack and use most of the proceeds to lower state college and university tuition were to make the ballot, it would have an easy shot at passage, according to a new poll conducted by Dan Jones & Associates. The poll of 586 Idahoans was conducted Sept. 22-30; it has a margin of error of plus or minus 4.05 percent.
The poll found that if the measure were on the ballot today, 65 percent of Idahoans would "definitely" or "probably" vote for it. Thirty-two percent said they'd vote against it, and 4 percent said they didn't know. Among those 18-29 years old, support was at 80 percent.
---
---
Subscribe and login to the Spokesman-Review to read and comment on this story