News > Spokane
Spokane school year begins amid fears of teachers strike
Tue., Sept. 1, 2015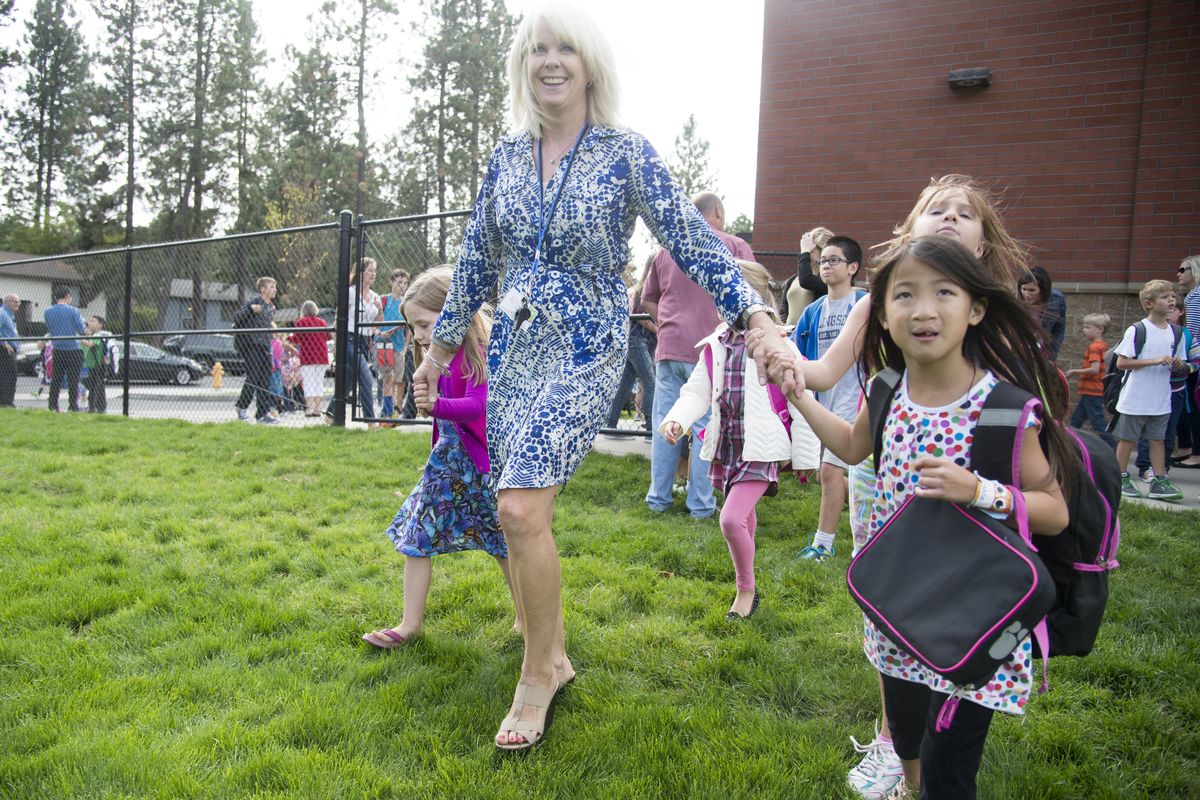 First-grade teacher Trish Campbell leads some of her students outside to find their buses after school Monday at Hutton Elementary. (Jesse Tinsley)
On Monday, Hy Yoeun dropped off her second-grader, Alex, at Bemiss Elementary.
"He didn't want the summer to be over," Yoeun said.
If things go poorly over the next few days, Alex might get a little more summer.
Last week, the Spokane Education Association voted to strike indefinitely, starting Friday, if the union and Spokane Public Schools can't come to a compromise on a new contract.
"Nobody wants to ever have a strike," SEA President Jenny Rose said. "But if it comes to that, it will happen."
According to the union, one of the biggest challenges to a new contract is how much the district pays instructional assistants. Rose said the Spokane aides are some of the worst-paid state employees, despite the fact that Spokane Public Schools is the second-largest school district.
An additional SEA concern is how $23 million the state has newly allocated to the district is being spent. That's additional money directed to Spokane Public Schools because of a Washington Supreme Court mandate.
Spokane Public Schools Superintendent Shelley Redinger said $17 million of the $23 million is going toward staff salary increases.
"We agree that some of our employees are not at market wage," Redinger said Monday.
Both sides were asked to keep specifics of the negotiation private, Rose said. However, Spokane Public Schools posted on the district's Facebook page Monday that negotiators offered teachers a 6.86 percent pay increase, instructional assistants a 7 percent increase and a 4 percent increase to all other groups.
Redinger said the district posted the figures to combat rumors and misinformation.
"If all of this misinformation could lead to a strike, I have to speak up," Redinger said.
Rose questioned the district's decision to post specifics of the negotiations, however.
A reply to that post by the union called the district's disclosures a "breath-taking lack of integrity …" According to the SEA, the $17 million the district claims to be directing toward staff pay is a misleading number that doesn't take into account the yearly, state-mandated 3 percent cost-of-living increase.
Redinger emphasized that the figures posted weren't necessarily current offers but an example of what the district had offered. She isn't on the bargaining team.
Rose said the union decided to strike last Friday on the recommendation of its bargaining team and the executive board. She emphasized that the general SEA membership did not vote to strike; instead, members voted on when to begin a strike. No members raised concerns about striking, she added.
On Saturday, a mediator from the Public Employment Relations Commission arrived in Spokane to facilitate negotiations. The SEA negotiation team is composed of about 30 members representing seven types of school employees. The district is represented by three senior administrators.
Since the mediator arrived, negotiations have been moving quickly and in a "positive" direction, school district spokesman Kevin Morrison said.
"I would like to think that we're cautiously optimistic," Morrison said.
If the SEA does call a strike, the district will suspend all activities, such as sports, he said.
"This, to me, is not the way you solve problems," Redinger said.
Local journalism is essential.
Give directly to The Spokesman-Review's Northwest Passages community forums series -- which helps to offset the costs of several reporter and editor positions at the newspaper -- by using the easy options below. Gifts processed in this system are not tax deductible, but are predominately used to help meet the local financial requirements needed to receive national matching-grant funds.
Subscribe now to get breaking news alerts in your email inbox
Get breaking news delivered to your inbox as it happens.
---