Sports
Brotherhood: Idaho's Dallas Sandberg looks to brother for guidance, inspiration
Thu., Sept. 3, 2015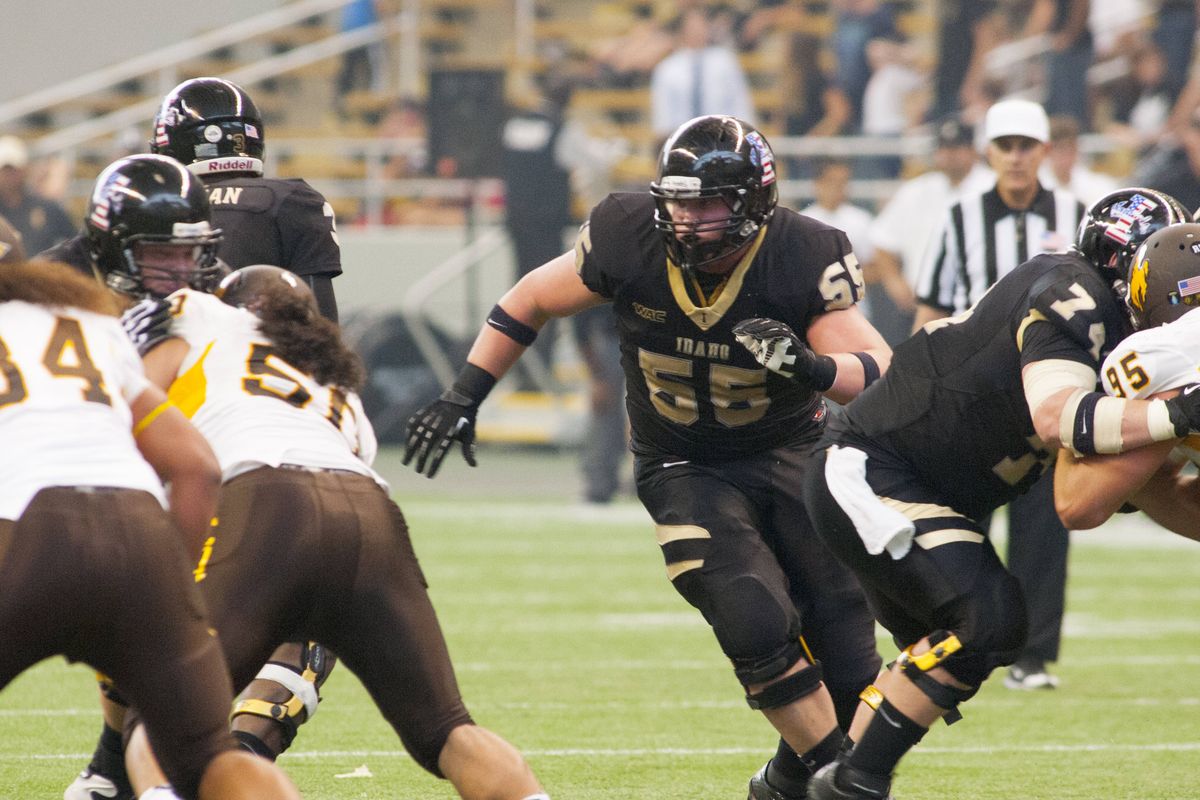 Dallas Sandberg wasn't considered tough enough at first, but has developed into a mainstay on the Idaho line. (Joe Pallen)
Dallas Sandberg's pregame ritual will be the same as it's always been tonight as Idaho kicks off its season against Ohio. He'll run out of the tunnel and take a look to his right.
There, about halfway up section 18, adjacent to the 30-yard line, will be his older brother, Corey Sandberg, waiting to acknowledge and give him a look of reassurance.
"Every home game he sits in exactly the same spot, I know exactly where he sits," Sandberg said of his older brother.
Corey Sandberg has occupied that seat for every Idaho home game each of the last two seasons. Throughout that time he's watched the younger Sandberg, now a fifth-year senior, grow into a steady presence on Idaho's offensive line.
Names like Mike Marboe, Jesse Davis and Steven Matlock have become the household offensive line names mentioned by most Idaho fans. Sandberg is quietly beginning his fourth consecutive season as a starter on Idaho's interior offensive line.
Matlock, a junior center, is the leader of the offensive line unit, while sophomore and Freeman-native Jordan Rose is lauded as arguably the most talented member of the unit.
But it's Sandberg who stands as the only returning senior to an offensive line desperate to improve on allowing quarterback Matt Linehan to be sacked 39 times in 11 games.
Sandberg leads all returning offensive linemen with 23 career appearances for the Vandals. Corey Sandberg has been there every step in the way, including in Dallas' first two years on campus, when Corey Sandberg had the best seat in house as his teammate.
The unexpected walk-on
Corey Sandberg had never played a game of organized football, but that wasn't a deterrent to deciding to walk-on to the Idaho football team in 2011.
The elder Sandberg was coming off of a nearly six-year stint in the United States Army. But he had already made up his mind before Sandberg even committed to the University of Idaho in 2009 that he was going to walk-on with Dallas wherever he decided to commit to play.
Corey Sandberg accompanied his brother on his official visit to Moscow, where then-coach Robb Akey assured him he'd be given an opportunity.
"We were with Akey in the car and he said, 'Dallas said you might be able to play football,' I said, I'm going to play if you give me a chance," Corey Sandberg said. "He laughed the Akey laugh (and said) 'If you show me what you got, we'll see if we can find a spot for you.'"
"He gave me a shot and that's all I needed."
Corey and Dallas Sandberg both joined the Idaho football team in 2011. Dallas enrolled in the spring after grayshirting during the 2010 season. Corey Sandberg joined in the fall, over a year after a life-altering event that would define the relationship he had with his younger brother and the Idaho football program.
Vivid memories
Dallas Sandberg was a senior at Bradshaw Mountain High School in Prescott, Ariz. It was January 2010, and his basketball coach came into his class to tell Sandberg he needed to see him after class.
"I went to my head coach's classroom and he said 'Hey, you need to call your dad.' So I kind of knew something was up," Dallas said.
Corey Sandberg was shot and seriously wounded during an attack on his squad's helicopter in Afghanistan.
"It was a pretty hard hit, I wasn't expecting it," Dallas Sandberg said.
The brothers were re-united nearly a month later. Corey Sandberg began a six-month stay at the Walter Reed Medical Center in Maryland before being able to return to his family in Prescott.
Corey Sandberg was awarded the Purple Heart and in the fall of 2011, at the age of 24, became a student-athlete at Idaho.
The two played key roles in defining for each other what their college experiences would mean for them.
Joining the Idaho football program greatly helped Corey Sandberg's transition into civilian life and eventually into a college graduate with a degree in business.
"He's got a lot of (post-traumatic stress disorder) issues, he's seen a lot of bad crap over there and it helped him adjust to normal life," Dallas said. "The brotherhood here is the same brotherhood he had in the military, so he left that brotherhood and came to our brotherhood."
Corey did appear in one game on special teams, but opted out to focus on academics. But he continued to help Dallas overcome the adversities that a five-year stint in college football throws at a player. Things like a head coaching change, four different position coaches and one injury-filled season.
Wasn't that good
Dallas Sandberg has spent his senior year at Idaho by regularly waking up at 3:59 a.m. on days of workouts. Sandberg sends a text to his offensive line coach, Kris Cinkovich, and starts to rally the offensive line troops. Sandberg would already have his position teammates rounded up and ready to go for scheduled workouts by the time Cinkovich arrived.
It's that kind of initiative Cinkovich raves about when citing Dallas Sandberg's progression as a player and leader since Paul Petrino and his line coach arrived in Moscow in December of 2012. At first, they weren't sure what kind of player they were getting.
"He wasn't that good of a player," Cinkovich said. "He played really high, he didn't play as tough as we thought he needed to be or as aggressive as we thought he needed to be."
Dallas Sandberg started to struggle as players recruited by Akey started to fall by the wayside. Even Corey decided to step away and focus on academics instead, all while holding some resentment toward Petrino at the time for relegating his brother from a sure starter to having to compete for his job.
Resentment soon turned into encouragement and an embracing of the challenge laid before both Sandberg brothers. Eventually, Dallas earned back his starting spot and began to flourish under the new coaching staff. Corey became one of the program's biggest fans.
"I had to support Dallas and encourage him through it. I kind of changed my tone from being bitter toward Petrino to encouraging Dallas to work through the adversity of anticipating the coaches' expectations for him," Corey said. "Dallas stayed through and now he's extremely glad he did because it's made him a stronger man, fighting through that adversity."
Dallas Sandberg is currently in the process of completing his third bachelor's degree at Idaho and has plans to pursue the NFL after his senior season. If not, he may go the master's degree route with degrees in psychology and sociology already in hand.
And if Dallas ever needs a reminder about who helped him reach his senior year at Idaho, he only needs to look halfway up section 18.
"I talk to him every day and he still is pushing me to be my best," Dallas said. "That's the relationship we've always had."
Local journalism is essential.
Give directly to The Spokesman-Review's Northwest Passages community forums series -- which helps to offset the costs of several reporter and editor positions at the newspaper -- by using the easy options below. Gifts processed in this system are not tax deductible, but are predominately used to help meet the local financial requirements needed to receive national matching-grant funds.
Subscribe to the sports newsletter
Get the day's top sports headlines and breaking news delivered to your inbox by subscribing here.
---