Sports
EWU center T.J. Boatright has Duck blood
Dad played at Oregon, introduced son to Autzen Stadium noise
Thu., Sept. 3, 2015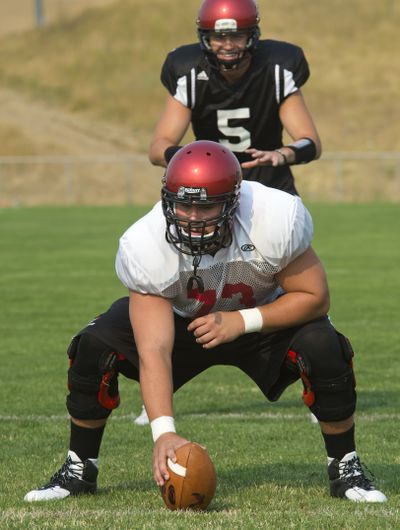 For Eastern Washington center T.J. Boatright, the Eagles' game at Oregon is the ultimate homecoming. On Saturday he'll be back the field at Autzen Stadium, where his father played the same position for the Ducks – and raised young T.J. into a rabid Duck fan. Make that a Duck fan who on Saturday will be wearing Eagle white and red. "It's all kind of surreal," marveled Boatright, a Eastern senior whose fondest memories at Autzen are the big games and the noise the crowd unleashed on Duck opponents. This time the noise will be directed at Boatright and the Eagle offense, which will be facing one of the toughest games in Eagle history. Oregon football has come a long way since the late 1980s, when Scot Boatright played center for the Ducks. They hadn't been to a bowl game in 26 years since the 1963 Sun Bowl, but finally made it to back-to-back appearances in the 1989 Independence Bowl and the 1990 Freedom Bowl. Since that drought, Oregon has been in the postseason in 22 of the last 26 years. Born in Eugene in 1993, T.J. Boatright later moved with his family to Vancouver, Washington, where his father is a machinery salesman. Later years brought football trips to Eugene, where T.J. recalled "hanging out with my dad and his buddies at the games." The new buddies are his Eagle teammates, thanks to a recruiting trip to Cheney during his senior year at Union High in Vancouver. A three-sport star in football, basketball and track, Boatright was invited to walk on at Oregon. That was trumped in Cheney by a full-ride offer and the feeling that Eastern "Was a place where I would fit in really well." But where? Boatright was a tight end until his senior year in high school, when he moved to tackle. That's where he began his career as a redshirt freshman in the fall of 2011, until he discovered that 250 pounds wasn't enough to carry him through a college season. Boatright made his first college start in 2012 against Sacramento State, but the next day he lay in bed, barely able to move his sore body. Eastern offensive line coach Aaron Best convinced Boatright to commit to a weight-gain program, and his playing time increased. A backup at tackle in 2013, the 6-foot-5, 290-pound Boatright moved to center the next year. He backed up senior Jase Butorac last year before taking over the starting spot when Butorac graduated. Last year, Butorac was part of an offense that scored at least 50 points in six diffent games and finished first in the FCS in scoring offense (44.1 per game) and first downs (361 total), second in passing efficiency (163.52), third in total offense (513.4) and second in passing offense (328.2). Says linemate Aaron Neary, a starting left guard, Boatright "Understands football better than almost any player. Coming in from high school, he picked it up right away, perfectly." The slow move up the depth chart was "frustrating" at times, Boatright said, but the payoff has been worth it. He calls the Eagle O-line "a tight group, and I think it's showed over the years. "We're not worried about whoever we play," Boatright said. And the fans in the stands Saturday? Two more will be wearing red instead of green – Boatright's parents. "I can't wait," he said.
Local journalism is essential.
Give directly to The Spokesman-Review's Northwest Passages community forums series -- which helps to offset the costs of several reporter and editor positions at the newspaper -- by using the easy options below. Gifts processed in this system are not tax deductible, but are predominately used to help meet the local financial requirements needed to receive national matching-grant funds.
Subscribe to the sports newsletter
Get the day's top sports headlines and breaking news delivered to your inbox by subscribing here.
---