Joe Dahl anchors what should be one of Cougars' best offensive lines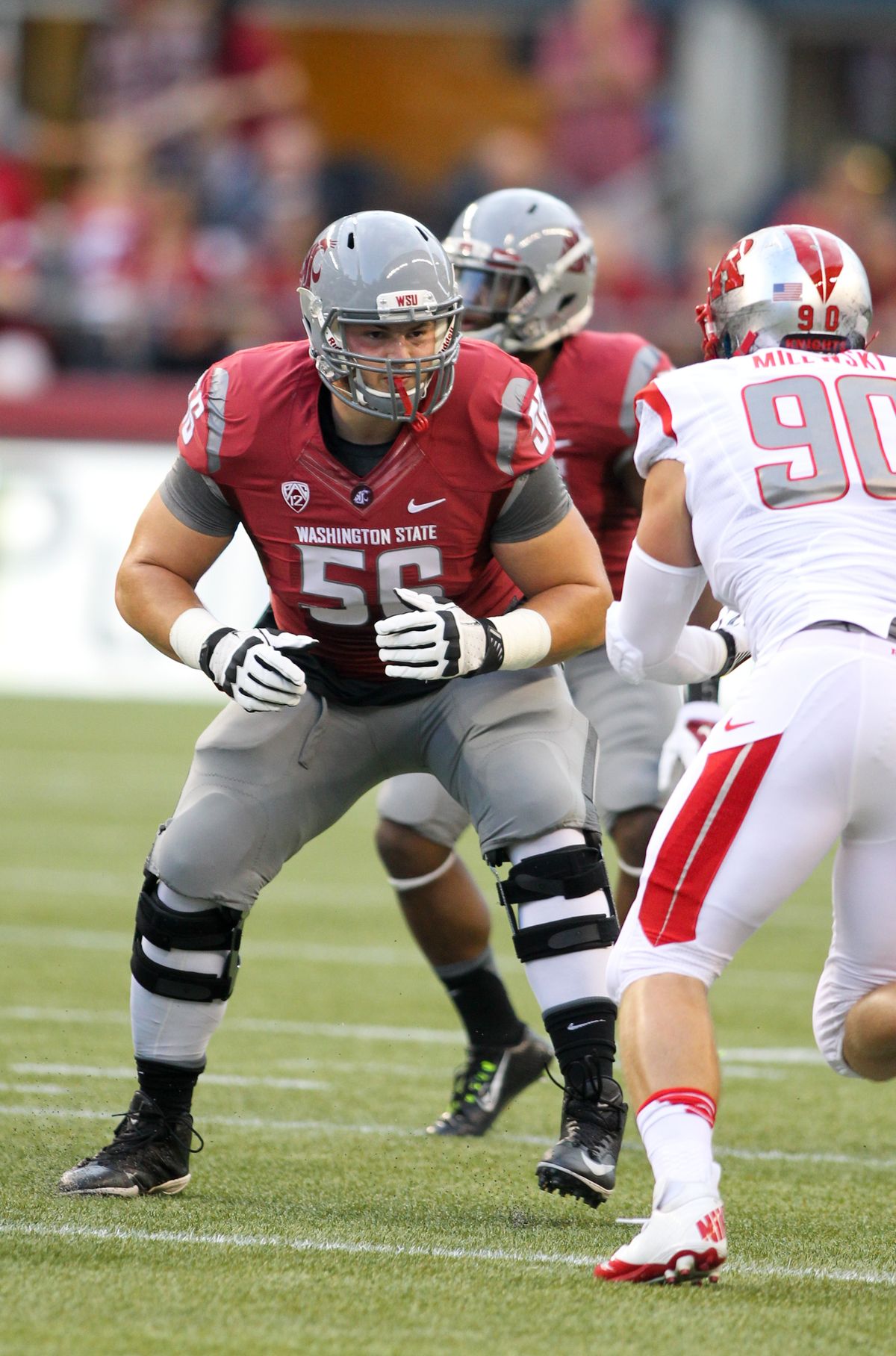 Joe Dahl is the left tackle who protects his quarterback's blindside, a role that combines the trope of an offensive lineman's gritty anonymity with the celebrity of collectively understood importance to his team's success.
He is the local boy who grew to love football during Washington State's heyday in the early 2000s, memorizing names like Brink and Gesser and Trufant.
Dahl is the all-league kid from Spokane's University High who has started every game he has been eligible to play for WSU, and will likely be the next Cougar to represent his alma mater in the NFL.
Truly, Dahl crosses every box on the sports marketers' checklist, a player who can touch all the emotional nerves of fans and whose local-boy-made-good bio is the prototype of a salable college football player.
And to think, the first act of his college football career was to spurn the Cougars.
The biggest mistake Dahl made was to keep his word. The hardest thing he's ever had to do was rectify that mistake.
His mistake, however, was the result of a blunder by the previous WSU coaching staff, led by head coach and former Cougars offensive lineman Paul Wulff, who waited far too long to offer a scholarship to the future Pac-12 star.
By the time the offer was made, Dahl had already decided to play at the University of Montana, where the Grizzlies coaches had cobbled together enough athletic and academic aid to equal the full scholarship an FBS school like WSU could provide.
Out of a somewhat outdated desire to stick true to his word over his interests – and, admittedly, to spite the WSU coaches for making him a backup choice – Dahl walked away from the scholarship he'd always wanted to be offered.
"I wanted to stay true to my word. I think that's a common mistake for high school guys because they haven't experienced anything like a recruiting process and can handle it wrong," Dahl said. "There definitely was a sense of, I don't know, a little bit of anger just because I wanted to go there in the first place and they waited so long."
Dahl realized he made a mistake when he arrived at Montana. He left after the football season and walked on at WSU, taking student loans. He arrived shortly before Mike Leach's new football staff, who quickly realized that the freshman tagging along in workouts, trying out for the team, was worth keeping around.
"When we got him in two-a-days, obviously he was over with the scout team, we had him in drills and one-on-one periods and coach Leach and myself were watching and saying man, this kid's pretty good," said offensive line coach Clay McGuire.
Now Dahl is the foundation of what could be WSU's best, and most important, offensive lines in a decade. Connor Halliday spent his two-and-a-half years as the starting quarterback under constant duress. The new quarterback tasked with taking WSU to a new era of sustained success will need a clean pocket in which to grow and mature into an effective steward of the Air Raid.
The Cougars return all five starters along the offensive line, all of their backups, almost all of their backups' backups and, just in case of an emergency, have an impressive and sizable group of freshmen.
Leach calls offensive line his favorite position, and he's seen a pretty compelling case to its value. During his first season at WSU, the one Dahl sat out, the Cougars took 57 sacks, five more than any other FBS team.
The WSU coaches credit Dahl with giving up just one of the 36 sacks the offensive line allowed in 2014 and his size and athleticism are why CBS NFL draft analyst Rob Rang considers him the best pro prospect in the state.
Rang says that, with a good senior season, Dahl could be among the first 100 players selected in next spring's NFL draft. That may necessitate a position switch, however. Dahl started the first 12 games of the 2013 season at left guard before flipping positions with Gunnar Eklund prior to the New Mexico Bowl.
"I just don't know if he has the length to remain outside at left tackle," Rang said. "He's not a real big, hulking type of player that you want to make into a right tackle, but he's so quick, plays with such great knee bend, that I think you could slot him inside at guard."
Rang added that because of Dahl's football intelligence, he may also be able to play center in the NFL. WSU players have a history of seeing their draft stock rise after playing in all-star games. Deone Bucannon and Marcus Trufant each became first-round picks due to standout performances.
"You could see a similar thing with Dahl because he would be asked to block in a more traditional offense," Rang said. "I'm anticipating that he would be successful in making that transition."
Rang adds that while Dahl projects as an interior player at the next level, he is a perfect fit at left tackle at WSU, where the offensive linemen have uniquely wide splits and never settle into a three-point stance.
And he's a perfect fit at WSU, always has been. He just had to get there first.
---