Sports
Northeast A: Freeman picked to return to the top
Thu., Sept. 3, 2015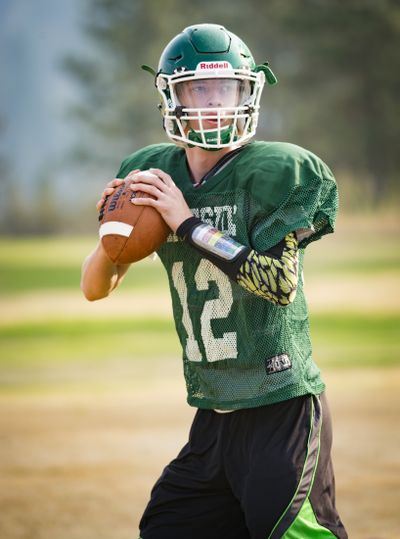 All of the signs pointed to Freeman last year.
The Scotties, basking in the glow from their 2013 State 1A title, opened last season on the national radar, ranked 25th by CBS MaxPreps among schools with 1,000 or fewer students.
Colville proved the precariousness of believing national prep rankings by defeating Freeman 28-7 in the game to decide the Northeast A League title. The Indians then came within a whisker of claiming the state championship, falling to Cascade Christian 27-26 in overtime to finish 12-1.
Both teams are expected to vie for the league title again this year, but Freeman is considered the favorite because of the strength of returning senior linemen Peyton Smetana and Sebastian Hyta.
"Freeman is one of the top teams in the state," Lakeside coach Brian Dunn said. "We are all playing for second. The rest of us should be real competitive."
Hyta, a 6-foot-2, 195-pounder, was named first-team all-league on both sides of the ball. Smetana (6-5, 275) was a first-teamer on the offensive line.
"Three of five offensive linemen are returning," Freeman coach Jim Wood said. "We're more well-rounded top to bottom with a great attitude and work ethic."
The Scotties, 8-2 last year, also return senior Jack Paukert (5-10, 180), a first-team wide receiver and defensive back.
Colville, which dominated the all-league list last season, is calling upon senior first-team, all-league linebacker Jack Hinds (5-11, 185) to also play quarterback.
The Indians should receive a boost from lineman Tele Seemann (6-1, 200), a transfer from Polson, Montana, who also wrestles and competes in rodeo.
"We'll play hard," Colville coach Randy Cornwell said. "With early season experience, we'll grow up fast and jell during league play."
Lakeside
Lakeside (Nine Mile Falls) features the league's top quarterback in senior Cameron Gay (6-4, 165), a two-year starter who has thrown for more than 4,200 yards.
The Eagles, 8-3 last season, bring back defensive experience with first-team, all-league lineman Tim Jarrad, a 6-foot, 225-pound junior; senior Chase Kuhnert (5-10, 170), a second-team defensive back; and junior Garrett Brown (5-9, 180), a second-team linebacker.
"We will have to stay healthy to compete," Dunn said. "Our top running backs and wide receivers all graduated. Young kids have to step up."
Deer Park
Deer Park, which placed fourth in league last year, returns 14 starters and is considered the team most likely to trip up Freeman and Colville.
"We feel as though we have the depth and athleticism to compete every week this year," Stags coach Keith Stamps said. "(We have a) high number of returning starters on defense and better speed on offense than we have had."
Senior Neil Lockwood was a second-team, all-league selection at running back and linebacker last year.
Medical Lake
Cory Wagner is a Cardinal through and through.
Medical Lake's third-year senior quarterback grew up attending Medical Lake sporting events, witnessing football and basketball playoff games.
Wagner, whose mother is a teacher, is also an all-league pitcher and starting point guard for the Cardinals.
Newport
Newport's projected offensive starters include four sophomores, three juniors and a freshman.
"We're still a year behind everyone else as far as age is concerned," Grizzlies coach Zac Farnam said. "Instead of a team full of freshmen and sophomores, we are now a team full of sophomores and juniors."
Riverside
First-year Riverside coach Buddy Wood has a tall order to fill after the Rams graduated most of their skilled positions. Luckily, Riverside returns its entire offensive and defensive lines.
When the offense stalls, the Rams return second-team, all-league punter John Coppock (6-0, 215), a junior.
Local journalism is essential.
Give directly to The Spokesman-Review's Northwest Passages community forums series -- which helps to offset the costs of several reporter and editor positions at the newspaper -- by using the easy options below. Gifts processed in this system are not tax deductible, but are predominately used to help meet the local financial requirements needed to receive national matching-grant funds.
Subscribe to the sports newsletter
Get the day's top sports headlines and breaking news delivered to your inbox by subscribing here.
---