Sports
Coach Mele's family, friends will be out to support Cougs at Rutgers
Thu., Sept. 10, 2015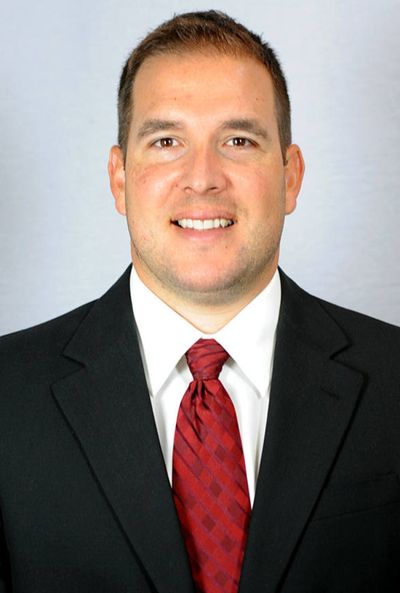 PULLMAN – Washington State assistant football coach Eric Mele engages players by comparing special teams to Special Forces, creating daily missions instead of goals and referring to his best players as "lieutenant."
So, it's fitting that this weekend at Rutgers he'll have his own army.
More than 90, perhaps even 100 fans sitting together at High Point Solutions Stadium will be there to cheer on the Cougars. And no plays will engage these fans more than kickoffs, punts and field-goal attempts because they're there to watch the special teams, and Mele.
The tailgating crowd will gnosh on hot link sausages, hot dogs and hamburgers, pizza and six-foot subs in the stadium parking lot before the regiment, uniformed in t-shirts that say "Mele's Mob," will march to their seats.
WSU's away game on Saturday is a homecoming for Mele, who grew up in Bridgewater, New Jersey, about a 15-minute drive from the stadium. In fact, Bridgewater is where the Cougars will stay Thursday and Friday nights.
Mele left Bridgewater to coach football eight years ago. The youngest in a big family, Mele's older brothers are policemen in Bridgewater, as was their father. Mele is without a doubt a Jersey boy, if the accent doesn't give it away his hypercritical attitude toward West Coast pizza certainly will.
He frequently regales running backs coach Jim Mastro, they are two WSU assistants who are fully Italian, with tales of ristorantes and pizzerias from back home. He was also an enthusiastic football player, if not a particularly durable one.
"I think he's blown his knee out three different times. He's just had a plethora of injuries," said his brother Todd, who is helping to arrange the reunion.
After coaching at some local high schools and universities, Mele's career took him far away from his familiar haunts, first to North Carolina for five years and eventually to Pullman.
A job as an offensive analyst for Mike Leach eventually led to a promotion to special teams coordinator midway through last season. While last year's disasters at special teams haven't evaporated under Mele – a blocked field goal and dropped punt against Portland State loomed large in the loss – the coverage units and return game are clearly improved.
"He brings a lot of energy to the group and makes it simple. Players want to play for him because he makes it exciting," Mastro said. "He ties the two (special forces and special teams) together without making it comical."
And now his job with the Cougars will somehow take him back home to face Rutgers in a matchup of two programs that had never met before last season. The Meles are too old to have grown up Rutgers fans – the school was a Big East afterthought – but it was the local school and they liked seeing the Scarlet Knights win.
Eric Mele even went to a couple games as a kid – because all the high school players were invited.
Todd Mele originally planned to have about 20 or 30 people at the game. He soon realized that number wasn't realistic.
"There's so many people locally that have helped him along the way, everybody's on board and the number just kept growing," Todd Mele said. "We better keep on ordering more food to make sure we don't run out."
Local journalism is essential.
Give directly to The Spokesman-Review's Northwest Passages community forums series -- which helps to offset the costs of several reporter and editor positions at the newspaper -- by using the easy options below. Gifts processed in this system are not tax deductible, but are predominately used to help meet the local financial requirements needed to receive national matching-grant funds.
Subscribe to the sports newsletter
Get the day's top sports headlines and breaking news delivered to your inbox by subscribing here.
---