Sports
WSU notebook: Kicker Erik Powell gives Cougars extra scoring option
Sun., Sept. 13, 2015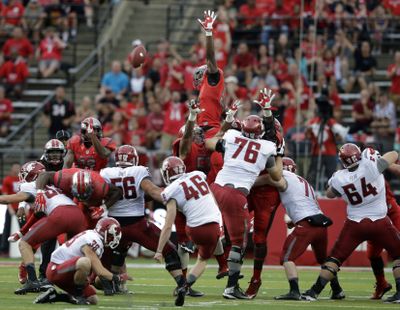 PISCATAWAY, N.J. – Washington State became a threat to score whenever its offense gets to the 30-yard line on Saturday, even on fourth down.
Erik Powell bested his career-long field goal by 20 yards early in the second quarter when he nailed one from 46 yards out.
Later in that same quarter he made another, this time from 47 yards. Those may be the longest kicks Powell has put on record, but in reality he can be dangerous from much farther back, showing his range in pregame warm-ups when he made a 63-yarder.
He also made a 37-yard field goal in the fourth quarter to finish the day 3 for 3. His performance on Saturday is a big improvement from his freshman season, when he went 2 for 5 with a long of 26 yards and was replaced as the starter midway through the team's second game.
"He's improved probably more than any kicker in that period of time that I've coached," WSU coach Mike Leach said.
To shore up WSU's kicking game in the offseason, the Cougars brought in Matt Abramo and Brett Schafer with the expectation that one could at least take kickoff duties away from Powell or Quentin Breshears, who also started for the Cougars last season.
But Powell was clearly WSU's best kicker in preseason camp – Abramo was limited during some practices – and showed a much bigger leg than was evident last year.
"I think a lot of it is just confidence," Powell said. "(Special teams coordinator) Eric Mele has really helped me a lot in the offseason and in practice. They get the whole team around me, get that pressure so the game will be easy."
Turnovers abound for defense
Forcing more turnovers has been an emphasis for new WSU defensive coordinator Alex Grinch, so he had to be happy with what he saw. The WSU defense is nearly halfway to last season's eight takeaways, coming away with three of them against Rutgers.
The Cougars scored 10 points off turnovers, getting key extra scoring opportunities in the tightly contested game. The Cougars' biggest lead of the game (20-6) came after Scarlet Knights QB Chris Laviano fumbled while trying to pump-fake. Destiny Vaeao recovered the fumble and the Cougars scored in seven plays.
The Cougars got a field goal out of Marcellus Pippins' interception, but turned the ball over on downs after Peyton Pelluer ripped the football away from running backs Josh Hicks, and safety Isaac Dotson recovered it.
"It came down to guys really wanting it and doing their job," Pelluer said. "I know there have been times on defense where I would have wanted it back and could have done better. But you just have to look at the next play and learn from it."
Quick kicks
WSU recorded its first win in the final minute of a game since 2007, when the Cougars scored a TD with 31 seconds left to beat Washington in the Apple Cup. … The win over Rutgers was WSU's first in the Eastern Time zone since beating Temple in 1996. … Dom Williams caught the 20th touchdown pass of his career, giving him sole possession of No. 4 on the school's all-time list.
Local journalism is essential.
Give directly to The Spokesman-Review's Northwest Passages community forums series -- which helps to offset the costs of several reporter and editor positions at the newspaper -- by using the easy options below. Gifts processed in this system are not tax deductible, but are predominately used to help meet the local financial requirements needed to receive national matching-grant funds.
Subscribe to the sports newsletter
Get the day's top sports headlines and breaking news delivered to your inbox by subscribing here.
---