News > Spokane
Spokane Police Chief Frank Straub forced to resign
Tue., Sept. 22, 2015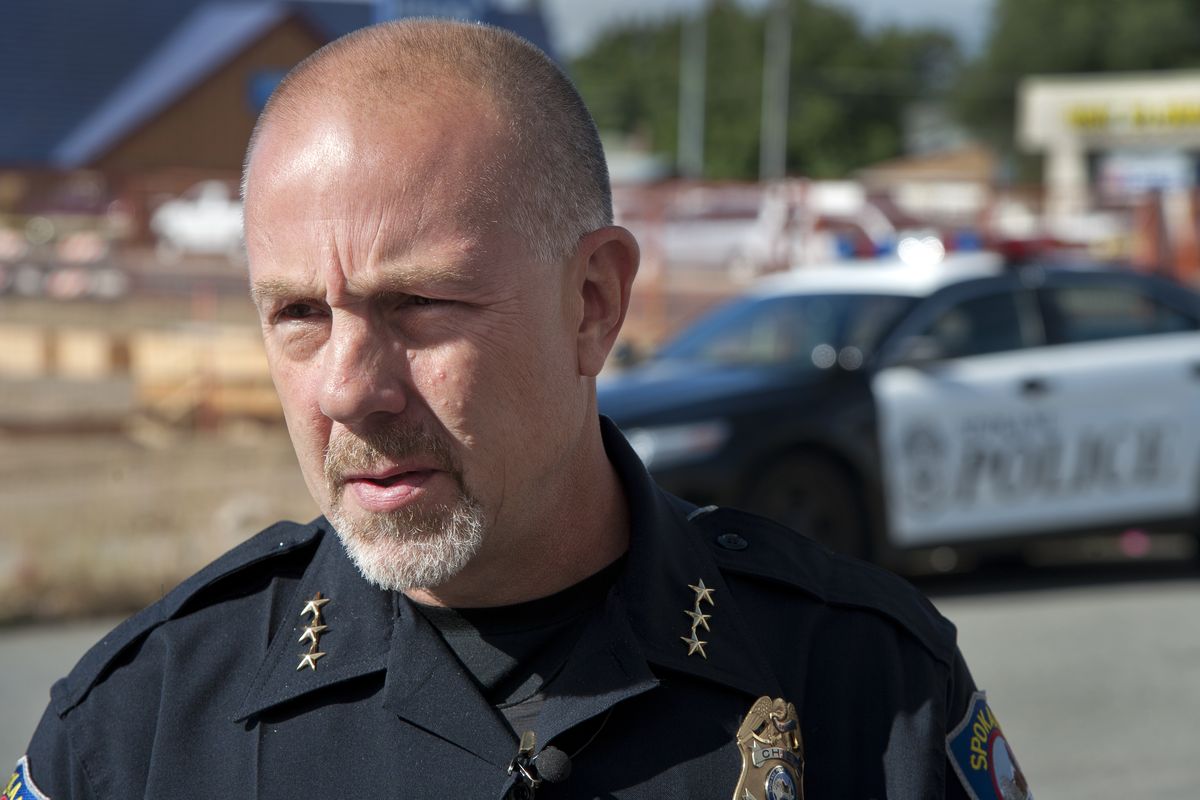 Spokane Police Chief Frank Straub briefs the media about the officer-involved shooting, July 27, 2015, near the Peking North Chinese restaurant. (Dan Pelle / The Spokesman-Review)
Spokane Police Chief Frank Straub has been forced to resign. Mayor David Condon asked for Straub's resignation amid complaints about Straub's leadership style and personnel moves involving two women who were transferred out of the police department. Leaders representing the union representing higher ranking officers met with Condon on Sept. 8 and advised him that they would no longer tolerate "any further unprofessional behavior" by Straub, according to a memo from the union, the Lieutenants and Captains Association. "Members of this Association reported several specific examples of unprofessional and even hostile behavior directed toward themselves or other members by Chief Straub," said the memo from the union. "It often included profanity, personal degradation, or other behavior not becoming of the office of the Spokane Police Chief. His behavior has created a workplace environment inconsistent with collaboration and contrary to effective leadership." Condon recruited Straub in 2012 to reform the police department. The abrupt changes Straub made drew ire up and down the police chain of command. And earlier this year the City of Spokane
transferred Monique Cotton
from her job as police spokeswoman to a higher-paying job with the Spokane Parks and Recreation Department. Yet her $90,000 salary continues to be paid from the police budget. City Council members raised questions about the transfer, but Condon's chief of staff, City Administrator Theresa Sanders, said Cotton's skills were needed at the park department to "tell the story" of Riverfront Park, which is about to undergo a vast transformation after voters approved a parks bond last year. Sanders said last month that Cotton's $9,000 salary increase was an "enticement" to persuade her to change jobs. However, city officials first attempted to move Cotton to the Spokane Fire Department, an effort rebuffed by fire officials. Assistant Fire Chief Brian Schaeffer said city administration officials approached him in April about transferring Cotton. "The discussion of creating a public safety (public information officer) position and assigning Cotton in there was discussed," Schaeffer said in an email. "We did have a meeting and decided that we would prefer to do recruitment for someone that was better fitted for fire." Cotton, who was hired by Straub in 2013 to lead the department's communications and marketing strategy, was not the first to be moved while still getting a check from police. Carly Cortright was paid her annual salary of $82,494 by the police department for 15 months after leaving her position as the police business services director in October 2013 to work as the director of the 311 project, a customer service program under the city's Office of Neighborhood Services. Cortright said she was pleased with the transfer because of Straub's "constant negative feedback and belittling." "I left SPD because I was offered an opportunity to be part of a project that could make a real difference in the community," Cortright said. "I was no longer making that difference at the SPD due to the constant negative feedback and belittling I was receiving from Chief Straub." Since Cotton's transfer was reported, the move has been raised as a campaign issue by Shar Lichty, who is challenging Condon in his bid for re-election. In a news release Tuesday afternoon, the city lauded Straub's success, saying he "has led the effort that has driven down crime and use of force incidents while restoring public confidence in officers." The release said Straub resigned his position in the police department to "pursue new opportunities and be closer to family." He'll stay on with the city until Jan. 1, working in the city attorney's office on criminal justice initiatives. That release, however, said "some police leadership members submitted letters last week summarizing their concerns about his management style." Straub said in the news release, "I am very proud of the work that has been done to re-engage the Spokane Police Division with the community and drive down crime. We have achieved great things and brought policing in Spokane closer to the community. Rather than engage in a public discussion that distracts from making Spokane safer I have told the Mayor that it is time for new energy and perspective." Assistant Chief Rick Dobrow will serve as interim chief. Dobrow has been with the department since 1994. He spent several years as an officer in Stockton, Calif., before coming to Spokane. Straub picked him to be assistant chief last year. Straub embarked on a major reorganization of the department that led to leadership changes. Some veterans on the police force characterized Straub as moody and quick to lose his temper. Within a year of his hire, Straub's leadership team consisted of Assistant Chief Craig Meidl, Cmdr. Brad Arleth of the Patrol Division, Cmdr. Joe Walker of the Tactical and Strategic Operations Bureau, Cortright as director of the Business Services Bureau, and Cotton as the department's director of communications. Within months, Meidl, Arleth and Walker stepped down and opted for demotions. Meidl had been Straub's first assistant police chief until he returned to the rank of lieutenant. He was replaced by Dobrow, and Meidl is now a captain and leads the department's Hillyard precinct. Meidl's self-demotion followed those of Brad Arleth and Joe Walker. Arleth stepped down as commander of field operations to a captain in the investigations department and the downtown precinct. Walker stepped down as commander of investigations and returned to a civil service position as lieutenant. Spokane County Sheriff Ozzie Knezovich said he learned of Straub's resignation from others in his department who saw it on Twitter. Knezovich has had a more strained relationship with Straub than he did with Straub's predecessor, Anne Kirkpatrick. "Frank basically ran his agency, and we didn't have a lot of interaction," Knezovich said. "I have always had a close relationship with all the chiefs I've worked with. Frank was just a little different in that approach.
Local journalism is essential.
Give directly to The Spokesman-Review's Northwest Passages community forums series -- which helps to offset the costs of several reporter and editor positions at the newspaper -- by using the easy options below. Gifts processed in this system are not tax deductible, but are predominately used to help meet the local financial requirements needed to receive national matching-grant funds.
Subscribe now to get breaking news alerts in your email inbox
Get breaking news delivered to your inbox as it happens.
---