Sports > Outdoors
Spokane's Hazen Audel goes wild hosting 'Primal Survivor' TV series
Sat., April 2, 2016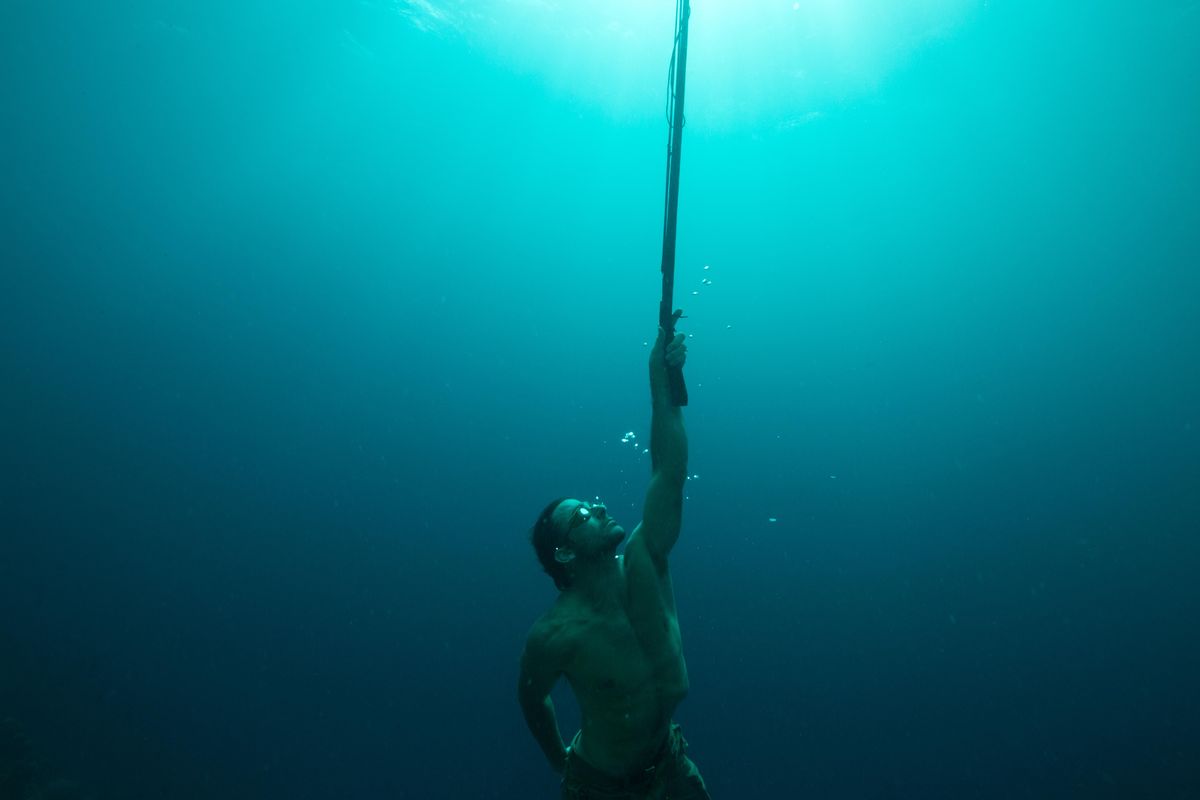 Hazen Audel of Spokane surfaces with a harpoon while diving for food off the Indonesian island of Sulawesi during an episode of the Primal Survivor show he hosts for the National Geographic Channels. (Sam Mansfield / National Geographic Channels)
Eating bugs, jungle hunting with spears, digging snow caves and traveling in the harshest environments on earth – it's all in a day's work for a Spokane science teacher and host of a TV survival series.
Hazen Audel is returning to the National Geographic Channel this week with a new nine-episode globetrotting series called "Primal Survivor."
The former Ferris High School teacher's childhood obsession with snakes and critters, along with an insatiable curiosity for primitive cultures, has evolved into another television show.
"I've eaten insects for so much of my life, I catch myself popping bugs into my mouth while picking berries off a bush even in Spokane," he said.
Two years ago, Audel debuted on the tube with "Survive the Tribe," a series that had him living for weeks on cow's milk and blood with African bushmen and gathering clams under treacherous arctic sea ice with Inuit elders.
"Honestly, I preferred 'Survive the Tribe' because I was a mediator to the audience and the true heroes were the native people," Audel said.
"That unique show did real well throughout the world, but it didn't quite get the reaction we were hoping for in the U.S.
"For the American audience, the powers to be felt the new series should focus on a central character –me."
In "Primal Survivor," Audel – a former consultant to Bear Grylls – pulls from his background as a jungle guide, Outward Bound leader, teacher and survival instructor.
In each episode, he lives with locals to understand their way of life and ancient techniques before setting out alone through territories that push him to his limits.
In Papua New Guinea, he slogs through crocodile-infested swamps into the former haunts of headhunters.
"I can't say enough about the film crew that has to haul the gear, maintain the electronics and get the footage in difficult environments," he said.
"There were no hotels when we were filming. Some of the crew had to roll out of hammocks in the morning and brace for walking with trenchfoot.
"These are the best professionals in the field who've been through it all and they say this series was the hardest thing they've ever gone through. We all had to help each other. We became lifelong friends."
In Norway, Audel bones up on winter survival skills to deliver 200 reindeer to their spring birthing grounds in the arctic.
"I learned from people who've been doing it for thousands of generations. They have access to modern things and the Internet, yet they're very proud to continue the herding lifestyle.
"Indigenous blonde, blue-eyed women bundled in fur: They make killing, gutting and butchering look sexy."
Soon Audel thaws out on a camel trek across the Saharan desert cauldron before going to Laos, where natives lead him to a local fishing honeyhole that requires negotiating a deadly waterfall.
His favorite food during "Primal Survivor" episodes was prepared by camel herders in Morocco.
"They spend time with their food, with emphasis on amazing spices with vegetables and goat meat stewing for a day in ceramic pots.
"I also felt fortunate to get insight into the Middle Eastern Muslim culture. They are some of the most peaceful people I've ever been around."
On the other hand, initial plans to film an episode in Nigeria were called off because of ISIS activity.
"The second-best food was in Laos," he said. "It was almost like Thai food. For most meals we ate some sort of insect, but the spices were spot on."
Moving through Panama, the Darien Gap's reputation for kidnapping is as threatening as the snakes and tropical diseases, he said.
Off the Indonesian Island of Sulawesi, he hangs out with nomads who live their lives in boats or houses on stilts over a coral reef.
"The sea is their hardware store and supermarket," Audel said. "When they have to be on land, they get land sick.
"I learned from the kids, who swim before they walk. A 9-year-old can hold his breath for 2 or 3 minutes while spearfishing to feed his family.
"They make it look easy, but I found myself trying to keep from drowning every day for two weeks. It wasn't until the last day of filming that I realized it was all about being calm."
Members of these and other tribes typically hunt or forage for several hours in the morning and then spend much of the day hanging around with their families, he said
"There's a lesson to be learned," Audel said. "It made me rethink my priorities with my own family."
His personal journey goes far beyond what the audience sees on TV.
"I have my own take-home from spending close time with these native families," he said. "There was a lot of living out of my comfort zone, but also a lot of bonding interaction."
He correlates tribes being comfortable in extreme environments to British military research on field fatalities.
"They found that new soldiers in their prime were dying while soldiers in their 50s and not nearly as fit were surviving because they'd been around death, through divorces and other battles and they knew how to see the light at the end of the tunnel.
"The indigenous people seem to thrive in the perspective that near-death experiences are merely inconveniences. Absorbing this from them was a paradigm shift for me."
"Primal Survivor" employs full-time researchers based in the United Kingdom to find unique people and landscapes.
Most of the initial on-location research was done by women, he said.
"They are all go-getter adventurers themselves. They get a sense for the natives' willingness to have us in their lives for several weeks."
Most of the filming was done last year in a five-month marathon of preparation and travel.
"The schedule was grueling and there was a survival element to just getting to the locations," he said.
The shortest episode took 10 days on site, but the crew was in Nepal four weeks, traveling a week just to reach the filming area.
"We were in Nepal last April when earthquakes ravaged the country," he said, noting that before the disaster they'd already had to call for a helicopter to rescue a cameraman suffering from altitude sickness at 15,000 feet.
"When the vehicle started shaking, big boulders were coming down from the high hillsides. We had to get out of there. We were concerned the boulders would dam the deep-canyon river we had to cross something like 80 times."
The river was so powerful the wheels on the four-wheel-drive tractor vehicle they hired sometimes lost contact with the bottom.
"It was pretty hairy," he said.
"The local people working with us were devastated when Kathmandu finally came into sight. They could see the gaps in the city skyline where monasteries and temples thousands of years old were missing.
"They didn't know what had happened to their families. It was horrific."
Content to be home focusing on his family, the talented Audel continues to produce public sculptural art and was involved with the 28-foot high, 78-foot long veteran's memorial near the Spokane Arena.
But he said he's always looking for opportunities to stay involved with educating young people.
"I came home from 'Primal Survivor' realizing I had so much more to learn," he said. "I think that makes me a better teacher."
Local journalism is essential.
Give directly to The Spokesman-Review's Northwest Passages community forums series -- which helps to offset the costs of several reporter and editor positions at the newspaper -- by using the easy options below. Gifts processed in this system are not tax deductible, but are predominately used to help meet the local financial requirements needed to receive national matching-grant funds.
Subscribe to the sports newsletter
Get the day's top sports headlines and breaking news delivered to your inbox by subscribing here.
---