A&E > Food
Worth their salt: Rathdrum couple brings ocean's tang inland
Tue., April 5, 2016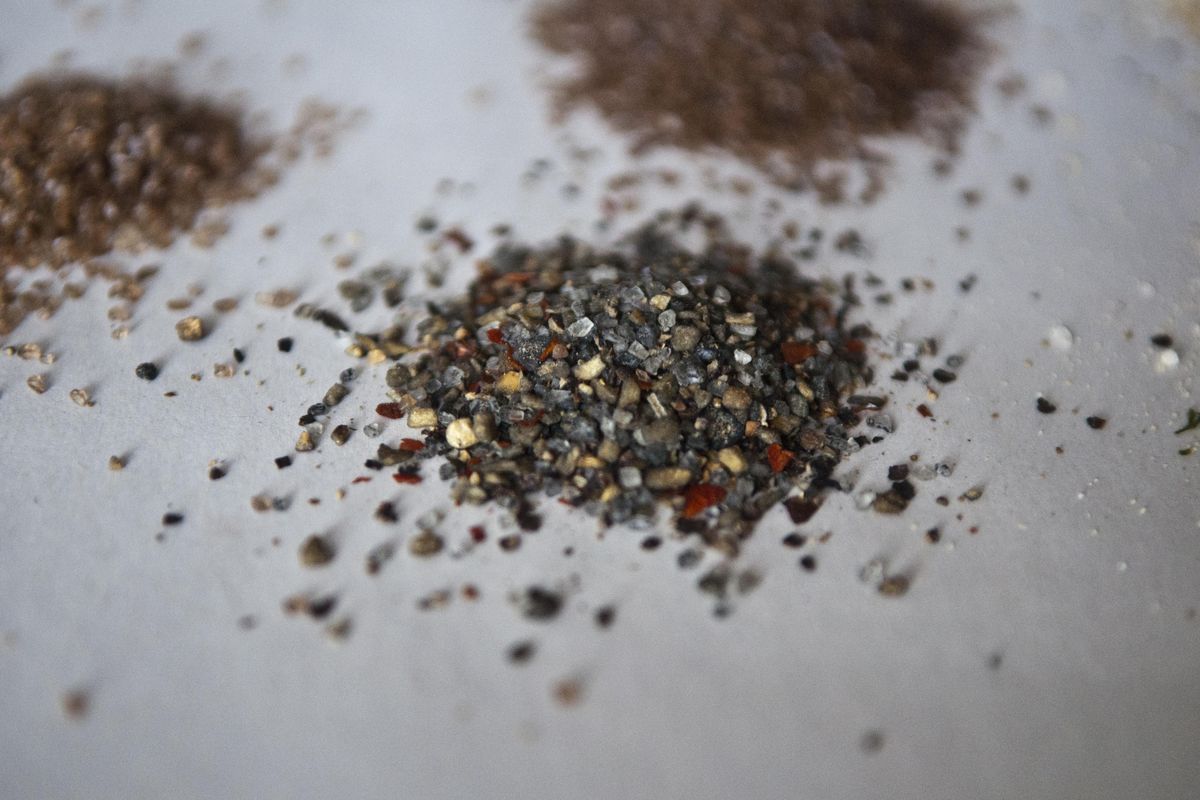 Northwest Rub is one of the six flavors offered by Ocean Gourmet Salts of Rathdrum. (Adriana Janovich / The Spokesman-Review)
No salt mines nearby.
No ocean in the area, either.
No matter.
Saltwater's in his roots.
Clint Bower spent his early days on the sea off the coast of Southern California, where he worked as a deckhand for a couple of years as a teenager.
"There was plenty of salt on my mind," he said. "But it was spray."
Some 50 years later, he's no longer a crew member aboard a yacht, but salt remains on his mind. For the past year and a half, Clint Bower and his wife, Cheryl, have been developing a gourmet salt company.
The Bowers founded Ocean Gourmet Salts in Rathdrum at the end of 2014 and have been working ever since on branding and marketing. They recently launched their line of six aromatic salts and are now shifting their focus to sales and distribution.
"We're trying to go slowly but surely," said Clint Bower, 68. "We just wanted to be focused."
The Bowers source their salt from San Francisco and Hawaii, then weigh and package it in a commercial kitchen near their company headquarters. So far, the semi-retired husband-and-wife team doesn't have any employees. But they're eventually hoping to hire packaging staff.
The salt is sold in 2.5- to 5-ounce bags that cost $9 to $12.75. It's available online at oceangourmetsalts.com as well as several shops in the Inland Northwest.
Offerings from San Francisco are Cyprus Lemon, Smoked Alder and Smoked Cherry. Selections from Hawaii are: Hawaiian Lemon Pepper, Maui Onion and Northwest Rub.
"They draw their water from 2,000 feet down," Clint Bower said. "It's about as pure of ocean water as you're going to get."
Originally from Newport Beach, California, he spent four years in the U.S. Coast Guard – two in Hawaii, another two in San Diego – before leaving the ocean and making a career out of molding and millwork. He sold his business about six years ago and needed "something fun to do."
He and Cheryl, 62, are self-described foodies who love cooking and dining out. But it wasn't until he could no longer find one of his favorite smoked salts that Clint Bower began thinking about starting a salt distribution company.
He first found the particular alder-smoked salt in a gift shop in Green Bay, Wisconsin, where he had traveled in 2011 to watch the Packers play. He began buying the salt through Amazon and used it to enhance the flavor of wood-smoke barbecued and other meats.
When his favorite salt disappeared about three years later, Clint Bower began searching for other exceptional smoked and aromatic salts and seasonings, seeking samples from San Francisco to Spain.
Salt is one of the oldest and most effective food preservatives, essential in curing fish and meat and extending the life of other perishable foods before refrigeration. Its texture, taste and salinity depend on where it's harvested and how it's processed.
Ocean Gourmet Salts are all natural and harvested mid-Pacific. They're gluten free, GMO free, MSG free and certified kosher. And they're meant for food prep.
"They're not finishing salts," said Clint Bower, who includes a sample of Maui Onion or Northwest Rub – with black lava sea salt, black and red pepper, and spices – in every package.
Cheryl Bower recommends the powdery Maui Onion on buttered popcorn and Hawaiian Lemon Pepper or flaky, pyramid-shaped Cyprus Lemon, which dissolves quickly and offers a burst of citrus, on fettuccine alfredo.
"It's terrific on vegetables, too," said Clint Bower, who wants to expand distribution regionally and nationally, as well as sell in bulk to restaurants.
Meantime, gift boxes with four salts are available for $32, with 10 percent of the proceeds from each box benefiting Make-A-Wish chapters in Idaho and Washington, which grant wishes to children with life-threatening illnesses.
And the Bowers are working with the Hawaii-based saltworks to create another flavor: smoked garlic salt.
"We're very abbreviated with only six salts," Clint Bower said. "We're not interested in being the biggest. We're trying to be the best. Our focus is high end."
Lightened-up Fettuccine Alfredo with Lemon Pepper Shrimp
From Cheryl Bower of Ocean Gourmet Salts
For the shrimp
1/3 cup olive oil
1/2 tablespoon lemon pepper (Cheryl Bower recommends Hawaiian Lemon Pepper)
3/4 to 1 pound shrimp, preferably large
For the pasta
1 tablespoon unsalted butter
1 clove garlic, minced
1 teaspoon grated lemon zest
2 teaspoons all-purpose flour
1/2 cup low-fat milk (Cheryl Bower uses 1 percent)
1/2 cup half-and-half
2 tablespoons Neufchatel or low-fat cream cheese
1 cup freshly grated Parmesan cheese
12 ounces cooked fettuccine
Fresh basil or parsley, chopped, for garnish
Freshly ground pepper, to taste
For the shrimp: Place olive oil, lemon pepper and shrimp in a bowl. Marinate for 10 to 15 minutes. Grill or sauté on medium-high heat, but make sure not to overcook. Remove from heat, cover loosely with foil, and set aside
For the pasta: Melt butter in a large skillet over medium heat. Add garlic and lemon zest and cook until fragrant, about 1 minute. Do not let garlic brown.
Add in flour and cook, stirring with wooden spoon, about 1 minute. Whisk in the milk and half-and half, whisking constantly until just thickened, about 3 minutes. Add the cream cheese and Parmesan; whisk until melted, about 1 minute.
Add fettuccine. Using tongs, coat evenly with sauce. Top with shrimp. Garnish with basil or parsley and a sprinkling of pepper.
Clint's Mini Prime Rib for Two
From Clint Bower of Ocean Gourmet Salts
Bone-in or boneless rib-eye steak, 2 to 2 1/2 inches thick, at room temperature
Olive oil, for brushing and searing
2 tablespoons Ocean Gourmet Salts Northwest Rub
1 tablespoon dried thyme
1/2 tablespoon dried rosemary
1 tablespoon garlic powder
1 tablespoon butter
Horseradish sauce, for serving
Brush steaks with olive oil. Combine seasonings, then press into meat with wooden spoon. Add a small amount of olive oil and butter to an oven-proof frying pan (cast iron is best). Heat to high, but do not burn butter.
Sear both sides of steaks for 5 minutes each, then stand meat on its edges and sear for 3 minutes each.
While searing meat, preheat oven to 350 degrees. Place pan with steaks in oven for approximately 20 to 25 minutes or until an instant read thermometer reads 125 degrees.
Remove and lightly cover with foil for 15 to 20 minutes to rest. It will be medium rare.
Cut steak in half. Serve with horseradish sauce.
Local journalism is essential.
Give directly to The Spokesman-Review's Northwest Passages community forums series -- which helps to offset the costs of several reporter and editor positions at the newspaper -- by using the easy options below. Gifts processed in this system are not tax deductible, but are predominately used to help meet the local financial requirements needed to receive national matching-grant funds.
Subscribe to the Spokane7 email newsletter
Get the day's top entertainment headlines delivered to your inbox every morning.
---