A&E > Entertainment
Shenanigans abound farcical 'Fox on the Fairway'
Thu., April 7, 2016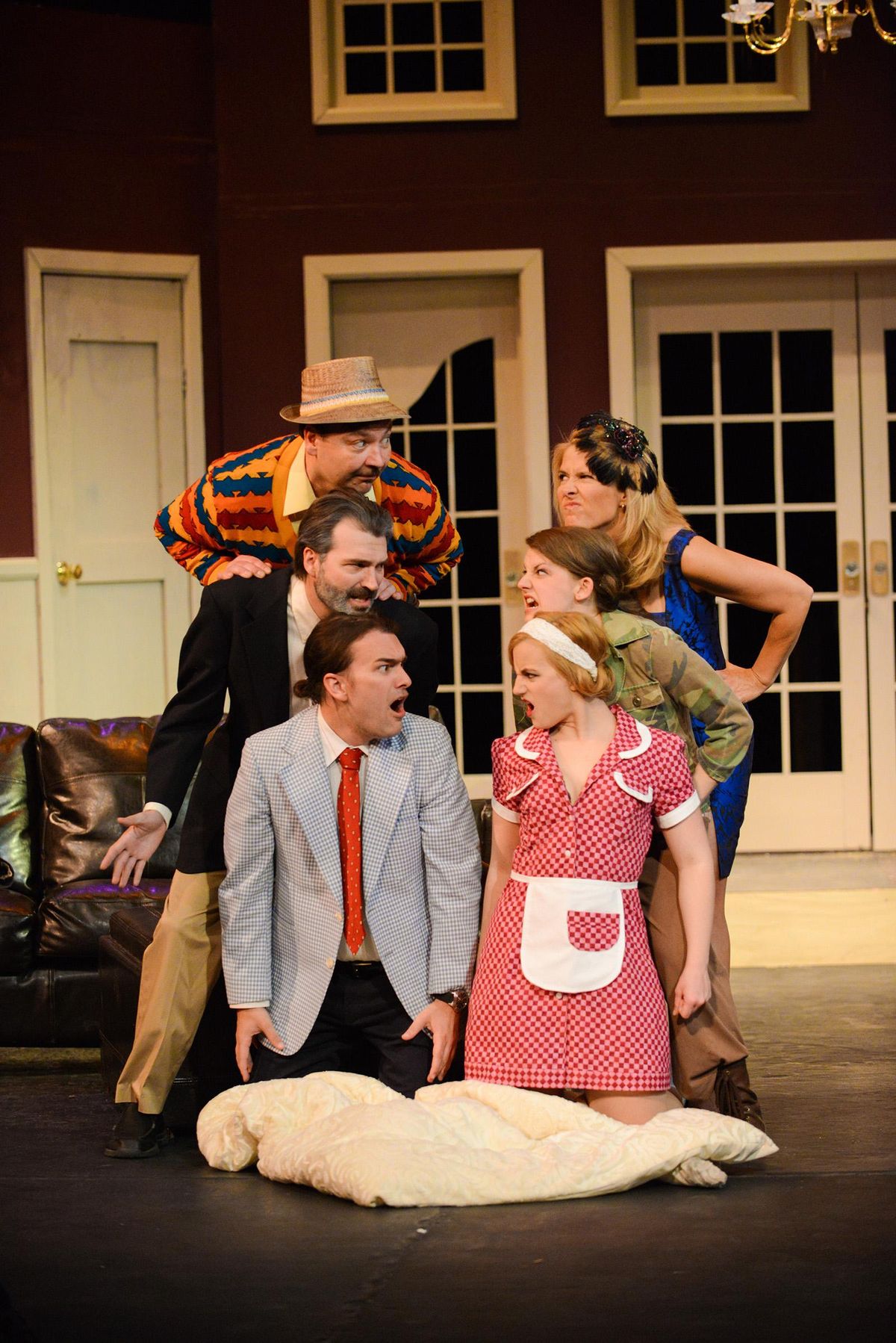 Civic's "Fox on the Fairway" opened on Friday. (Chris Wooley)
Pulling off a theatrical farce requires a surprisingly light touch.
The genre often features breathless, hopeless and sometimes witless characters stumbling through complications of their own creation, but the plot must always be perfectly calibrated in order to keep those complications coming. It takes a lot of work to control so much dramatic chaos, and you have to make it look effortless.
"The Fox on the Fairway," which opens Friday at Spokane Civic Theatre, is a big, broad farce through and through. Written by Ken Ludwig, whose work has been frequently staged at the Civic, "Fox" ticks all the boxes on the farcical checklist: Identities are mistaken, intentions are misconstrued, and characters are frequently walking out through doors just as someone else is walking in through another door.
"Yeah, we've got doors," said the show's director Wes Deitrick. "There's almost a cartoon silliness to it. It almost goes over the top. We peek over the top several times in the show."
The show is set at the Quail Valley Golf Club, and the whirligig plot hinges on an annual golf tournament that the club's director, Henry Bingham (Bryan Durbin), is desperate to win. He's placed a steep bet on the outcome of the tournament with Dickie Bell (Tom Sanderson), who runs rival country club Crouching Squirrel, but Henry's golfer drops out of the competition at the last minute.
In a moment of panic, Henry, who has foolishly gambled his wife's antique shop in the bet, enlists his assistant Justin (Jaylan Renz) to step up and represent Quail Valley. Justin turns out to be an unexpectedly good golfer, but Henry isn't off the hook quite yet, and the arrival of three women – Justin's fiancee (Alli Talmage), Henry's wife (Aimee Paxton) and Dickie's ex (Kris Crocker) – further complicates matters.
"There's all this stuff on the line, and (the plot) goes through crazy gyrations," Deitrick said. "It's got all the classical elements of a farce: people falling in love, falling out love, people saying they want this person instead of that person."
Deitrick says that his six-person cast has taken to Ludwig's material, and that rehearsing some of the play's more outrageous scenes was not unlike choreographing a musical number.
"There are some people who have never performed in that style, but they're picking it up so quickly," he said. "It's hard to pull off, but if you pull it off, it's really pretty funny. … It's about real people doing real crazy things."
But with all of the effort going on behind the scenes, the show's main goal is a simple one: to make you laugh.
"There's no message here," Deitrick said. "It's just entertainment."
Local journalism is essential.
Give directly to The Spokesman-Review's Northwest Passages community forums series -- which helps to offset the costs of several reporter and editor positions at the newspaper -- by using the easy options below. Gifts processed in this system are not tax deductible, but are predominately used to help meet the local financial requirements needed to receive national matching-grant funds.
Subscribe to the Spokane7 email newsletter
Get the day's top entertainment headlines delivered to your inbox every morning.
---