Sports
EWU spring football: Gage Gubrud places himself in QB mix
Sat., April 9, 2016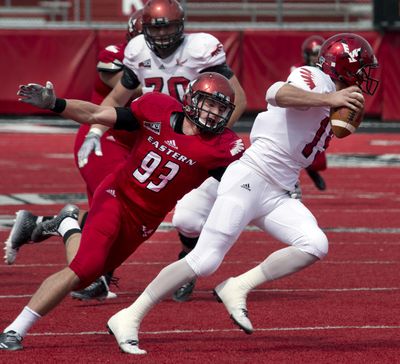 As the Eastern Washington coaches assess this year's quarterback competition, one thing is certain:
There are a lot more things to Gage.
That would be Gage Gubrud, who was third on the depth chart last year but definitely in the mix with Jordan West and Reilly Hennessey for a starting spot this fall.
A case in point: Saturday's mini-scrimmage at Roos Field, where Gubrud completed 6 of 7 passes for 145 yards and two touchdowns. The highlight was a deep pass down the left sideline to Cooper Kupp, who outdueled defender Josh Lewis for a 50-50 ball that turned into a 67-yard touchdown.
"If you see Coop one-on-one, you throw it up and you know it's going to be a good result for you," said Gubrud, who a year ago was better known for his mobility than his throwing ability. In limited action last year, Gubrud completed seven passes for 45 yards.
But if Kupp made Gubrud look good on that play, the redshirt sophomore from McMinnville, Oregon, made himself stand out on a picture-perfect morning at Roos Field.
In some ways, nothing has changed.
"If you were to go back a year ago last spring, I really thought Gage would be right in the mix as well," Eastern head coach Beau Baldwin said. "Then we came into fall camp, and we just felt like Jordan was going to be the starter.
"(But) Gage brings some things athletically that just are at a different level than most QBs. He can hurt you with his feet and he adds that dimension to the game."
Come Monday, all three will look to improve.
"We can come out on the field and compete for the starting job that we all really want, and then we call all go into the meeting room and be good friends," Gubrud said.
Henessey was 6 for 12 for 58 yards, and West was 4 for 9 for 46 yards and an interception by J.J. Njoku.
That play punctuated a solid day for the defense, which gave up 255 yards in 45 plays – a session that Baldwin described as "more of a practice than a scrimmage."
For most of the session, Baldwin watched from the defensive side of the field, appreciating the "energy" from a unit that expects to improve this season.
"We had a great off-season," said linebacker Alek Kacmarcik, who finished with a game-high five tackles. "We really want to change how we attack things, going after it every day."
Sometimes they took it too far – there were too many offsides penalties for Baldwin's liking – but overall the defense showed a better grasp of the 4-2-5 scheme that was installed barely a year ago.
"It's definitely easier – things a clicking a lot more," Kacmarcik said. "There's still a lot to improve upon – like getting off the ball on the snap – but we keep installing new stuff and building that chemistry."
Notes
Baldwin said he'll consider putting the quarterbacks in some live scrimmage situations, as he did last year. "You want to put them in those spots, but also have to decide how much you want to do that in the off-season," he said. "I'm not afraid of injuries – we're football players and that's part of the game." … Defensive lineman Conner Bauman suffered an ankle injury that Baldwin said was probably a sprain. … Several would-be starters were held out of the scrimmage for precautionary reasons, including running back Jabari Wilson, defensive lineman Samson Ebukam and linebacker Miquiyah Zamora. … The Eagles will resume practice on Tuesday, with the second spring scrimmage set for April 16 at about 9:45 a.m.
Local journalism is essential.
Give directly to The Spokesman-Review's Northwest Passages community forums series -- which helps to offset the costs of several reporter and editor positions at the newspaper -- by using the easy options below. Gifts processed in this system are not tax deductible, but are predominately used to help meet the local financial requirements needed to receive national matching-grant funds.
Subscribe to the sports newsletter
Get the day's top sports headlines and breaking news delivered to your inbox by subscribing here.
---
Subscribe and log in to the Spokesman-Review to read and comment on this story